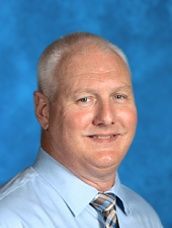 PORTAGE — Max Gill, who played college and professional football before having as big of an impact at the Merrillville and Portage school systems, died Friday, local school officials have confirmed.
"He'll be missed by students and staff alike," said Portage High School Principal Mike Stills, who replaced Gill when he left the post for medical reasons in January. "It will be a big hole for us for awhile. Everyone loved him."
Stills described Gill as being very "student-centered" and a sort of "pied piper" among students.
"The kids just flocked around him," he said.
Portage Township Schools Superintendent Amanda Alaniz said, "Max Gill was one of the most passionate educators I have ever known."
"He loved our students and he supported our teachers," she said. "Max was a man with a big heart and a great sense of humor. The entire PTS family has lost an amazing educator. We are all fortunate to be able to call such an amazing person a teacher, principal, colleague, and friend."
Gill, who died just two weeks short of his 59th birthday, had operated an art business in St. Joseph, Michigan for more than 20 years before earning a bachelor's degree in elementary education in 2005 and going to work for the Merrillville Community School Corporation, according to Times archives.
He started at Portage schools in 2012 at Fegely Middle School and began serving as an assistant principal at the high school in 2013, Stills said. He served in that top job from 2016 until leaving in January.
Gill's sports legacy includes playing at Northern Illinois and for the Michigan Panthers of the USFL.
"He was an incredible principal who loved the students and they loved him back,"  said Andy Maletta, vice president of the Portage Township School Board. "He will be missed by many."
Be the first to know
Get local news delivered to your inbox!