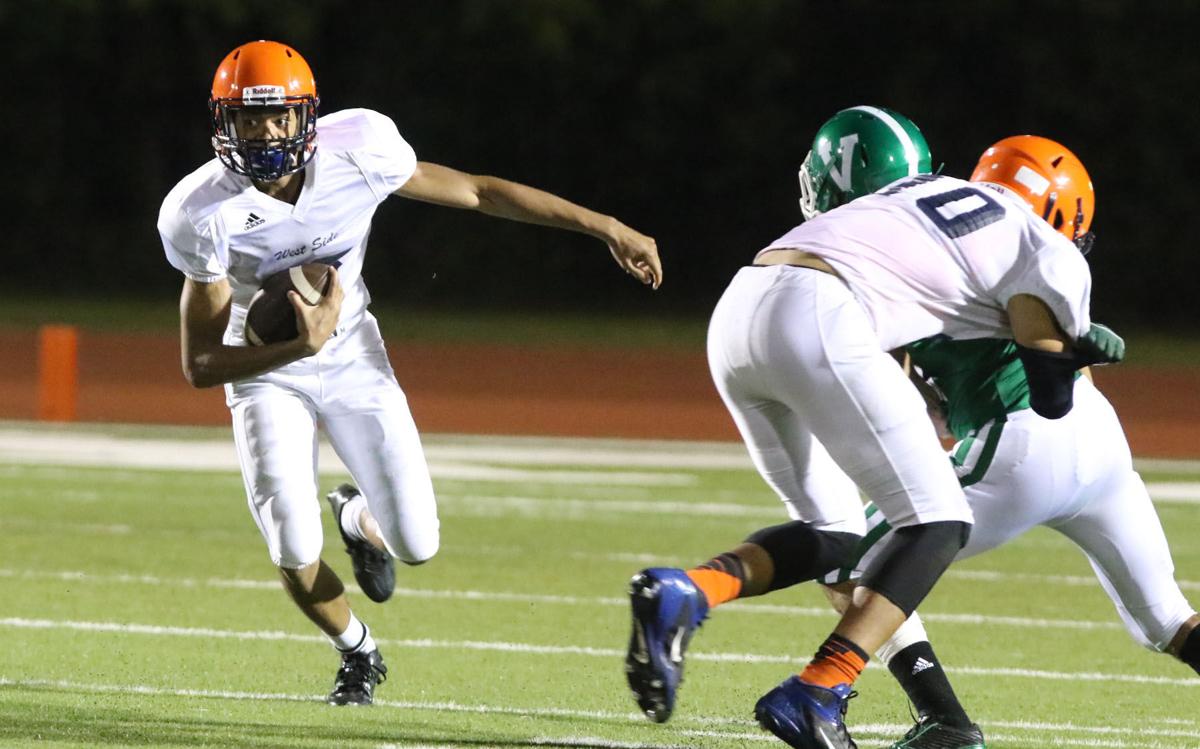 When the School City of Hammond chose to cancel fall contact sports Tuesday night due to the coronavirus pandemic, it was devastating news for athletes at its four high schools.
Specifically for football, Clark, Gavit, Hammond and Morton were less than three weeks away from the start of the 2020 season. Now, since they aren't able to compete, it has left more questions than answers for the opponents they were supposed to face.
EC Central and West Side, who share the Great Lakes Athletic Conference with the four Hammond high schools, felt the brunt of Tuesday's decision more than any other football teams. Both programs had four of their five conference games wiped away and are unsure of how they will move forward.
Prep sports activities were resumed by the School City of East Chicago on Tuesday, and the Cardinals had their first official football practice Wednesday. However, EC Central athletic director Monica Maxwell said her school will remain in Phase 1 of the Indiana Department of Education's return-to-play guidelines through the end of August. Phase 2, which permits contact sports to use contact, was slated to begin July 20.
The Cardinals were scheduled to scrimmage Calumet at home on Aug. 15, before hosting Hanover Central in Week 1 and Bowman in Week 2. Since they can't play until September and with the the School City of Hammond's cancellation of fall contact sports, the team has just two regular-season games left.
EC Central will now open its season at home against Munster in Week 3 and host West Side in Week 6.
Maxwell would like to schedule more games when the Cardinals are able to compete but isn't sure if that will be possible with the ever-changing circumstances of the COVID-19 outbreak.
"With the Hammond schools canceling football, we're in tight," Maxwell said. "A lot of people are, but we are especially."
Cardinals football coach Dante Dinkins said he was thrilled to rejoin his players Wednesday, but admitted that his team is in uncharted territory as it prepares for a shortened season.
"We're excited about our first day back at practice, but we don't know (what's next)," Dinkins said. "We're walking blind just like everybody else."
West Side football coach Eric Schreiber Jr., who was hired in June, echoed the same uncertainty as Dinkins. The Cougars were supposed to scrimmage Hammond on Aug. 14, before opening their season at Phalen Academy on Aug. 22.
They also had a game at Crispus Attucks in Week 2 on Aug. 28, but that contest has been pushed back one day to Aug. 29, according to Schreiber.
Crispus Attucks is a member of Indianapolis Public Schools, which announced July 18 that prep sports activities within the school district have been stopped until at least Aug. 17, four days before the start of the 2020 campaign on Aug. 21. IPS district athletic director Darren Thomas previously stated that "IPS football teams would either postpone or cancel the first two weeks of the season," according to the Indianapolis Star.
West Side and Crispus Attucks agreed to move their Week 2 game from Friday to Saturday because it would be the first day the Tigers are allowed to participate in formal competition.
"We're looking at all options," Schreiber said. "We have like four or five different types of scenarios that could potentially happen, but obviously we want to try to fill in those (lost conference) games if we can and if it's possible. But we also understand that it may be best to use those weeks as a quarantine (period)."
Aside from West Side and EC Central, several other Region programs have had their schedules affected by the School City of Hammond's cancellation.
Clark was supposed to host Whiting in the final Battle of 119th street in Week 1, before facing Lake Station on the road in Week 2 and at home in Week 4.
"This would have been the 87th meeting, and the most meaningful, for the Clark Pioneers who will see their beloved school consolidate at the end of this school year," Whiting football coach Brett Jennings wrote in a Facebook status Tuesday night. " ... Now there's no closure in a (rivalry) that truly deserves it."
Gavit had matchups scheduled with Bishop Noll in Week 1, Chesterton in Week 2, Whiting in Week 3 and Highland in Week 4.
Hammond was slated to play Andrean in Week 4.
Morton was set to face Portage in Week 1, Lake Central in Week 2, Lowell in Week 3 and Munster in Week 4.
Chesterton originally scheduled a road game against Illinois opponent St. Rita for Week 2 but then had Gavit fill in as a replacement since the Illinois High School Association moved its prep football season to the spring. Now that Gavit's season has been canceled, Trojans athletic director Jeff Hamstra said his school would still like to find another opponent.
"We want to go one match, one game, one week at a time," Hamstra said. " ... We want to play Week 2, and we'll find a good opponent for Week 2, but right now we're kind of being patient in who we want to schedule."
Although some football teams around the state may not be able to coordinate and complete a full nine-game regular season, IHSAA assistant commissioner Robert Faulkens explained that an abbreviated regular season has no bearing on postseason eligibility.
The 48th annual IHSAA state football tournament is set to begin Oct. 23.
"Tournaments are for all of our member schools that have teams," Faulkens said. "We don't put a limit on the number of games. They don't have to play any games. They can just play the (state) tournament and that's it."
Despite these unprecedented circumstances, Faulkens added that the IHSAA "won't wave the 10-practice rule" that all football programs must adhere to before participating in their first game.
Currently, there are at least four Region schools that have suspended team activities for one or more programs. They are: Calumet, Chesterton, LaPorte and Michigan City.
There have also been at least 12 Northwest Indiana schools that previously halted practices for one or more sports but have since resumed workouts. They are: Boone Grove, EC Central, Highland, Kankakee Valley, LaCrosse, Lake Central, Lake Station, Munster, Portage, River Forest, Valparaiso and Wheeler.
He confirmed that the football team resumed workouts Wednesday, while boys tennis and wrestling are still on hold.
"Those individuals that tested positive and those that had direct contact are not practicing and should be quarantined," Gilliland wrote in a text message to The Times.
Lake Ridge Schools Superintendent Dr. Sharon Johnson-Shirley announced in a letter Wednesday that its school district, which includes Calumet, will start at least the first nine weeks of the 2020-21 school year online. She also stated that "contact sports, including football and volleyball, will be canceled at this time" because of the coronavirus pandemic.
She did not provide clarity on if fall contact sports have been canceled for the upcoming semester or rather suspended for the foreseeable future.
"Further information on a remote team plan for coaches and students in contact sports will be coming from the athletic department soon," Shirley-Johnson wrote. "Non-contact sports, including boys tennis, girls golf and cross country will continue."
Warriors athletic director Sara Kuntarich directed all requests for comment to Johnson-Shirley, who The Times was unable to reach.
Calumet football coach Rick Good said he was unsure of what Johnson-Shirley's letter meant for his team's participation in the 2020 football season. He canceled practice Wednesday and is awaiting additional information.
The Warriors are scheduled to host Bowman in Week 1.
"All I know is what was written in the letter," Good said. " ... We did not have a positive (COVID-19) test. No one in the building, no one in the football program and no one in the athletic department tested positive or even was suspected to test positive."
Gallery: Valparaiso plays Gary West Side in prep football
Concerned about COVID-19?
Sign up now to get the most recent coronavirus headlines and other important local and national news sent to your email inbox daily.