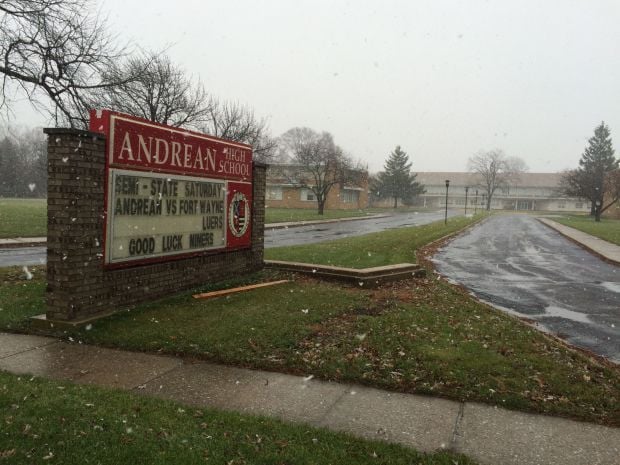 MERRILLVILLE — Andrean High School celebrated Ash Wednesday with an announcement reshaping its administrative leadership.
Tony Bonta — an acting administrator, then principal with the school since May 2016 — has been named president of the private Catholic high school effective Wednesday, according to a letter to the Andrean community. Jaycob Knazur, an Andrean faculty and administration member since 2013, will take over as principal, and Kelly Fitzgerald will stay on as the school's assistant principal and athletic director.
"In my role as President, I will focus my full-time energy on supporting and implementing the Andrean Initiative for a new campus, and collaborating with the Andrean High School Development Team, Andrean Alumni and Andrean Stakeholders to enhance our relationships and philanthropic support for Andrean," Bonta said in his letter.
The move comes as Andrean looks to re-image its leadership team moving to a president-principal model not seen in the school for several years. Joe Majchrowicz, superintendent of schools of the Diocese of Gary, said in his role as president Bonta will oversee issues of finance, development, enrollment and admissions, while Knazur's foucs will be on working with academic curriculum and instructional needs.
Majchrowicz said Bonta was an integral part of re-envisioning the academic programming and staffing needs at Andrean following a trying period of multiple leadership changes.
Majchrowicz said Knazur, an Andrean class of 2005 alum, will participate this summer in Notre Dame's competitive Mary Ann Remick Leadership Program for educators in the Catholic community.
"The timing was right," Majchrowicz said. "We thought all of the stars had aligned perfectly to transform Andrean's leadership team."
In December, Bishop Donald Hying, of the Diocese of Gary, gave his blessing for the Merrillville-based school to seek a new location in Northwest Indiana. Majchrowicz said the search is still ongoing with the school looking at property south of the school's current location.
"The future is bright for Andrean," Majchrowicz said. "We're very excited to have this team in place."