HAMMOND — It was standing-room-only when East Chicago Central Senior Julian Torres shared his story of bullying, drug abuse and suicide.
"When I was younger, I lost three different people who were very close to me to suicide," the 18-year-old said, opening up to the room of nearly 200 in Purdue University Northwest's Alumni Hall.
"When I was younger I didn't have a say in what they did. I wasn't able to help. I wasn't able to be there for them, so after I lost them, I instinctively tried to help everybody."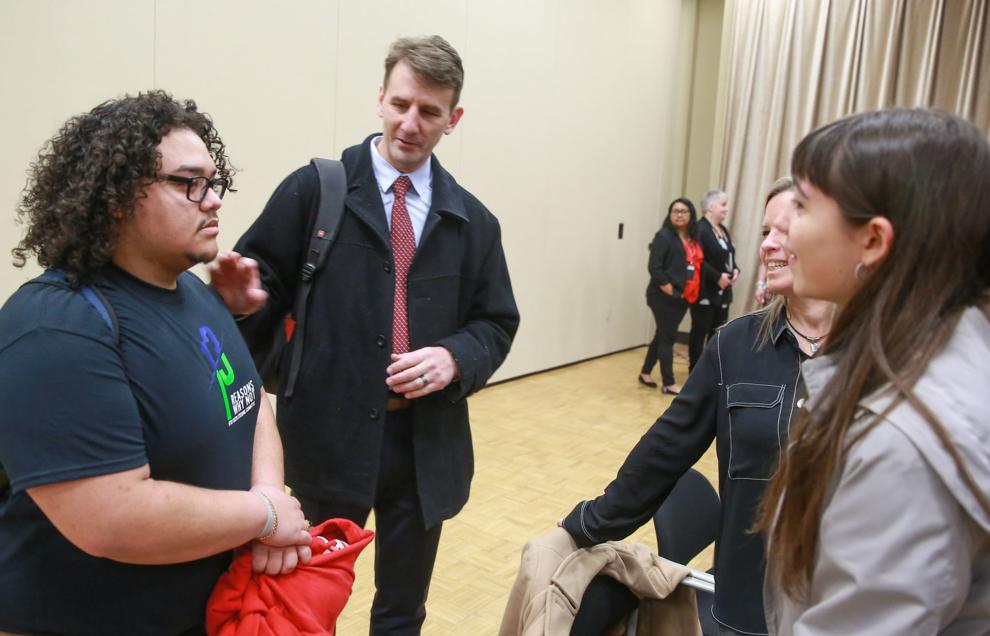 It wasn't long after, that Ellie Presnol, a junior at Andrean High School, in Merrillville, spoke up with her own challenges confronting depression and finding the courage to seek help.
"I was with my mom, and I had just been feeling bad," Presnol said. "I didn't feel like I was the same person as I am. I just started crying and said I just want to be able to talk to someone."
The two students — panelists on the North Township Youth Steering Committee — agreed to share their stories with peers attending the North Township Trustee's Office's 13 Reasons Why Not conference from high schools across north Lake County.
But, as the panelists revealed more about themselves, something unexpected happened — the audience joined in.
One student, identifying with Torres' account of bullying because of his weight, spoke up about his own struggle with self-image and how he was told he needed to lose weight to play football. Then, another opened up about his struggle with weight and how it had led to unhealthy eating habits.
"A lot of these topics that we've talked about, they're hard topics, but they're conversations we need to be having," Presnol said.
"This is serious, we know how we feel, and we're trying to express it, and it's not always being received. We just need to be heard."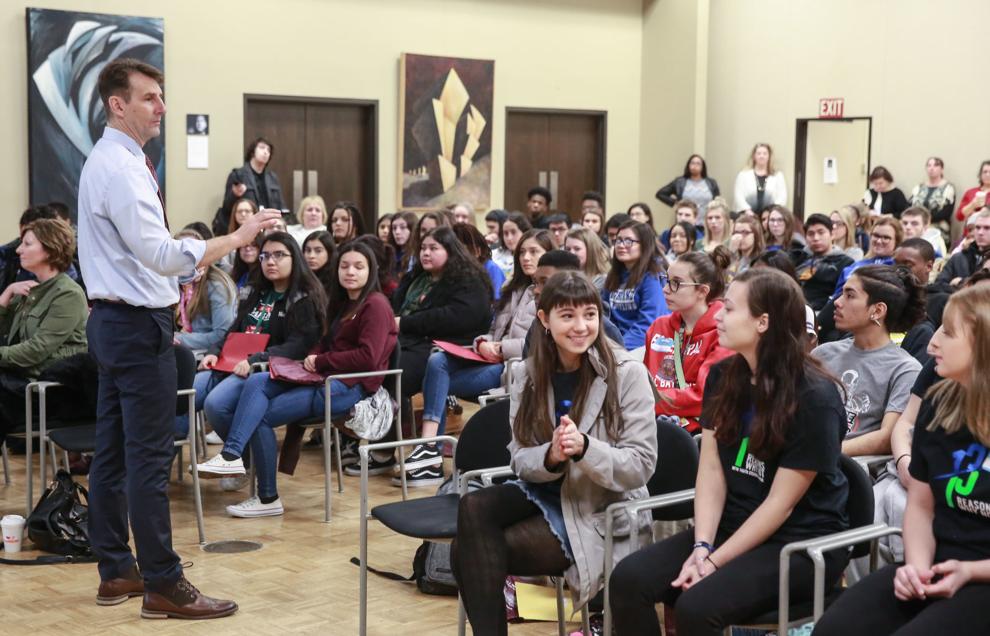 Presnol and Torres met for the first time earlier this winter with the formation of a first-of-its-kind youth steering committee, sponsored by the North Township Trustee's Office.
The trustee's office, looking to build peer-to-peer relationships across all North Township schools, reached out to district guidance counselors and administrators for their recommendation of student ambassadors to help shed light on pressing issues facing teens today, like substance abuse, dating violence and cyberbullying.
In January, the North Township Youth Steering Committee began a series of weekly meetings January to plan the Wednesday conference and launch a media campaign addressing topics the teens identified as most important in their daily lives.
Steering committee members appeared in an eight-minute documentary and will make their first radio appearance on WJOB Friday night. Some of the students' writing has appeared in guest columns published in The Times.
Coping with anxiety and depression
Indiana has consistently ranked among states with the highest rates of attempted teen suicide in the country.
The 13 Reasons Why Not summit featured speakers and breakout sessions aimed at educating students on signs of anxiety and depression, and equipping them with resources to seek help when needed.
Playing off of the popular Netflix series, "13 Reasons Why," the trustee's conference sought to address 13 specific challenges students face today.
Mental health, anxiety and suicidal thoughts clearly dominated the student-led panel discussion, as attendees shared their personal experiences with suicide, asked how they could help a friend in need, and expressed a desire to more openly talk to adults in their lives about what they're feeling.
Brandon Fuentes, a senior at Bishop Noll Institute in Hammond, said it wasn't until suicide touched his school community that he and his parents broached the topic.
"It's sad that it took someone taking their own life to have my parents see that we go through these issues, but we need to continue with these conversations before others lose their lives," Fuentes said.
Sharing personal examples, students advised each other to look for signs of depression — has your friend withdrawn from activities? Have they posted something concerning on social media? — and offer to talk, placing an emphasis first on being a good listener.
"You need to use your resources, because you never know what might happen to that person," said Anna Celine Garcia, a senior at Hammond High School.
"When people are dealing with depression or they are suicidal, they may be mad at you for saying something; if you don't say something, the outcome could be much worse."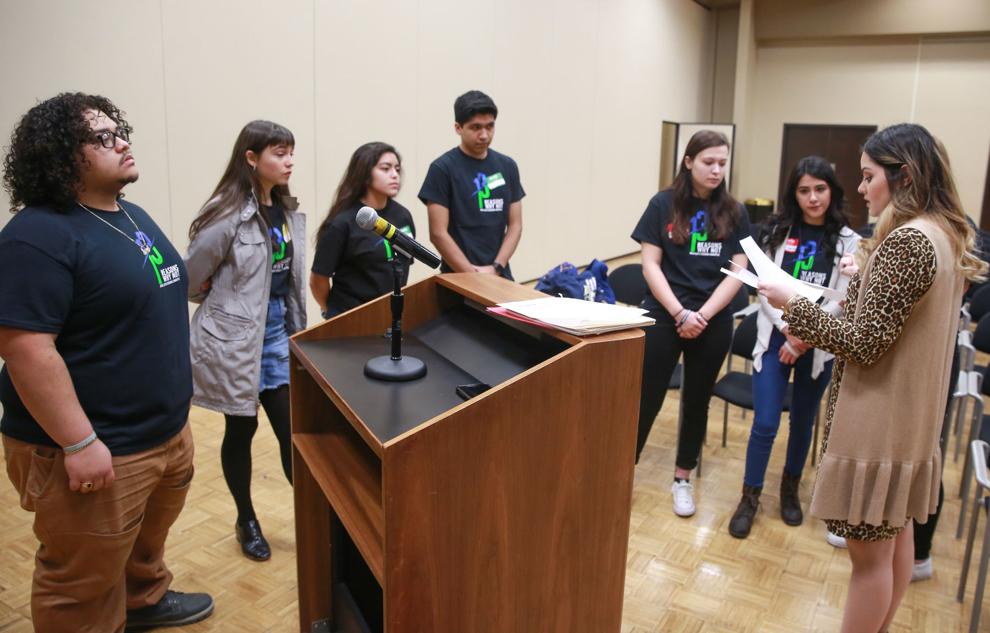 Social media a growing stressor
The 13 Reasons Why Not initiative began as an offshoot of North Township Trustee Frank Mrvan's No More Secrets campaign, tackling child sex-abuse in Indiana.
The campaign brought the trustee and his staff into local schools, where Mrvan said he was first struck by the changing challenges teens face, much of that attributable to the rise of social media.
"In high schools and middle schools, when I would ask how many of you have seen, passed or know someone who's passed a naked picture of themselves, 80 percent of those kids would raise their hands," Mrvan said, citing why partnership with groups like the Fair Haven Center have been key in tackling these topics.
Jana McCarthy, a sophomore at Highland High School, shared how in middle school another student made a fake profile under McCarthy's name and shared negative posts to turn their friends against her.
"On the internet, anyone can pretend to be you," McCarthy said. "So you should be very safe, such as limiting the information you post on social media and only allowing the people you trust or know to follow you."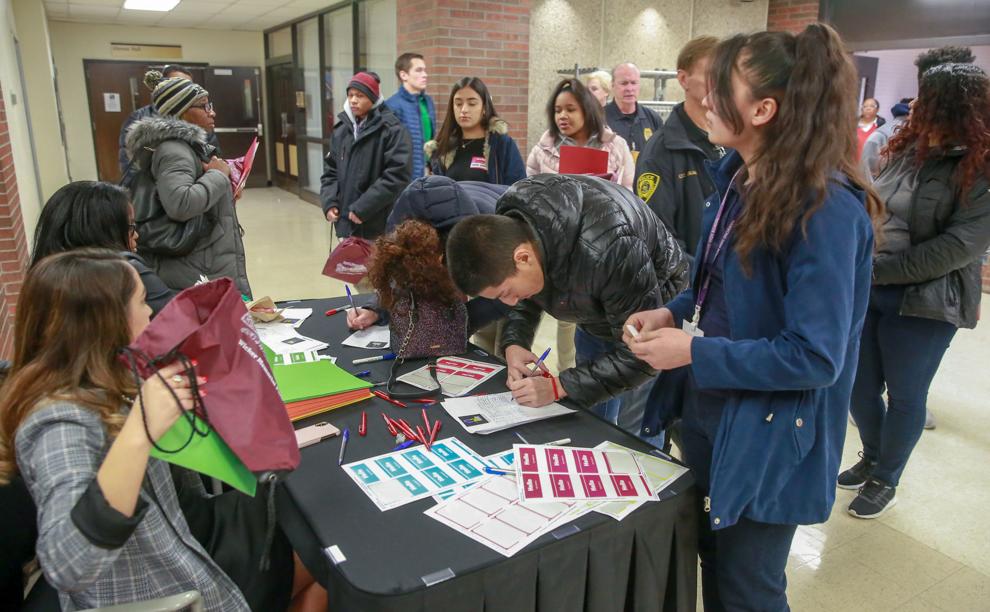 At the beginning of the conference, Erin Swinson, a therapist with Clarity Clinic, led the students in several mindfulness exercises to practice when feeling overwhelmed, stressed about an upcoming test or frustrated by other students.
She taught the room several calming techniques, focused on regulating breathing to help reduce the heart rate and slow racing thoughts. One simple practice she shared was a color exercise.
Pick a color of the day, she advised. When you feel negative or nervous thoughts coming, pick out objects in the room that share that color.
"It's a great way to stop and redirect when you're having negative thoughts or self-judgment or self-criticism," Swinson said.
Organizers of Wednesday's conference hope the student attendees representing 10 area high schools will serve as ambassadors and will take what they've learned from 13 Reasons Why Not back to their respective schools and peers.
Mrvan said his office will continue providing supportive spaces for students to have tough conversations and connect with mental health resources. He expects the Youth Steering Committee, convened for the first time this year, to continue again next year.
"What I'm taking away from this is they want to bridge the gap between parents and students and the issues that they face," Mrvan said.
"They want the parents and adults to believe in them and understand them and give them the assistance and coping mechanisms."
Swinson encouraged students not to shy away from seeking professional help.
"I think people are struggling silently, I think there's a fear of being vulnerable and there's a fear of parents being dismissive," Swinson said. "Therapy is a brave and courageous form of self care. It doesn't necessarily mean that you need to have something going on. Talking to anyone is a great way to process things."
Many regional services like the Regional Mental Health Center provide counseling for youth and adults. A full list of resources can be found on the North Township Trustee's Office website.
Byline: Carley Lanich and Kale Wilk sit down with the North Township Youth Steering Committee and its advisers to learn more about their advocacy. Listen to the podcast at nwi.com/podcasts.