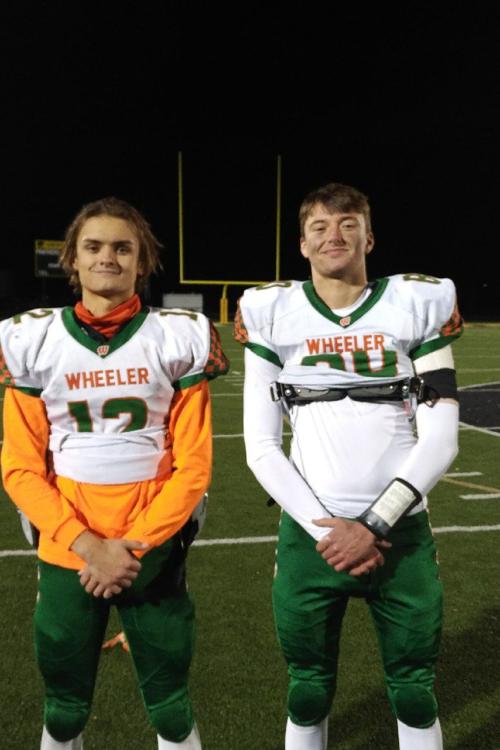 GRIFFITH — Wheeler's offensive strategy follows a simple formula — a lot of Trey Gibson and some sprinkles of Preston Morris, who has the freedom to make decisions.
Morris' ability to make good calls was on full display Friday, as he accounted for three scores on the evening including a 13-yard touchdown pass to Cole Kostbade in which the receiver was wide open thanks to Griffith biting on a fake handoff to Gibson.
"I was just telling myself 'don't drop it, don't drop it,'" Kostbade said.
Sometimes everything just goes right for a team after a huge loss the week before.
That was the case on Friday night for Wheeler, as it exploded for 21 points in the fourth quarter in its 52-17 win over Times No. 9 Griffith in Greater South Shore Conference action.
The visiting Bearcats (7-2, 2-1) were handed a 49-13 loss by Hanover Central the week prior and wanted to make sure they ended the regular season with a win before facing North Newton (4-4) in their Class 2A Sectional 33 opener.
"Everyone was pissed off about the loss," said Kostbade, who caught three passes for 31 yards and a TD. "This is the best we've played all season."
Wheeler, which broke a four-game losing streak against Griffith (5-2, 3-1), did exactly that on both sides of the ball, as it amassed 389 yards of total offense, scored two defensive touchdowns and forced a turnover.
Wheeler coach Adam Hudak said Kostbade's touchdown was one of the biggest plays of the game.
"Cole came up big and I'm so proud of our o-line," said Hudak. "The touchdown to Cole was an RPO (run-pass option) old school and he got out in the flat."
Hudak complimented his QB's decision-making prowess and the execution of the offense.
"Our entire JV was quarantined (Friday) and we wanted to win this for them. We wore full gear all week and won the line of scrimmage and Preston made great decisions," he said. "Cole (Kostbade) was his second or third read and he made the right decisions running and throwing the ball."
Gibson would get his, though, on both sides of the ball, as the area's leading rusher toted the rock 32 times for 260 yards and two scores as well as two fumble recoveries for TDs.
"It was an amazing night for me and the team because we really wanted to perform," Gibson said.
Morris also ran for two scores of 4 and 30 yards, respectively, for his team's first offensive and last offensive points of the night, with the 4-yarder coming on a naked bootleg following a fake handoff to Gibson.
Gibson said Morris' playmaking ability creates space for others.
"It opened up our offense extremely," he said. "We put in those boots and passes because they're money plays and Preston's execution is a gamechanger."
Griffith scored on two long plays in the third quarter thanks to a 52-yard TD strike from Carson Crowe to receiver Kyle Atkinson and a 62-yard scoring run from Crowe.
Wheeler had huge answers for both, though, courtesy of a 70-yard TD run from Gibson and the Kostbade TD.
"Cole did a good job to get in the soft spots and he usually does a good job," said Morris, who ran for 32 yards on seven carries.
Crowe ran for 72 yards and Atkinson recorded 57 receiving yards for Griffith in the loss.
Catch up on the Week 9 action here!
Friday Night Football Recap: Catch up on all of last night's excitement here!
Calling all Region prep football fanatics! Catch up on all the need to know football Friday excitement, final scores and more here.
Be the first to know
Get local news delivered to your inbox!