VALPARAISO — Instructional aide Kathleen Sellers hit a tuning fork, 10 second- and third-graders seated Indian-style on the floor in front of her.
"Breathe in through your nose," she said, the sound of the fork humming through the air. "You want your tummy filling up with air like a balloon, and you can blow out slow like you're blowing out a candle."
The kids, their eyes closed, followed her instructions, breathing with purpose.
"On your next breath in, try to breathe even bigger so you can feel your chest rising up," she said. "And blow out like you're blowing all the seeds off a dandelion."
A few seconds later, the students opened their eyes, and Sellers asked them how they felt.
The students, at Hayes Leonard Elementary, were taking a "brain break," part of a new initiative this year at Valparaiso Community Schools to teach kids how to better regulate their emotions and be more mindful in the hopes of preventing mental health and substance abuse issues later in life.
As diagnoses of childhood depression and attention deficit hyperactivity disorder continue to rise, and drug overdoses reach alarming numbers, schools are increasingly looking for ways to show students how to calm themselves naturally. Across the country, schools are bringing ancient practices like yoga and meditation into the classroom, and teaching coping skills, to help kids relax and focus without the use of medication or substances. In Northwest Indiana, Morton Elementary in Hammond recently instituted such a program.
"Schools are doing a lot these days with mindfulness and knowing your mind and how to be in control of it," Hayes Leonard Principal Bonnie Stephens said.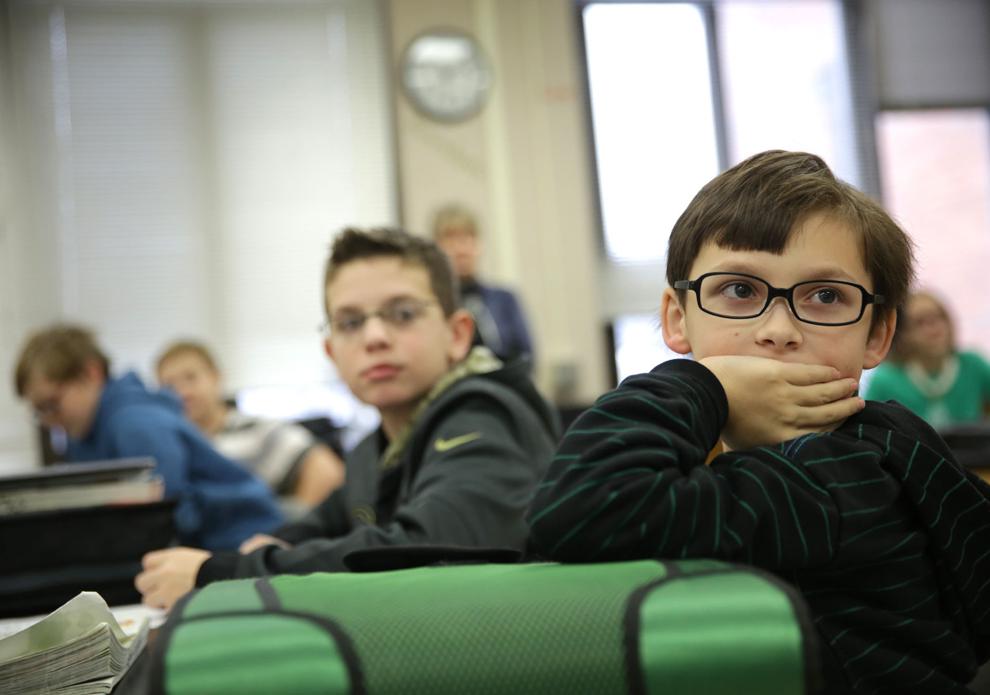 A way to prevent bullying
Valparaiso Community Schools started down this path after researching bullying prevention, which schools in Indiana are mandated by law to teach. The district surveyed students and found their top concerns to be stress and anxiety, relationships and promiscuity, and alcohol and drug use.
The school system set out to find programming that could prevent those problems before they crop up. The district thought it could do that by teaching kids how the brain and emotions work, and came across three programs that fit that bill: MindUP, Brainology and Sources of Strength.
"If you talk to university mental health staff, they have kids who are just disintegrating from serious mental health issues," said Denise Koebcke, student leadership and climate coordinator for Valparaiso Community Schools. "We have got to be proactive, teaching kids coping skills instead of just reacting when things go wrong. We're trying to get to the core issues instead of just Band-Aids."
MindUP, which is being piloted at four elementary schools, teaches deep breathing and mindfulness, as well as art projects involving the structure of the brain. MindUP was developed by actress Goldie Hawn's foundation as a way to combat bullying, school violence and youth depression and suicide.
Brainology, which is being done first at Benjamin Franklin Middle School, delves further into the anatomy of the brain and applying that knowledge to improve educational outcomes. Brainology was created by a Stanford psychology professor to teach kids that their ability to learn wasn't innate — that they could get smarter through time, effort and brain health.
And Sources of Strength, at the high school, helps kids find positive influences and relationships to act as barriers against future temptations, and encourages mentoring and leadership. That program originated in North Dakota to try to reduce youth fatalities and suicides among rural and Native American communities there.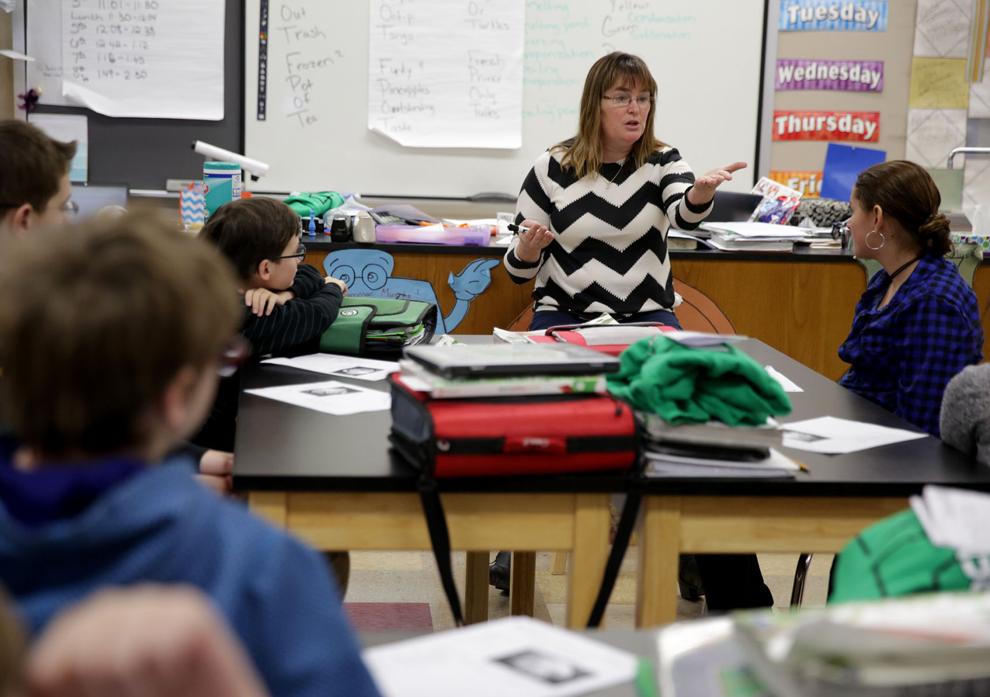 Brainology teaches brain anatomy, health
During a recent Brainology session at Benjamin Franklin Middle School, the kids were tasked with developing plans for a fictional student who had to study for a big test.
The Benjamin Franklin students came up with suggestions: go to bed earlier, eat breakfast, have a sibling quiz you, do your homework at home, skip the video games. In doing the exercise lesson, the students were learning not only how to study better, but keep their brains healthy.
"The kids are really beginning to look at their learning differently," said sixth-grade teacher Sally Case. "It's changing — that idea of 'I'm not smart, I'm not good at something' to 'I need to try a different way.' One of their favorite phrases is 'Study smarter, not harder.'" The kids even correct her now when she says she can't do something.
On the recent morning, she had her class come up with a mnemonic to remember the lobes of the brain: frontal, parietal, occipital and temporal. The winner? Frasier Puts Out Trash.
"I've learned that when the brain learns, you get more and more knowledge and the more knowledge you get the more strength you get," said Xavier Hicks, 11, who is in sixth grade.
Lauren Fields, who is also 11 and in sixth grade, said she has picked up strategies for self-calming, focus and learning, and discovered what foods strengthen the brain.
"We do meditation every day when we get too stressed," she said. "I do it before tests because I get nervous before tests."
Over at Valparaiso High School, at the Sources of Strength program, students examine the positive support systems in their lives as well as the areas where they could use additional reinforcement. They identify places they can turn to in times of crises: supportive family members and friends, health care providers. The high school students also mentor their younger peers on how to solve conflicts and report and support classmates who are at risk for suicide or violence.
"A lot of kids start to use drugs because of stress and coping with tough things in life," said Cicely Powell, director of school culture and student services for the district. "The 'say no to drugs,' the 'just don't do it' doesn't really work. What works is teaching them how to deal with stress, how to deal with grief, how to deal with challenges and problems in life in a healthy way instead of self-medicating with drugs and alcohol."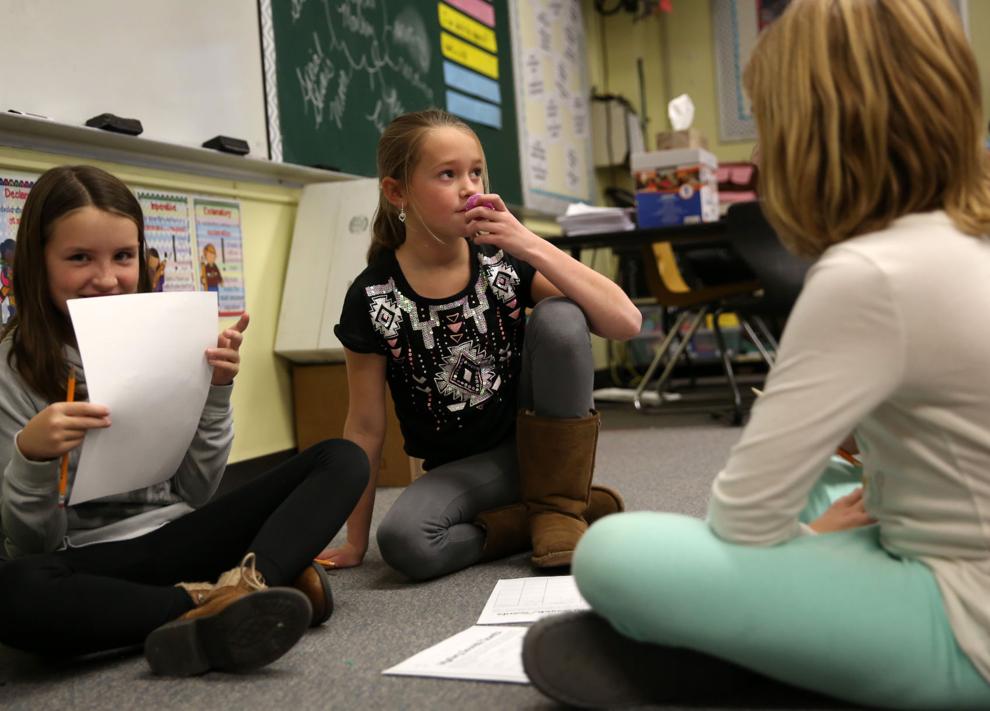 On the recent day at Hayes Leonard Elementary, Sellers did a lesson about mindful smelling, which is designed to teach participants how to live in the moment as well as sharpen memory. She handed out a few scents and, to determine what each of them were, told the students to pay attention to what each smell made them think of.
The children said the coffee reminded them of the family breakfast table, the vinegar of making Easter eggs, peppermint of Christmas. Suddenly, the kids harkened back to those happy times, a skill they can use in the future if they're ever in a particularly stressful moment.
Afterward, the students talked about what they've gotten out of MindUP so far.
"I've learned how to stay calm a little bit and feel relaxed," said Lily Davis, 9, a third-grader at Hayes Leonard Elementary.
"I like that we can stay calm and have a relaxing time," said her classmate Evie Moerman, 9.
If she ever has problems with friends at school, Davis said, she now does yoga to calm herself. She does does breathing exercises before tests. She practices mindfulness, which, to her, means "to not just think about yourself but think about other people too."
"Teachers use brain breaks a lot of times after transitions — coming back from lunch and recess — to get the kids settle back down and focus," Sellers said. "Sometimes kids will even ask for brain breaks, like if the day is getting kind of crazy. They're learning to use these tools to their advantage."