The imposing three-story brick facade of Gary's historic Heat Light Water building was once drab but now pops with bright colors.
Yellow, green and blue plywood boards cover broken windows and doorways that haven't been darkened in years. They're covered with spray-painted words: "I love you," "Four words for my city: we've got to work," and "To hold dear/the light/we have found/we must/sprinkle poetry/like a sword/let it save us/let it ignite a/revolution/in the sanctum of the soul."
The Gary Poetry Project has been turning abandoned buildings across the city into an unlikely canvas, an unfurling scroll for a sprawling citywide poem. The words come from Gary residents themselves — hundreds of people, many of whom are schoolchildren, have contributed lines of verse to a growing poem that's been spreading across Gary's ruins like ivy draped on the side of the Heat Light Water building.
Gary Poetry Project organizers Sam Love and Corey Hagelberg have plastered poems on vacant buildings across the city: on Broadway downtown, on the towering City Methodist Church, outside the vintage Palace Theatre and all over the Aetna neighborhood's forlorn commercial district.
"It will soon start becoming very noticeable in all corners of the city," Love said. "Our goal is to get as much of it up before it gets cold."
Poems like Kelechukwu Brnfre's "My City" and Alva Wilson's "Black Mecca," which are displayed on the long-forsaken nine-story Gothic City Methodist Church, have garnered a positive response.
"Nobody's said anything negative," Love said. "We've been real clear it won't save this building or draw us out of problems of racism and inequality. What's most important to me is when you have the people who live around it like it. I've been painting stuff around Gary for 10 years. If the people across the street say, 'Hey, that's cool,' that's really the reward I'm looking for."
Gary resident Carlotta Taylor pulled over in her SUV while Love and a cadre of volunteers were prepping the Heat Light Water building for winter, sprucing up the grounds and covering the 91-year-old warehouse Indiana Landmarks once declared one of the state's most endangered historic buildings in verses from the Gary City Poem.
"Wow, that looks nice now!" she exclaimed. "I love it, I love it."
Taylor, who's a spoken word artist herself, was returning from the grocery store with her grandchildren when she spotted the freshly painted verse.
"It was the most beautiful sight I had seen in a long time in this city," she said. "It really attracted my eye. I stopped. I had my grandchildren read the poetry to me. It's beautiful and I so much appreciate whatever organization did this for us and thought of it."
Taylor, a lifelong Gary resident, has watched a city of nearly 180,000 residents shrink to about 80,000 as the mills laid steelworkers off, storefronts got boarded up and people decamped to suburbs like Merrillville and Crown Point. She was heartened to see such beauty in a city filled with thousands of empty buildings, many burnt up in fires or left open for squatters.
There are blocks across the city where only a single home is still occupied. The once-bustling downtown can feel like a ghost town when the Gary SouthShore Railcats aren't playing a home game.
'"We need to see more beautiful sights in this city," Taylor said. "It will encourage us to do more work. We're so used to seeing the degradation and the downfall of the city until we feel like it's hopeless and we don't know where to start. Something like this could bring us to the point where we could do something. When you plant a flower, you plant something beautiful to make you think. When you see beautiful sights, you think beautiful thoughts. We don't get to see that often."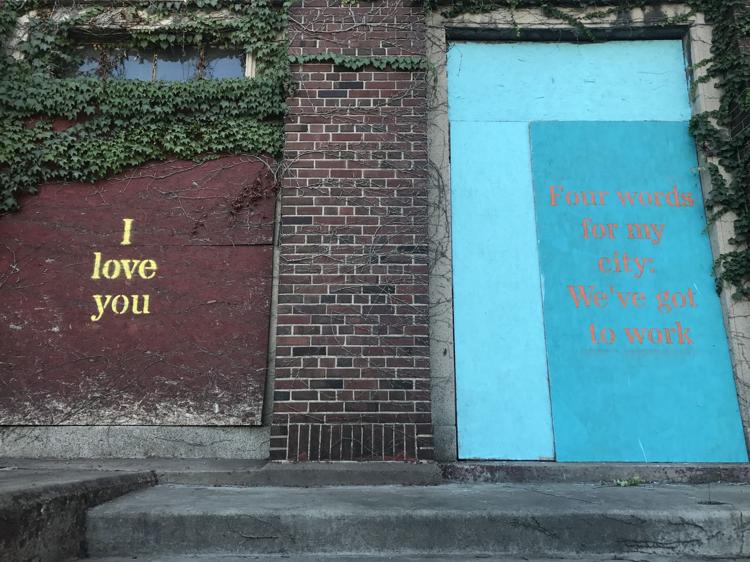 Taylor, a product of Gary schools, said she loves the city she's called home and thinks it could use a little more poetry.
"What would life be without poetry?" she said. "It would be like a day with no sun. It would be like an ocean with no water. It would be like a day with no love. That's what I think."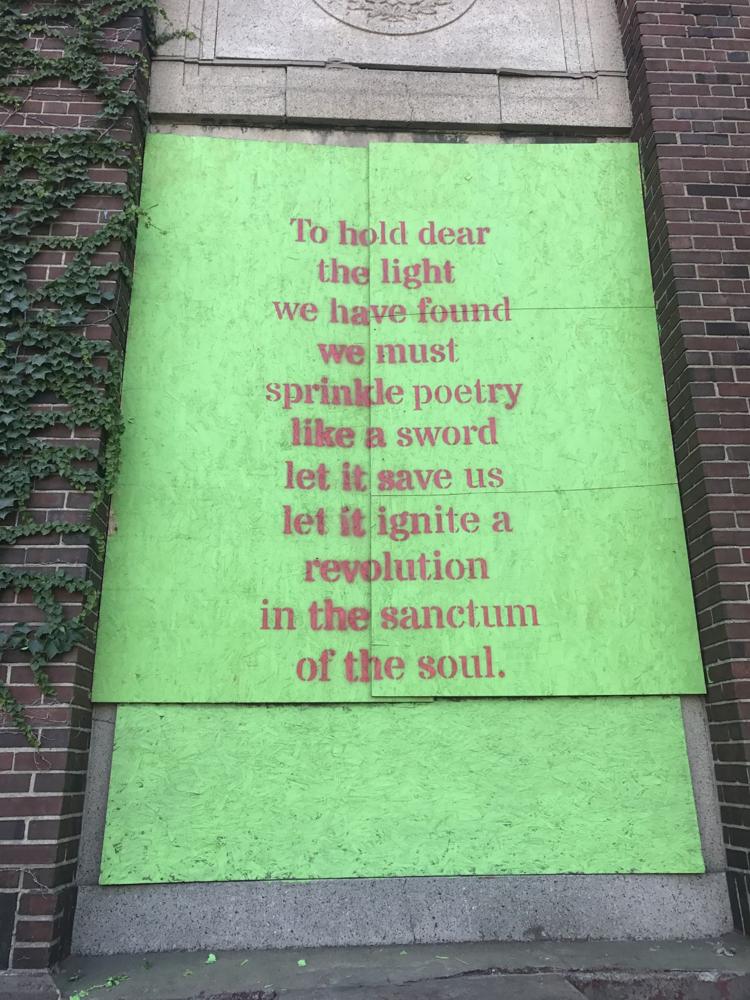 The Gary Poetry Project is a yearlong initiative by the Calumet Artist Residency, a Miller-based group that turned a vacant home into a place to house visiting artists who create art for the community.
Over the past year, it's hosted multiple poetry workshops for the public at the Indiana University Northwest campus and often for schoolkids. About 1,000 participants have crafted their own lines for the collaborative city poem.
When they're finished painting it on vacant buildings around Gary, they plan to post a map online so people can go read the entire poem. They'll also post photos of the boards of spray-painted verse on the Calumet Artist Residency website.
"I think the poems themselves deserve a lot of credit and attention," Love said. "We'll have the whole thing online. We'll photograph everything. There will be a way for people to engage with this for years. This will still resonate for many years after we've done it. I think you'll see a positive effect come out even a few years from now."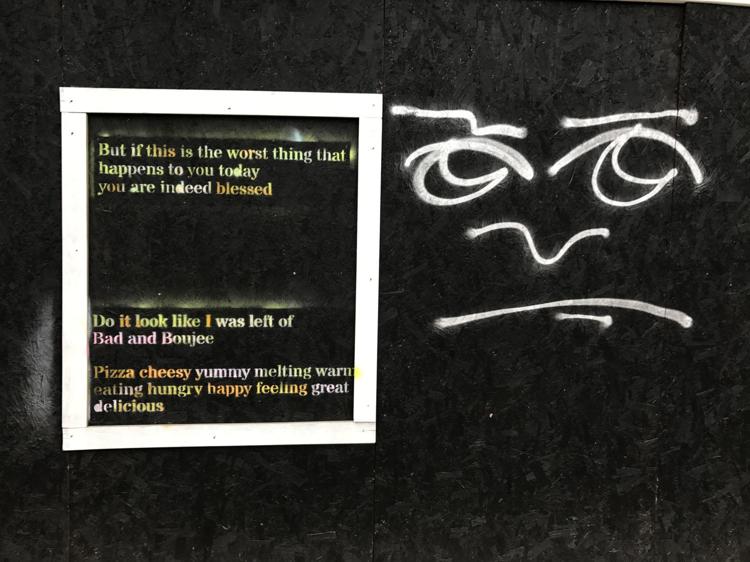 The Gary City Poem is a labor of love, crafted as meticulously as a stanza.
Love transcribes all the lines workshop participants scribble down on handouts, and Hagelberg creates 4-foot-by-8-foot stencils on a CNC machine. The process takes about four hours to complete for a single board.
They've already cranked out more than 40.
"We were just kind of trying to come up with a citywide project that allowed people from all over the city to collaborate and incorporate their voices and ideas into something that would be available for everybody," Hagelberg said. "Poetry was just kind of a natural fit for that."
A previous artist in residence, the poet Ahimsa Timoteo Bodhran, came up with a project where he created a poem with a small group of kids. They realized it could be replicated on a large scale.
They made a zine of Gary poems, including Carl Sandburg's "The Mayor of Gary," so they'd have something to give community members who made creative contributions.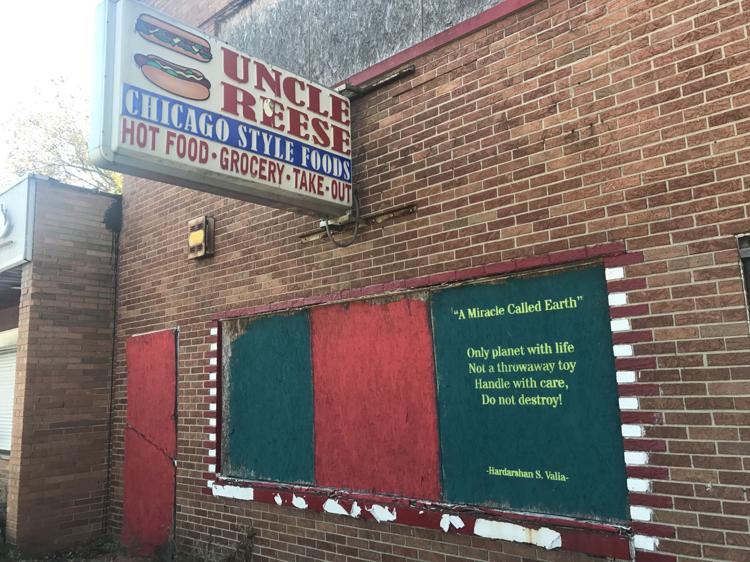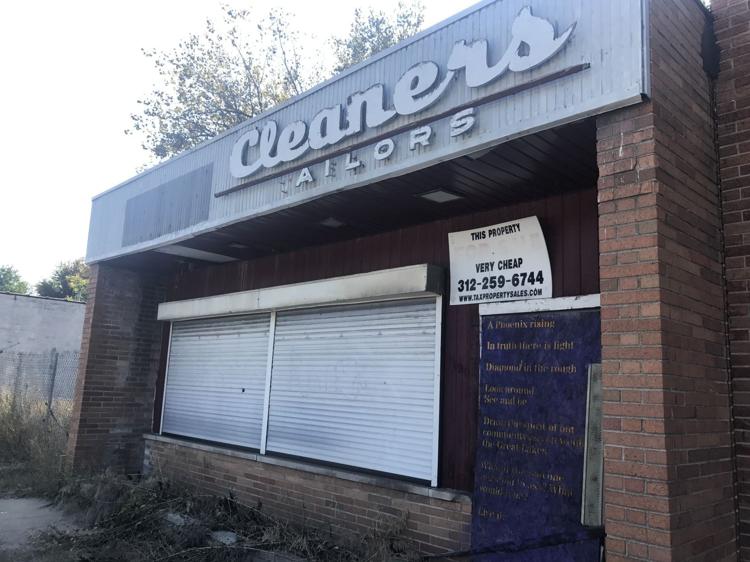 "It's better than we imagined," Hagelberg said. "We're seeing people coming out here to participate. We asked people for a line of poetry. We didn't know if we would get two or three words, but as you can see some people are writing paragraphs. Some people are pouring out their soul. It's really great, the variation and the different points of view talking about Gary and what it's like to live in Gary."
Poems concern nature, the city's beauty, the community and what could be better in a city known for its high crime rates, blight and depressed property values.
"A lot are very optimistic," he said. "The city has a lot of troubles. From an outside point of view, it isn't very pretty. But people recognize the beauty in their community."
The hope is that people take away many things, including that the Rust Belt burgh is home to culture and creativity.
"We just want people to see that Gary's not a simple place," he said. "It's complex, and there are different experiences people have."
The Gary Poetry Project hopes to brighten up spaces in neighborhoods and give passersby something to appreciate and contemplate. They also want people to be able to go around the city and take in the larger poem.
"One board might be a poem in and of itself, but there's something interesting to the collaborative nature," Hagelberg said. "We want to create what some would call a living poem, a poem that keeps growing over time."
The website will have a map and other relevant information to create a poetry trail across Gary.
"People will know where everything is so they can drive or ride their bike or walk around and find the different poems," Hagelberg said. "It will be kind of like a treasure hunt."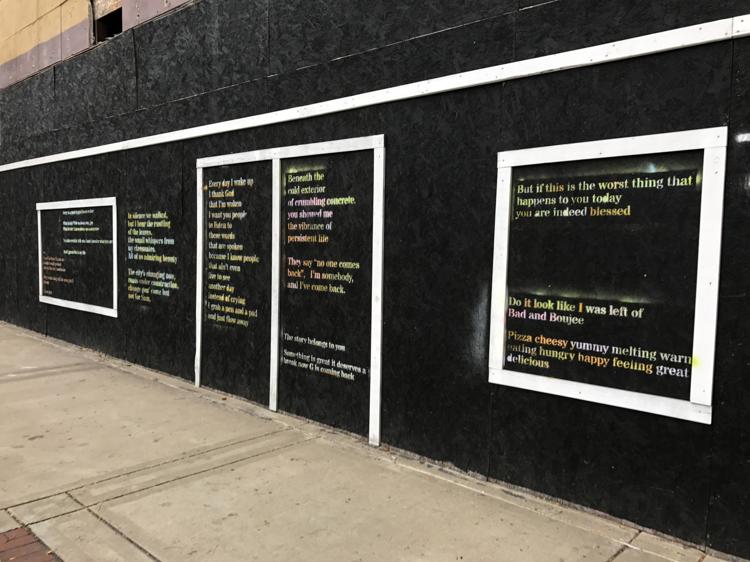 Love said the Gary Poetry Project organizers would love to see other Northwest Indiana communities, such as Hobart or Michigan City, copy the idea and craft city poems of their own because every community has a unique story to tell. He and Hagelberg collected poems from about 1,000 Gary residents to give them a voice and a platform in an effort to record the city's history.
"Even if the population had fallen to 70,000, we wouldn't say we've gotten everybody's story to where we could say this is Gary," Love said. "We would say we're getting a lot of Gary stories, a good representation, probably more kids than adults. It's important to get it from local people."
Contributors have diverse viewpoints, and often present an unflinching view of Gary's grittiness, Love said.
"These are good poems," he said. "Some are talking about violence in a non-cliched way or talking about violence he witnessed on his block. If people are going to consider reinvesting in the city, we want them to understand the nuances."
One of the project's biggest goals is to change the way people look at Gary.
Too often, Gary's reputation gets reduced to one thing, whether that's industry, abandoned homes or the legacy of Jackson family, Love said. Poetry could give outsiders a deeper and richer appreciation of what the city is all about.
"I think it's taking aspects of the city that aren't appreciated, that people maybe even aren't aware of and putting it out for people to see," he said. "The real thing is the way non-Gary people view Gary. There's no nuance. People don't see the diversity. They see a singularity. We've got a great diversity of opinion, ethnicity and culture but it all gets funneled down into blacks, Michael Jackson, crime or abandoned houses. They never let the city be itself. That's why we want to put it out there where people can't ignore it. If people across the Region read it, it confronts the way people look at this city."