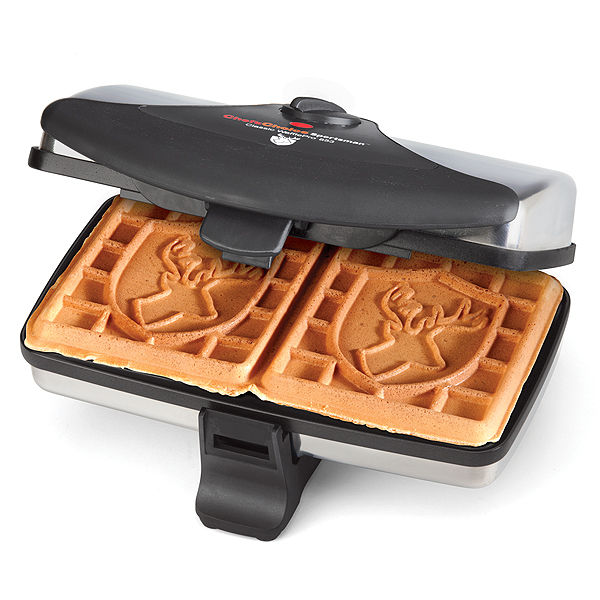 Farmers are a dedicated group who aren't afraid of a challenge, despite the gamble that comes with agriculture.
Mom and Dad have been busy freezing sweet corn from our fields, which our family will enjoy throughout the year.
But this year's growing conditions for sweet corn have been less than ideal.
From too much rainfall early in the season to the past three weeks with a sudden lack of rainfall, growing patterns for crops require a certain formula to guarantee well-formed mature ears with a good flavor.
Adding to grief are an excessive collection of hungry wildlife with appetites, in particular, raccoons and deer, targeting sweet corn fields.
Since it's summer, it seems the ages-old expression "When life gives you lemons, make lemonade" is an ideal way to lift spirits, despite farming frustrations.
The fine folks at Edgecraft have created something fun that is more dear than the deer who are foraging for food in sweet corn fields.
Featuring a rustic, antlered deer head plate design, this new waffle maker was inspired by outdoor enthusiast. In less than two minutes, it bakes two waffles with an imprinted deer head design to delight the palate and evoke the charm of the great outdoors. It's ideal for homemade or quick mix batters, the Sportsman Classic WafflePro Model 853 features a superior non-stick, easy-release coating and consistent even heating that guarantees beautifully patterned waffles, uniformly baked inside and out. The adjustable baking control allows you to prepare the waffles just as preferred. With the Sportsman Classic WafflePro's instant temperature recovery, it's always ready to bake more waffles for family and guests. An LED indicator light lets you know when the waffle maker is properly heated to temperature and ready to bake.
To ensure uniform thickness and even baking, the top waffle plate is designed with a floating hinge. A convenient, easy open latching handle combined with a built-in cord storage compartment allows the waffle maker to be stored in a space-saving upright position. It is priced at $69.99 in stores or edgecraft.com and I have one to give away to a lucky reader today.
Now, here's the trivia question to answer correctly to have your name entered in today's drawing to win the waffle-maker and copy of my 2010 "Further From the Farm" cookbook.
• In the Walt Disney animated 1942 film classic "Bambi," the young fawn and his bunny friend Thumper meet a young skunk who tells Bambi she can be called by the name of ___________?
You have until midnight tonight, 12:01 a.m. Thursday, to call with the correct answer to this question.
All the readers who call in with the correct answer will be entered in the random drawing. PLEASE INCLUDE your name, town you reside in and a best contact telephone number. Call the CONTEST LINE at (219) 933-4173 with your answers. The winner's name will be published in my Sunday, Aug. 9 column. The contest is not open to Times employees or their immediate families. Good luck!
As for today's recipe, it come courtesy of Walt Disney Resorts in Florida, provided when I attended a food seminar while covering the 42nd annual Pillsbury Bake-Off in 2006, which was held in Orlando. It is for a wonderful fruit cobbler recipe that is perfect for the final stretch of blueberry season.
Walt Disney Resorts' Berry Cobbler
1 1/2 cups all-purpose flour
2 teaspoons baking powder
1/2 cup (1 stick) plus 2 tablespoons cold butter, cut into pieces (divided use)
12 ounces fresh blueberries
2 tablespoons light brown sugar
Whipped cream for garnish
DIRECTIONS: In a medium bowl, whisk together the flour, granulated sugar, baking powder and salt. With a pastry blender or 2 knives, blend in the chilled 1/2 cup butter into this mixture until crumbly. With a fork, stir in the egg and mix just enough to blend. Add heavy cream and mix just enough to incorporate, but do not over-mix. Preheat oven to 350 degrees. Lightly grease a 9-inch-by-13-inch baking pan. Press the dough evenly into the bottom of the pan. Place blueberries on top of the dough and sprinkle with brown sugar. Place the remaining 2 tablespoons of butter pieces over the blueberries. Bake for 20 to 25 minutes or until golden brown. Cool and serve from the pan warm, topping each served cake piece with whipped cream Makes 12 servings.
The opinions expressed are solely those of the writer. He can be reached at philip.potempa@nwi.com or (219) 852-4327.