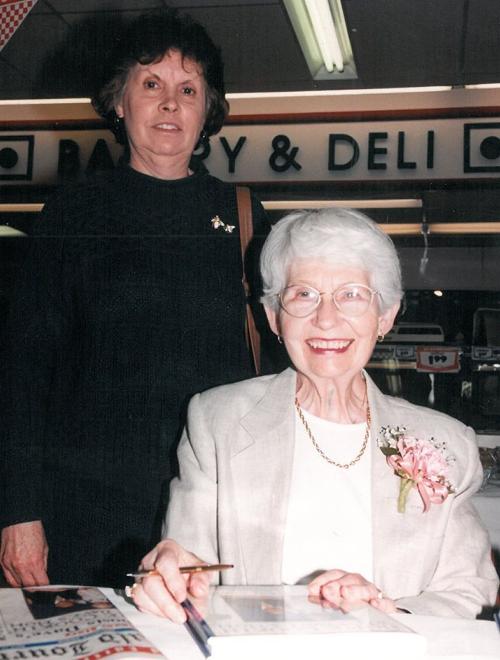 It's been almost a month since David Letterman said so long with a final show on May 20. Letterman now ranks as "TV's longest-running late-night host" after a 33-year reign as host of CBS's "The Late Show."
This week, we'll have his comedian pal Tom Dreesen, who originally hails from Harvey, Ill., back in the region for a weekend of shows at Theatre at the Center in Munster.
At the farm, we miss watching Letterman, 68, as our favorite Hoosier TV personality claim-to-fame. Aunt Lottie, who celebrated her 92nd birthday last week, ranks both Letterman and Dreesen as two of her favorite TV funny men.
Just like our family, there's a reason so many audiences connect with David Letterman. It's because of his Midwestern roots.
For many years, he featured his mom as a favorite "surprise guest," chatting about her recipes and family news from her home in Indianapolis.
Dave's mom, Dorothy Marie Letterman Mengering, will celebrate her 94th birthday next month on July 18. Many Times readers had the chance to meet and visit with her in 1998 when she visited Northwest Indiana to sign copies of her great cookbook "Home Cookin' with Dave's Mom" ($20, Pocket Books, 1996).
I've interviewed her a few times throughout the years and she's always pleasant, down-to-earth and loves to talk about recipes.
Of her three children, she says Dave was the pickiest eater when it came to vegetables. She said he particularly did not like spinach and asparagus, so she would "disguise them" with "lots of cheese and butter."
As a teen, Dave worked at Atlas grocery store in Carmel, Ind., as a stock boy, carry-out clerk and cashier, which is the same summer job I had in my small town's grocery store during my high school years.
My favorite story Dave's mom loves to share is why she decided not to have Dave's famous front-teeth gap fixed as a child. She says it's because, even then, she thought it was part of his personality.
She lost her beloved second husband Hans Mengering, whom she married in 1983, in 2013. Dorothy's first husband, Dave's father Joe, died in 1973.
One of my favorite visits with Dorothy was when I brought my own mom Peggy along in 1997, at the urging of our good family friend Irene Jakubowski, for a special grocery store book signing event in Monticello, Ind.
"I think America loves the idea of 'the mother' and all she accomplishes with a family," Dorothy told me.
"And I think people like to see a mother and a son who have a good relationship."
Her favorite guests from her son's show throughout the decades are Dan Rather, Barbara Walters and Mary Tyler Moore.
"Richard Simmons is also always fun," she said.
"One time, Dave sent him to my house to help me in the kitchen with my cooking. It wasn't easy with all of the wires and cables from the filming, but we still had fun. We made Dave's favorite sour cherry pie and Richard took it to New York to deliver it to David on-air."
To honor Dorothy and David's German family heritage, this week I'm sharing Dorothy's favorite recipes for her German potato salad and her easy ham-loaf.
Dorothy's German-Style Potato Salad
4 medium potatoes, peeled and quartered
1/4 cup packed brown sugar or granulated sugar
1/8 teaspoon black pepper
DIRECTIONS: In a medium saucepan, cover potatoes with water and cook over medium heat for about 20-25 minutes or until tender. Cool, drain, and dice. In a medium skillet, over medium heat, fry bacon until crisp. Drain on paper towel. Reserve 2 tablespoons of the bacon drippings and add to a medium saucepan, along with sugar, flour, water, vinegar, salt, pepper and onion. Cook, stirring frequently, until mixture thickens, approximately 5 minutes. Add diced bacon. Place prepared potatoes in a large bowl and pour the bacon sauce mixture over and stir to combine. Serve warm. Makes 4 servings.
3/4 cup soft bread crumbs
2 teaspoons table mustard
1/4 cup packed brown sugar
DIRECTIONS: In a meat grinder, combine all of the meats and grind OR if buying at a meat deli counter, ask the staff to do the combined grinding for you. In a large bowl, mix the meat with the eggs, bread crumbs, milk and pepper and pat into a 9-inch by 5-inch by 3-inch loaf pan. If desired to use the glaze (Dorothy sometimes skips this part), combine mustard with brown sugar and pineapple juice and pour over loaf. Bake at 350 degrees for 90 minutes. Makes 8 servings.
The opinions expressed are solely those of the writer. He can be reached at philip.potempa@nwi.com or (219) 852-4327.