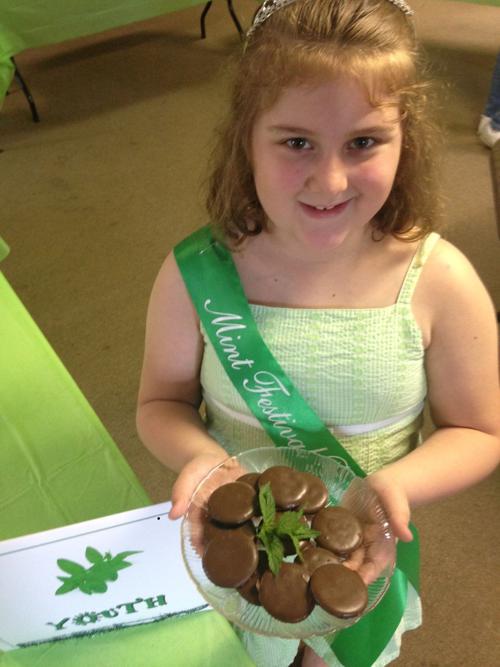 The fragrance of mint, both peppermint and spearmint, easy attracts attention.
It's not only appealing to humans, but also becoming even more important for keeping honeybees happy.
Mint is rich in nectar and pollen and the small blossom clusters are appealing to buzzing bees.
Every year for Father's Day Weekend, our small town North Judson hosts a festival celebrating our community's crop claim-to-fame highlighting the agricultural attributes of peppermint and spearmint.
Last weekend was our town's 38th annual Mint Festival, which includes the annual Cooking with Mint Contest in the tiny Girl Scout Cabin near the downtown area. This is always a favorite part of the festival weekend, along with the guided bus tours of our area mint farms, the old steam engine train rides through our farming lands and Sunday's annual Peppermint Parade, led by this year's newly crowned Peppermint Queen.
This year is also an extra special year for the Cooking with Mint Contest, which I have judged so often in the past two decades. The contest organizers have released the latest updated edition of the "Cooking with Mint Mint Festival Cookbook." It features all of the previous year's winning recipes since the first festival in 1977.
The cookbook is also filled with many interesting facts about the merits of mint, such as:
• Sprinkling crushed peppermint and spearmint into hot bathwater releases a refreshing aroma while helping to soften and exfoliate the skin, a practice embraced by royalty for centuries.
• Peppermint is an essential oil with respiratory benefits and the ability to open airways to act as a decongestant. It can be used for a natural vapor rub to reduce the symptoms of asthma and bronchitis.
• Peppermint tea is often used as a welcome relief for bloating and indigestion.
• Peppermint oil is a key ingredient in many high quality haircare products, because it naturally thickens and nourishes damaged hair. It is believed to offer properties to help stop hair loss and thinning.
• Pure peppermint oil has been embraced by many who believe it is a natural remedy for aching joints.
The cookbook, which includes hundreds of recipes, is available for $15 by calling Donna Henry at (219) 395-6504.
As for this year's ranking recipe for the 2015 Cooking with Mint Contest, it was the delicious creation of Jorja Prater, who is the 2015 Mint Festival Princess, that took home the "green ribbon honors." She is 7-years-old and the daughter of Michelle and Jim Prater of North Judson. She will be a second-grade student at St. Peter's Lutheran School this fall.
While I was growing up, her grandmother, Pat Eberhart of North Judson, was our cafeteria cook at North Judson-San Pierre High School for many years and Jorja's great-grandfather, Steve Endro, was the custodian at our tiny San Pierre Elementary School.
Her recipe is a tribute to the scrumptious Girl Scout Thin Mint Cookies we all look forward to each year during the season for cookies sales. She calls them Copy Cat Thin Mints.
1 (10-ounce) bag creme de menthe baking chips
12 ounces of milk chocolate bark
2 sleeves of round butter-flavored crackers, such as Ritz Crackers
DIRECTIONS: Using a four-quart slow cooker set to low, combine baking chips with the bark chocolate and allow to melt and combine for 1 hour. Stir until smooth. Turn off the slow cooker. Dip each cracker into the melted chocolate to cover completely. Remove from chocolate and allow any excess chocolate to drip off. Place each dipped "cookie" on waxpaper and allow to set one-hour to harden. Makes 3 dozen.
The opinions expressed are solely those of the writer. He can be reached at philip.potempa@nwi.com or (219) 852-4327.