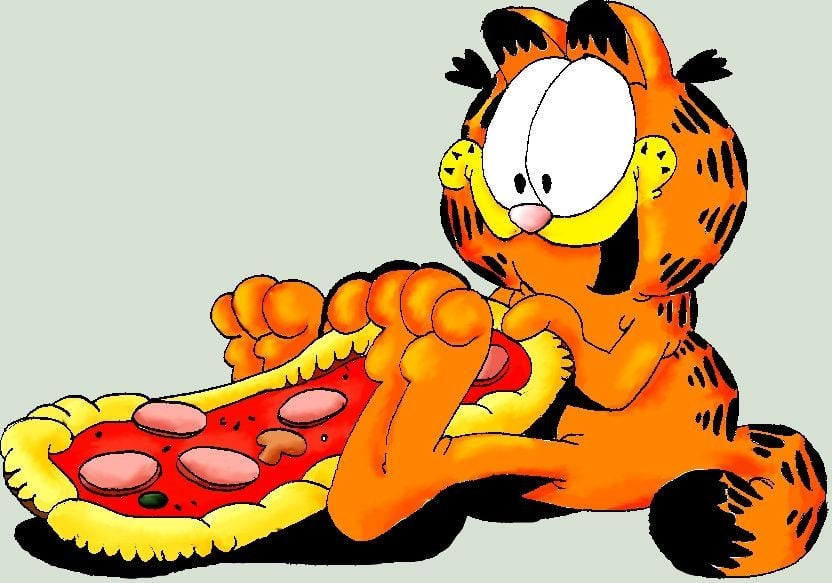 If you regularly read our comics page in The Times, Garfield the Cat is a feline fan of two favorite foods: pizza and lasagna.
The preferred menu of this fat cat mirrors the tastes of his creator Jim Davis, who is still based in his hometown of Marion, Ind. and will celebrate his 70th birthday next month on July 28.
Throughout the months of May and June, pizza has been on the minds of many around Northwest Indiana.
On Friday, May 15, Pizza Wars began as a competition promotion for a bracket-style contest to crown the best pizza in Porter County, and then advancement to a further round competing against other finalists around Northern Indiana.
It started with "the Epic Eight," identified as having the best pizza in Porter County through social media mentions and surveys narrowed down to AJ's Pizza, Chesterton; Duneland Pizza, Chesterton; Gelsosomo's, Portage; Greek's, Valparaiso; Rolling Stonebaker, Beverly Shores; Shoe's, Valparaiso; Tomato Bar, Valparaiso and Tony's Place, Valparaiso.
Patrons visited indianadunes.com/wars to vote in the first round. The winner of each pairing advanced to a round of four on May 28, with the final round of two kicking off on June 4. When the winning restaurant for Porter County was announced June 8, it was Duneland Pizza taking home the "pie in the sky" honors and is now, as of June 12, competing against pizza from six other Northern Indiana counties to pick a Northern Indiana champion.
"The goals of Pizza Wars are to remind people that they don't have to go to Chicago to get fantastic pizza, and to guide visitors and residents to local favorites so they can decide for themselves what is their favorite pizza," said Angela Pasyk, niche market director for Indiana Dunes Tourism.
"We had hundreds of votes cast to determine our Top 8, so they all had numerous nominations and loyal customers who insist they are the best, so it'll be fun to see how this plays out."
Pizza Wars, an initiative of Indiana Dunes Tourism and the Northern Indiana Tourism Development Commission, is designed to highlight the fact that this is a pizza-lover's paradise.
The restaurants competing against each other have tourism-produced posters at their businesses and are encouraged to use social media and be creative in getting diners and voters to come their way.
"Pizza Wars not only allows people to participate in the battle for the best local pizza, but it should also encourage non-locals to try some Porter County deep dish, stuffed, or thin crust goodness," Pasyk said.
She said Pizza Wars is the second of the food wars series, with Octave Grill in Chesterton being crowned Burger Wars winner last year. She's already anticipating a new "food war" every year.
When I interviewed Garfield creator Jim Davis a few years ago, he was promoting a new cookbook with his favorite recipes, titled "I'm in the Mood for Food: In the Kitchen with Garfield" ($18.95 Andrews McMeel Publishing). One of his preferred highlights was for an easy, quick lasagna recipe I'm sharing here today. Garfield the Cat celebrates his 37th birthday this Friday, June 19. And as fans of the comic strip know, the only thing better than birthday cake is a pan of lasagna! This version is so easy, the noodles don't have to be boiled before it is assembled and baked.
Garfield's "Lazy Cat" Lasagna
2 (15-ounce) containers ricotta cheese
1/2 cup grated Parmesan cheese, divided use
2 teaspoons dried basil leaves
3 1/2 cups or 1 (28-ounce) jar red marinara sauce or spaghetti sauce
9 lasagna noodles, uncooked (regular or oven-ready)
4 cups (16 ounces) shredded mozzarella cheese, divided use
DIRECTIONS: Preheat oven to 350 degrees. In a medium bowl, stir together the ricotta cheese, 1/4 cup of the Parmesan cheese, the egg and basil until combined. Spoon about 3/4 cup of the tomato sauce in the bottom of a 13-inch by 9-inch baking dish. Place 3 of the uncooked noodles on top of the bottom sauce layer. Evenly spread half of the ricotta cheese mixture over the top of the noodle layer, and then, sprinkle with 1 1/2 cups of the mozzarella cheese. Repeat these layers once more, topping with a final layer of the final 3 uncooked noodles and the remaining sauce and sprinkling with the remaining 1 cup of the mozzarella cheese and remaining 1/4 cup of Parmesan cheese. Cover with foil. Bake for 45 minutes. Remove foil and bake another 15 minutes longer until the noodles are tender. Let stand 10 minutes before serving. Makes 8 servings.
The opinions expressed are solely those of the writer. He can be reached at philip.potempa@nwi.com or (219) 852-4327.
Be the first to know
Get local news delivered to your inbox!