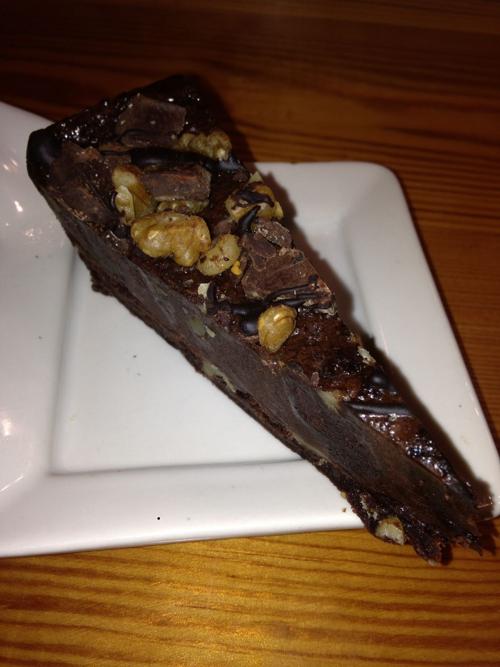 While I was in Memphis and Tunica, Miss. over the weekend, readers who messaged had plenty of menu questions.
Fried catfish, sweet potatoes, okra, grits, collard greens, fried chicken, pan-cornbread and biscuits, beans flavored with ham and black-eyed peas ranked as some of the favorite traditional menu mainstays.
And for dessert, it was always the same sweet highlights: bread pudding, pecan pie, red velvet cake and "Mississippi Mud Pie."
As a fan of chocolate, I became particularly obsessed with the latter. It had been years since I'd tasted or thought about this rich layered sweet sensation of soft and gooey dark chocolate filling, blended with nuts and topped with milk chocolate chunks, more nuts and dark chocolate drizzle.
This dessert is distinctly associated with the area of my weekend travels termed as "the Mississippi Delta" region, which is just 25 minutes from Memphis, over the state line and includes the northwest section of the state of Mississippi along the Mississippi River. This stretch of landscape is often referred to as "the Most Southern Place on Earth," not because of the geographical coordinates but because of the characteristics of the people and the communities. For many decades before the Civil War, the agriculture of the area was prized as one of the richest soil locations in the nation for growing cotton. Because the area also tended to flood when the Mississippi River waters would exceed the banks, the area also became associated with muddy attributes.
While recipe variations for "Mississippi Mud Cake" began to emerge after World War II, the dessert and its incarnation as "Mississippi Mud Pie" didn't gain widespread popularity until the 1970s.
While in Tunica, Miss., my favorite recipe version of this dessert was the one served at MGM Resorts International's Gold Strike Casino Resort at the Buffet Americana restaurant. The recipe, created by Executive Sous Chef Anthony Cieplinski uses a cheesecake "springform" cheesecake pan. With some convincing, I was able to get a copy of the recipe, but it was rather involved to recreate. However, years ago, I was given a similar recipe from Dolly Parton during a visit to Dollywood which was included on a recipe card in a media gift bag, so I've included it here today.
Dolly Parton's Mississippi Mud Cake
1 cup (2 sticks) butter, plus extra for pan
3/4 cup unsweetened cocoa powder
2 1/4 cups granulated sugar
2 teaspoons vanilla extract
1 1/2 cups pecan halves, toasted
1 (10.5 ounce) bag mini-marshmallows
1 (1-pound) box powdered sugar
1/3 cup unsweetened cocoa
4 tablespoons (1/2 stick) butter, softened
DIRECTIONS: Preheat oven to 350 degrees. Use butter to grease the inside of a 9-inch-by-13-inch cake pan. To make cake batter, in a saucepan, combine butter, cocoa and sugar over medium-low heat, stirring until the mixture is thoroughly combined. Remove from heat and allow to cool completely. Add eggs, vanilla and salt to the cooled mixture. Beat together until thoroughly mixed. Add the flour and mix well. Pour the batter into the prepared pan, spreading evenly. Bake for about 25 to 35 minutes or until a toothpick inserted in the middle comes out clean. As cake is baking, make the frosting by combining the powdered sugar, milk, cocoa and butter in a medium bowl and mix together until smooth. Once hot cake is removed from the oven, immediately sprinkle the pecans and marshmallows over the top. Let cake cool completely in pan and then frost and serve. Makes 12 servings.
The opinions expressed are solely those of the writer. He can be reached at philip.potempa@nwi.com or (219) 852-4327.