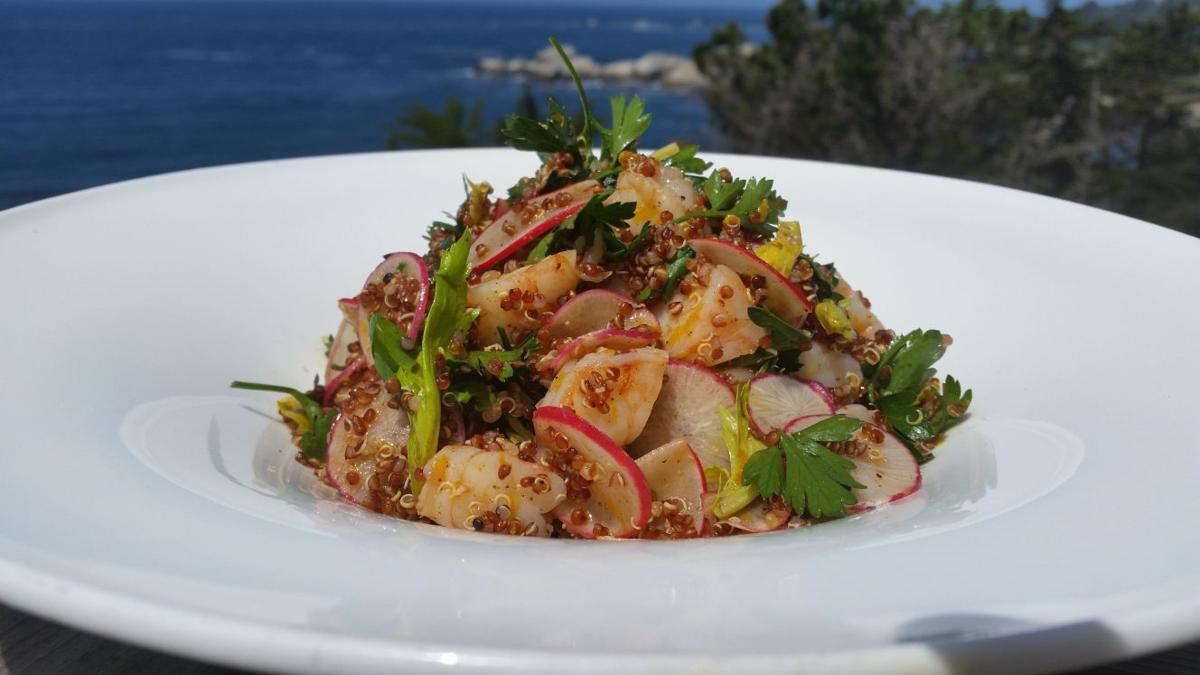 Along with onion sets and potatoes, rows of radishes are among the first favorite salad ingredients planted by my parents each year in their large farm gardens.
Radish seeds quickly sprout and can tolerate the confusing cold to warm temperatures of spring. What many people don't realize is that radishes are closely related to cabbage, kale, turnips and cauliflower. Because they are low in calories, but high in flavor with a favored peppery taste, radishes are a favorite of dieters.
While in California over the weekend, I noticed radishes were a top ingredient on the restaurant menus.
I dined at one of the favorite restaurants of the late Julia Child, who was born and raised in Pasadena, Calif., retired from living on the East Coast in 2001, and moved back home to Montecito, Calif. Pacific's Edge restaurant in the Hyatt Carmel Highlands Inn, formerly the Highlands Inn of Carmel, is about to celebrate its 100th anniversary and Julia Child was a favorite dining guest.
The restaurant's Executive Sous Chef Alvaro Dalmau serves up a delicious Smoky Quinoa and Rock Shrimp Salad.
I continue to be fascinated with "quinoa," which is pronounced in Spanish as "ki-NOH-wah."
As it turns out, this centuries old harvested favorite, which is primarily grown in the Andean region of Ecuador, Bolivia, Colombia and Peru, has been successfully domesticated for the past 4,000 years for human consumption. And previous to this, archeological evidence shows a non-domesticated association with pastoral herding dating some 5,200 to 7,000 years ago.
It was a staple food of the Incas and prized by the people of the Andes Mountains because is can grow in the rocky poor soil. Most of all, quinoa is packed with nutrients. At just 160 calories per cup cooked (made from just 1/4 cup of dry quinoa), it offers  5 mg of iron, 100 mg of magnesium, 370 mg of potassium and numerous vitamins.
Smoky Quinoa and Rock Shrimp Salad 
2 cups red and white quinoa
1 watermelon radish, sliced
1 ounce of fresh celery leaves
1 teaspoon smoked paprika
1 tablespoon sherry vinegar
DIRECTIONS: In a sauce pan, combine quinoa with water and bring to a boil. Cover and let cook over a low flame until water is absorbed. Remove from heat and allow to cool. In a separate sauce pan, heat beer and blanch shrimp for 30 seconds and then chill. In a small bowl, combine sliced radishes with the leaves from the parsley and celery, along with the zest of 1 lemon and 1 orange. In a large bowl, mix the quinoa with the orange and lemon zest and add salt to taste and all remaining spices and ingredients. Toss with prepared shrimp and serve immediately. Makes 4 servings.
• Courtesy of Hyatt Carmel Highlands Inn and Executive Sous Chef Alvaro Dalmau
The opinions expressed are solely those of the writer. He can be reached at philip.potempa@nwi.com or (219) 852-4327.