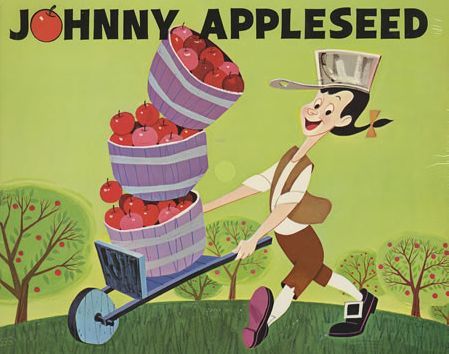 Growing up with lots of apple trees at our family farm, I've always been a fan of Johnny Appleseed, who also rates as one of our favorite unusual Hoosier historical figures.
Even though he was born Sept. 26, 1774, in Leominster, Mass., he is still considered "an honorary Hoosier." He spent the latter part of his life in Fort Wayne, where he died at age 70 in 1845.
Ann Scamerhorn, a friend from one of the farms down the road, had an Aunt Alice who lived in Fort Wayne. During our youth, I recall going to Fort Wayne with Ann and her family in September to visit her aunt and for the annual Johnny Appleseed Festival, which first launched in 1975.
It is held in Johnny Appleseed Park, which is also the location of Johnny Appleseed's gravesite, marked by a large rock carved to serve as his tombstone, which sports a carved apple and reads: "Johnny Appleseed He lived for others. 1774-1845."
His real name was John Chapman, a trained orchardist with a passion for spreading messages of faith and hope. His pioneer and missionary spirit for crossing the country planting apple seeds in Ohio, Pennsylvania, Indiana and Illinois inspired his rechristened name in history books and pop culture references. Never married, he was known for eccentric behavior, including his ragged clothes and often barefoot appearance.
Besides what I had studied in my fourth-grade elementary school social studies class, my earliest images of what Johnny Appleseed looked like came from seeing Walt Disney's 1948 17-minute animated musical film "The Legend of Johnny Appleseed," narrated by actor Dennis Day.
At first, I thought the idea of Johnny Appleseed wearing a tin pot on his head as a hat was just popular legend and a silly trademark assigned to him from lore. But historical accounts confirm he did travel the wilderness wearing his cooking pot as a hat and his bag of apple seeds and bible carefully cradled every step of the way. He was also a vegetarian and especially fond of animals and all of God's creatures great and small.
By every account, Johnny Appleseed was unique in every way, much like today's showcased applesque-inspired recipe.
Reader Elaine Cioni, of Crown Point, called me to share a creative and delicious recipe that she says always ranks as "a conversation starter" when served.
"You recently wrote about zucchini and how gardens can yield an abundant harvest of it," Cioni said. "I have a special recipe that is great for the arrival of September and perfect for using up extra zucchini in a very surprising way. I recall years ago making this recipe and serving it to my teenage son and he said it was the best apple cobble he ever tasted. After I told him it was really zucchini used as the filling and not actually apples, he stopped eating it. But this story proves how good it really is and how it can fool anyone."
Mock 'Apple' Cobbler with Zucchini Filling
8 cups zucchini, peeled and sliced like apples
DIRECTIONS: To make crust, in a large bowl, combine all ingredients and mix until crumbly. Set aside, for what will be divided use. To make filling, combine prepared zucchini with lemon juice in a saucepan and cook a few minutes until tender. Add the 1 cup sugar and cinnamon and nutmeg and simmer a few minutes longer. Add 1/2 cup of the crumbly crust mixture to the filling to thicken and allow to cool. Pat 1/2 of the remaining crumbling crust mixture into the bottom of a 9-inch-by-13-inch baking pan and bake for 10 minutes at 375 degrees. Pour the filling over the the bottom crust. Pour the remaining crumbly crust mixture over the filling and sprinkle a little more cinnamon over the top if desired. Bake cobbler at 375 degrees for 30 minutes. Makes 12-14 servings.
The opinions expressed are solely those of the writer. He can be reached at philip.potempa@nwi.com or (219) 852-4327.