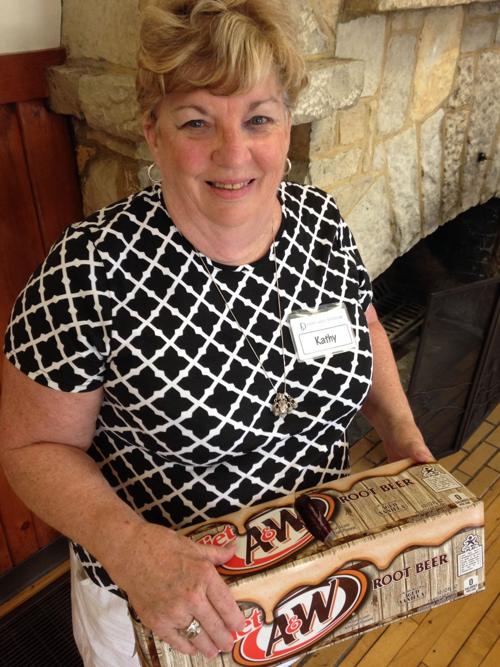 Martha Stewart has often mentioned while she was growing up, she joined her parents and siblings in the basement of their modest Polish family home making homemade root beer to bottle and enjoy for special occasions.  
The key ingredient for root beer comes from the roots of the sassafras tree, which is why the old fashioned name for root beer is sometimes referred to as "sarsaparilla," a reference common also heard in old movie westerns when parched cowboys enter a saloon and call out to the barkeep.
Sassafras trees are abundant at our farm and root beer also ranks as a family favorite.
Last week, I joined my parents as a guest speaker at a luncheon hosted by the Duneland Seniors at the community center at Hawthorne Park in Porter.
The event's hostess Kathy Flory-Smith, of Chesterton, planned the delicious menu with the main entree highlight being her recipe for tender and succulent pork ribs cooked in root beer, which she is sharing with readers today just in time for this weekend's Fourth of July barbecues and picnics. The carbonation of the root beer, combined with the robust and distinct flavor qualities when slow cooked, make these ribs some of the most fork-tender and flavorful ribs I've ever tasted.
Root beer is a beverage with a bounty of bubbly benefits prized for centuries.
When the Native Americans first began making sassafras root beverages, they were primarily embraced for medicinal reasons.
But even prior to the New America roots in root beer, it was already being served in Europe as early as the 16th century, with the first written documented recipes dating to the 1800s.
Of course, it was when root beer became a popular menu item in confectionery shops and soda fountains that commercial bottlers further drove demand with wider availability and distribution.
Pharmacist Charles Elmer Hires, of Hires Root Beer fame, is credited with marketing the first successful commercial brand label of root beer in 1876. (As a strict "teetotaler," he wanted to call his branded beverage "a root tea," but marketing the product to Pennsylvania coal miners made it more desirable when called "root beer.") By 1893, his root beer was sold across the United States. 
With business success and profit comes competition and Hires' arch-rival was Edward Barq, who began selling his Barq's sarsaparilla-root beer in 1898. By 1919, Roy Allen opened his root beer stand in California and launched A&W root beer with a serving trademark of serving it to guests in cold, frosted mugs. At about the same time, IBC Root Beer was founded in 1919 by the Griesedieck Family in St. Louis and brand named as an abbreviation for Independent Breweries Company and the root beer hailed as a legal beverage during the era of Prohibition.
Today's root beer ribs recipe is a salute to the long and lasting success of root beer throughout the ages.
A Happy and Safe Fourth of July to Times Readers and their Families!
Kathy's Slow-Cooked Root Beer Ribs
4-6 pounds pork or beef ribs
1 (15-ounce) bottle of barbecue sauce of choice
DIRECTIONS: Cut ribs into portions to fit in a standard size slow cooker. Stand up the ribs to line the slow cooker. Pour both cans of root beer into the slow cooker and set on "Low" setting (250 degrees). Allow ribs to cook for 7 hours. Half way through the cooking time, turn ribs for even tenderness and cooking. Remove ribs from slow cooker and place on a bake sheet and cover with favorite barbecue sauce. Bake ribs uncovered in conventional oven for 20 to 30 minutes at 300 degrees. If grilling ribs is preferred, reduce slow cooker time to 5 hours. Remove ribs, brush with barbecue sauce and grill lightly for desired taste and texture. Makes 6 servings.
The opinions expressed are solely those of the writer. He can be reached at philip.potempa@nwi.com or (219) 852-4327.