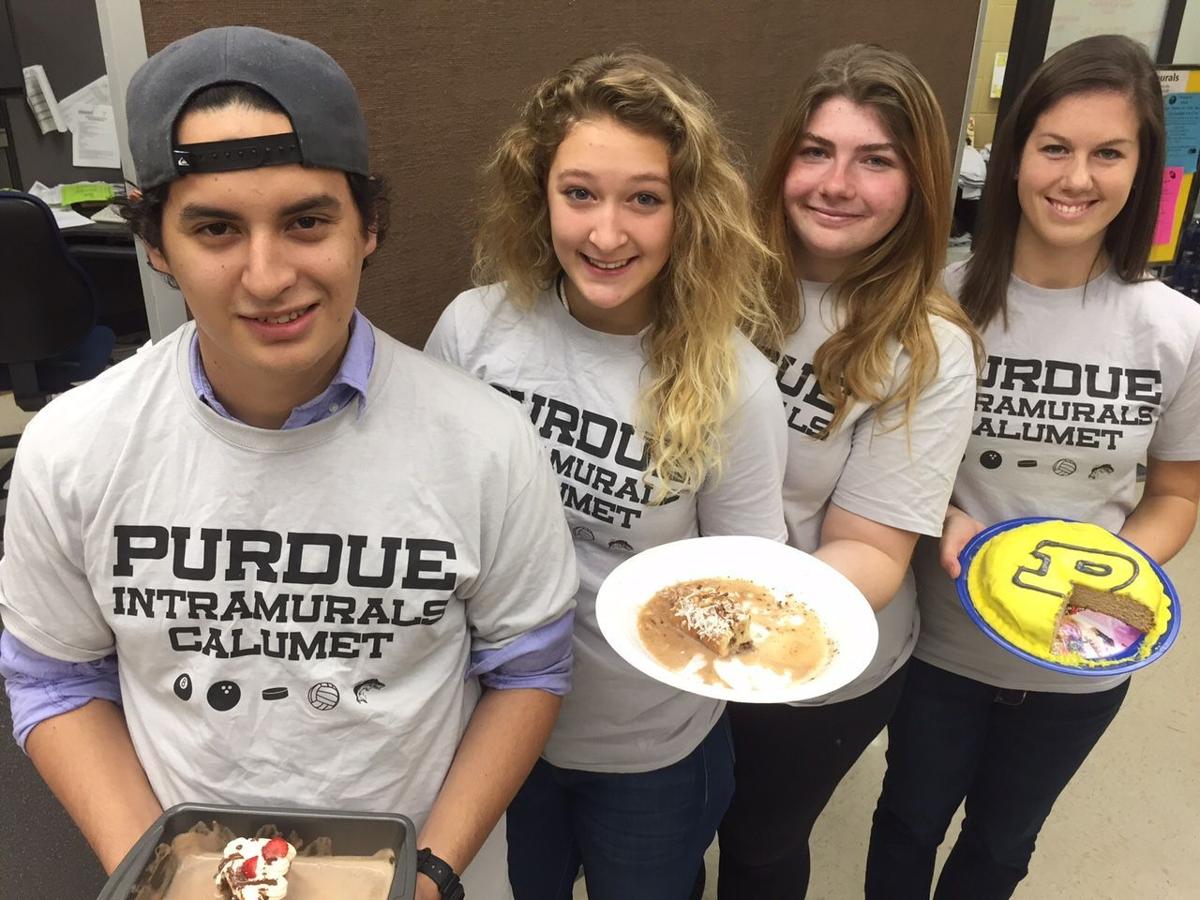 Sunday is not only the first day of clocks set back one hour for Fall Daylight Savings Time, it's also All Souls Day.
For many, it is the observance of The Day of the Dead.
Torta de Tres Leches aka "cake of three milks" is a sweetened milk soaked sponge cake that is the popular pastry served for Sunday's gatherings.
I was asked to return as a judge for the eighth annual Purdue University Calumet Intramural Baking Contest last week on campus in Hammond. For the seven previous years, the contest has highlighted competitions for making cookies, cupcakes, brownies, pies and cakes.
This year, PUC Intramurals Director Matt Dudzik decided to the contest theme would challenge participants to create special cakes in honor of the Purdue University Calumet turning 70 this year.
The contestants' entries were judged based on taste, texture and appearance.
The winner this year was a team consisting of Skye Mcnutt, 18, studying civil engineering and Breann Kalafut, 18, who is studying hospitality and tourism management. Both are first-year students who are from Lynwood. They devised an inventive recipe for tres leches cake that includes chocolate chips and coconut flavor accents.
The other finalists with cake creations were Josue Portilla, 20, of Hammond, who is originally from Ecuador and is studying computer engineering, and Allison Banasiak, 21, of Highland, who is studying for a nursing degree with a nutrition minor.
While the recipe for tres leches cake is centuries old, it became more known to menus as a desirable dessert in the 1940s. As described by the name, the cake includes three types of milk as the key ingredients: sweetened condensed canned milk, evaporated canned milk and heavy cream. After Nestlé Co. opened operations in Argentina, Chile, Cuba, Mexico and Venezuela in the 1930s, by the 1940s, it began to include the recipe for tres leches cake on the labels of their brand of condensed milk.
My congrats to the winners and all of the finalists!
Chocolate Chip Tres Leches Cake
1 cup of all-purpose flour
1 teaspoon of baking powder
1/2 cup of unsalted butter, melted
1 teaspoon of vanilla extract
1 cup of semi-sweet chocolate chips
1 (14 ounce) can of sweetened condensed milk
1 (12 ounce) can of evaporated milk
1 cup heavy whipping cream
1 cup white granulated sugar
1/2 teaspoon vanilla extract
1/2 cup of semi-sweet chocolate chips
1 cup of shredded coconut shavings (divided use)
DIRECTIONS: Preheat oven to 350 degrees.
To make cake batter, mix 1 cup of flour and 1 teaspoon of baking powder together, set aside.
In another bowl, combine melted unsalted butter, the 5 eggs, 1 teaspoon of vanilla extract, 1 cup of sugar and whisk together until smooth. Blend the mixture of flour and baking powder to the egg and butter mixture, adding the flour mixture little by little. After done mixing, fold in the 1 cup of chocolate chips to the batter.
Prepare an 8-inch-by-11-inch baking pan and place a sheet of aluminum foil at the bottom and then lightly coat the foil with a small amount of butter. Pour batter into pan and place into oven for 40-45 minutes on the top shelf of oven.
To create the milk glaze, combine the whole milk, sweetened condensed milk, and evaporated milk together in a bowl and blend well and refrigerate until cake is removed from oven.
After cake is done baking and finished cooling, poke holes into the cake with a fork/toothpick. Pour milk mixture over cake and refrigerate overnight.
To make the sweet cream topping, add 1 cup of heavy whipping cream, 4 ounces of coconut milk, 1 cup of sugar, and the 1/2 teaspoon of vanilla extract to another mixing bowl and whip thoroughly, let settle in refrigerator for at least one hour.
Pour the sweet cream topping over cake after the milk mixture has been soaked up in the cake and return to refrigerator until serving.
To garnish, melt the 1/2 cup of chocolate chips. Set aside. Take 3/4 cup of shredded coconut and place in oven set to 250 degrees for 5 minutes or until golden brown. Sprinkle the remaining 1/4 cup of shredded coconut onto cake, and added the toasted coconut over cake as well. Drizzle the melted chocolate chips on top of toasted coconut.
The opinions expressed are solely those of the writer. He can be reached at philip.potempa@nwi.com or (219) 852-4327.