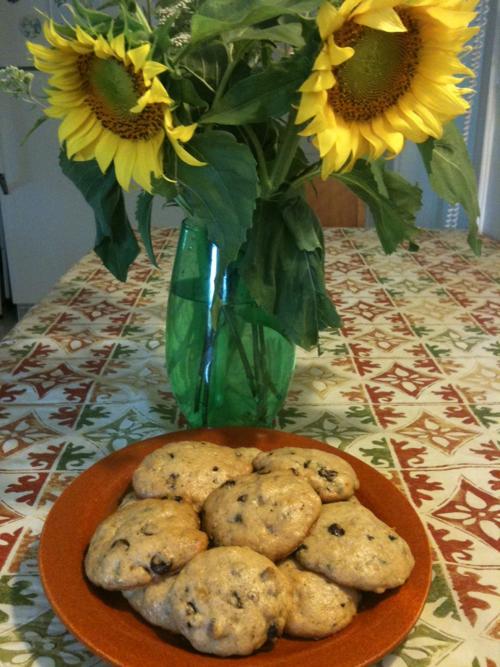 Years ago, I did an interview with Don Scheeringa and we talked about his lifetime of farming.
I recall how we both agreed we never expected to see a day when zucchini would become a vegetable in demand.
Scheeringa, a familiar name from Scheeringa Farms and Produce Stand on Cline Avenue in Highland, told me when he was growing up and his father had the family farm stand, he never even raised it "because it just wasn't as known."
Scheeringa's grandfather first started their 70-acre family farm stand in the early 1900s at a time when zucchini was a "vegetable unknown" to many.
Today, zucchini has finally earned its place on American tables, whether mixed in a bread recipe, served in stir fry or disguised in dessert, such as the inviting recipe for zucchini cookies I'm featuring in today's column.
This is a squash with a subtle flavor tempting to taste buds.
Zucchini is technically a fruit, eaten as a vegetable, that doesn't adhere to any harvesting rules. And when selecting a zucchini, bigger isn't necessarily always better.
"Squash snob" is a term that refers to someone who never eats a zucchini or any other type of summer squash which is more than five inches long.
Bigger zucchinis are fine for breads, casseroles or any recipe calling for grated zucchini, such as a Zucchini Parmesan Cheese Bake my mom loves to make from a great recipe given to her by our family friend Ann Bolini and featured in my 2010 "Further From the Farm" cookbook.
So if most people want only small zucchinis, why let them grow to larger sizes?
Monitoring growth in a zucchini patch isn't an easy task.
Besides the fact that green zucchinis blend in with the plant's foliage, they also grow extremely rapidly under ideal conditions, such as our recent late summer humid temperatures, generous sunshine and the return of rainfall this month.
A suggested planting and yield chart is as follows: one plant will yield enough for a family of four; two plants assure some left over for friends and relatives; three plants mean you've got enough for the neighbors on your street; four plants or more will yield enough for the entire block.
Zucchini was a New World squash that was unfamiliar to our country's forefathers, until the Indians shared their growing traditions with the Pilgrims.
And now, zucchini's popularity has boomed since the days of the Mayflower.
Besides abundance and great taste, zucchini offers eaters the added bonus of nutrition.
It's a dieter's delight, containing only five calories per ounce while being chock-full of vitamins A, B-complex and C, along with iron, calcium and fiber.
Zucchini also freezes well for winter recipe use.
Today's featured recipe is from reader Heather Stolte of Wanatah, who was one of my students in spring of 2012 at Purdue North Central.
"My mom believes she got this zucchini cookie recipe from a friend that she worked with many years ago, making the recipe at least 35 years old," Heather said.
"My mom had made the cookies a few times before I took over baking them. I took these zucchini cookies for my first baked item in 4H when I was 8-years-old and earned a 2nd place ribbon. I grew up in the kitchen with my mom, grandmother and great grandmother. They all liked to cook, bake, can, make jellies, jams and homemade noodles. So thankfully, I found that same love. Baking is my most favorite. I bake whenever I can, whether it is for my husband's work, family gatherings and celebrations, and special occasions or just for us and neighbors. I've even made a few items to present in speeches that I have had in a couple of my college courses. I am currently a full-time student pursuing my bachelor's degree in business management with a minor in HR and will graduate in December 2015. My dream is to one day own my own bakery."
Heather's Zucchini Cookies
1 (20-ounce) can crushed pineapple, well drained
1-1/2 cups semi-sweet chocolate chips
1 cup chopped walnuts or pecans (optional)
DIRECTIONS: Preheat oven to 350 degrees. Using a mixer, cream eggs, sugar, vanilla and vegetable oil; set aside. In a medium bowl, whisk flour, baking powder, baking soda, salt and cinnamon. Gradually add dry ingredients to creamed mixture until well blended. Gradually add zucchini, pineapple, chocolate chips and nuts to cookie batter. Drop cookie batter by tablespoonfuls on a greased cookie sheet. Bake for 10 to 12 minutes or until lightly browned; rotate cookie sheet halfway through baking. Makes approximately 6 dozen cookies.
Note: The cookie batter will have a somewhat "sticky" consistency. It is recommended to chill the batter overnight or at least 3 hours before baking.
The opinions expressed are solely those of the writer. He can be reached at philip.potempa@nwi.com or (219) 852-4327.