Celebrate the autumn season with seasonal pies, including distinctive takes on traditional apple and pumpkin pecan.
"We tend to wait until the crops come out before deciding what we'll be offering because we're a bakery that makes everything from scratch using what's available," said Jean Theile, who with her husband, Dennis, owns Branya's Bakery in St. John.
The Theiles combine their ethnic heritage — she's Polish and he's German— along with family recipes and their own expertise in baking and cooking, to create a large assortment of pies, including several not commonly found elsewhere. That's why they source a special variety of pflaumen (German for plum), which she said are only available for a very short time for their plum tart.
"We try to hoard them for as long as we can," Jean Theile said.
They also use pears (birnen), which ripen in autumn, to make pastries and adapted her father's favorite Dutch apple pie with its crumb top and crust by working cheddar cheese into the crust instead of layering it on top.
"That's our biggest seller in the fall," said Theile, noting that pies practically fly out of the door this time of year. "People eat them more in autumn than in other seasons except for around Fourth of July, when everyone wants apple pies."
Emphasizing Branya's doesn't use any types of pre-made ingredients ("we're only butter, sugar, flour and eggs"), Theile describes their pecan pies as different because they incorporate bacon and/or chocolate into the ingredients.
"Pecan pies are very popular around holidays," she said. "And these are so rich and delicious."
That brings up another subject: For those who want to cheat and pass off a pie as their own at the holiday table, people can bring in a glass plate and Theile will use it to bake their pie, she said. The idea came about when a customer who ordered a pie for Thanksgiving asked how she could pass it off as her own.
"I told her you can't if you serve it in the aluminum pie pan," Theile said. "That was nine years ago and we've been doing it ever since."
For those who want to learn to make their own pies, Branya's will be offering classes. Dates will be posted on its website, branyasbakery.com.
Always creative in the kitchen, Angela McCrovitz, owner of the Captain's House, a restaurant in Miller Beach, decided to experiment with recipes for what she terms "stacked pies." An old-fashioned concept going back to Colonial times and stacked pies were also popular in rural southern areas back in the early 1900s but are practically unheard of now.
McCrovitz is a former recipe developer for several publications, including Better Homes and Gardens Slow Cooker, Christmas in America, Holiday Appetizers, Holiday Baking, International Cuisine and Vegetarian Cuisine. She created a Stacked Pumpkin Pie for the fall season that also has components of a pecan pie as well, though it doesn't have extra crusts.
"I love the fall season with all the great fruits available at farm stands and farmers markets to use for making great pies," she said. "The flavors when you use fresh fruit are so vibrant and tasty — not like those using canned pie filling. You can really tell the difference. The best part of fall pies is that it is the humblest of desserts around a table, typically the one that people ask for seconds and always has a conversation of meaning when eaten and shared with others."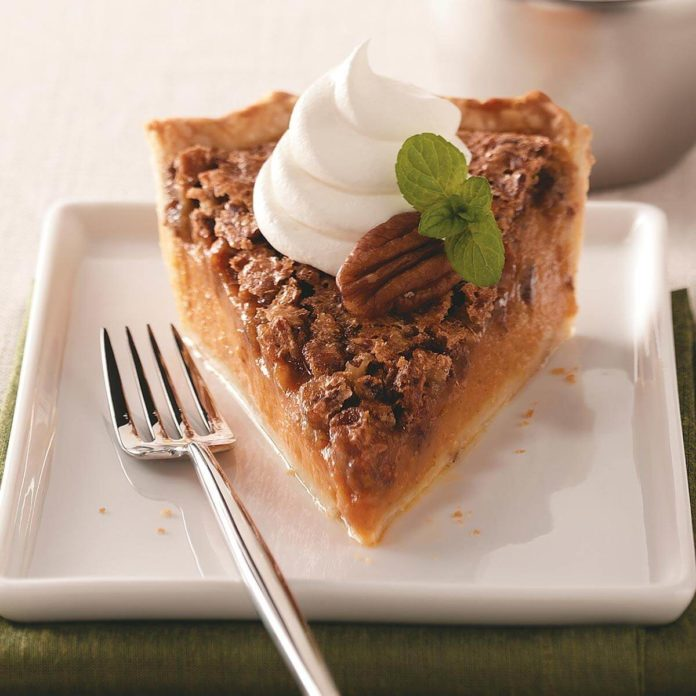 Stacked Pumpkin Pie
Courtesy of the Captain's House
Pastry for single-crust pie (9 inches)
1 can (15 ounces) solid-pack pumpkin
1/4 cup heavy whipping cream
1 teaspoon ground cinnamon
1/2 teaspoon ground nutmeg
2 large eggs, lightly beaten
Whipped topping, optional
Line a 9-in. pie plate with pastry; trim and flute edges. In a large bowl, beat the eggs, pumpkin, syrup, sugar, cream, cinnamon and nutmeg until smooth; pour into pastry.
For the topping, in a large bowl, combine the eggs, pecans, sugar and syrup; spoon over top.
Bake at 425 degrees for 15 minutes. Reduce heat to 350 degrees. Bake 40-45 minutes longer or until crust is golden brown and top of pie is set.
Cool on a wire rack for 1 hour. Refrigerate overnight. Serve with whipped topping if desired.