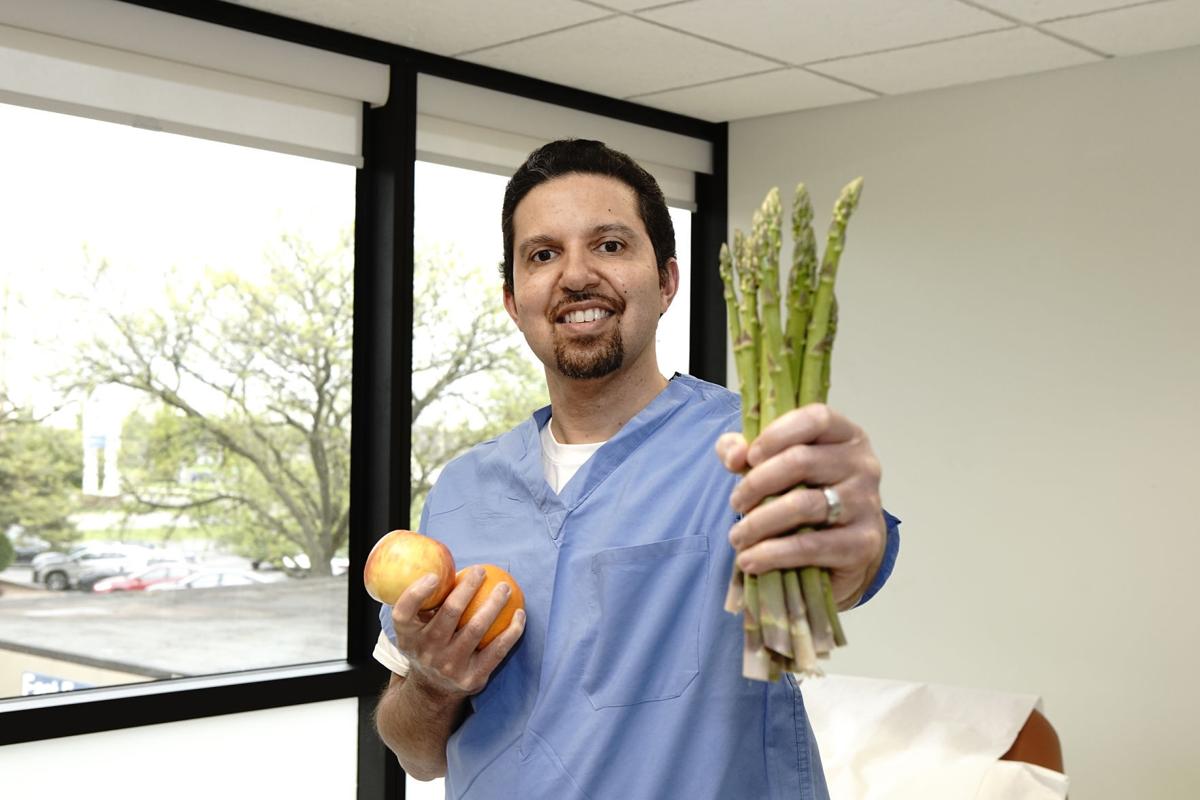 If you've put on a few extra pounds these last few months, you aren't alone.
Enough people have gained weight since stay-at-home guidelines have gone into effect that many are referring to this as the "Quarantine 15" — a play on the "Freshman 15," the roughly 15 pounds some students gain upon entering college.
What's at the root of this weight gain? A combination of factors, health experts say.
"One reason we put on weight with stress is because, when poorly managed, stress stimulates the release of cortisol," said Dr. Michael Simpson, a bariatrician with St. Mary Medical Center's Healthy 4 Life Advanced Weight Loss Center in Hobart.
Cortisol increases appetite, which leads to weight gain, he said.
"We eat when we are bored because food offers a stimulus to break the monotony of boredom," Simpson said.
Depression, poor sleep schedules and a disruption in daily routine and habits can also lead to overeating, says Dr. Faleh Atassi, a physician with Porter Physician Group and Valparaiso Family Health.
Poor eating habits then impact the gut microbiome, which plays an important overall role in a person's health and immune system response, Atassi says. Too many unhealthy microbes in the intestines can lead to weight gain and other disorders.
"Fast food definitely changes the microbiome in the guts," Atassi said. "Unhealthy microbiomes can determine obesity."
For some, one of these daily disruptions came in the form of a lack of access to exercise, says Krissy Roberts, fitness supervisor with Franciscan Health Fitness Centers.
"During the shutdown, gyms and workout equipment were not readily available, causing exercise routines to be put on the back burner," she said.
So how does an individual get back on track and on a path to lose those extra pounds gained over the past few months?
Focus on healthful foods first.
Begin by focusing on eating healthful foods in order to promote good bacteria in the gut, Atassi says.
Avoid fast food, lots of carbohydrates and processed foods, and instead incorporate whole foods into the diet, he says. These include fruits, vegetables and whole grains.
"Write a list of healthy foods you may need from the store, and while grocery shopping, do not deviate from the list by purchasing unhealthy items," Simpson said.
Get rid of unhealthy foods at home as well, he said.
"If such foods are not in the home, there is less availability to make unhealthy food choices," Simpson said.
Then pay attention to portion control.
Once you have a more healthful diet in place, Atassi recommends evaluating portion sizes.
Even too much of a good thing can cause weight gain.
Avoid eating straight from a container or using a large bowl or plate, which can encourage overeating.
Simpson says drinking a glass of water about 30 minutes before a meal can help maintain portion control as well.
"This will help to make you feel fuller faster and help with food digestion," he said.
Resume an exercise routine.
Even if you don't have a gym membership or don't yet feel comfortable visiting a fitness facility, simply walking around the neighborhood can provide several health benefits.
"If we add 30 minutes of exercise a day for adults and 60 minutes for younger people, such as some sort of walking in the open air, it does help a lot to improve mood and help with stress," Atassi said. "It also helps improve stamina for better eating habits."
Roberts says if you were a walker before the pandemic, you should be able to pick back up where you left off.
"If you have been completely sedentary, then you will need to slowly build back up to where you were," she said. "You can start off with a quarter mile and see how that feels."
Roberts says participating in fitness challenges with friends and family can help with accountability and getting back on track.
"If you have less time because you are juggling the kids, try to get them involved in your new fitness routine," she said. "Go for a family walk, bike ride or have a dance party in your backyard."
If working from home or in an office setting, Atassi recommends standing up, walking or performing quick at-home exercises every 30 minutes.
Simpson adds that it is important to exercise more than just the body.
"Find an indoor activity that helps to exercise the mind," he said. "Start an art project, call an old friend, clean out a closet or the garage, or try a new recipe."
Make sure you're getting enough sleep.
"Poor sleeping habits will increase the consumption of food," Atassi said. "Being consistent in the way we sleep is important."
Adults should strive to get seven to eight hours of sleep each night, but even how you sleep can impact health.
To minimize disruptions, Atassi recommends removing any light from the bedroom when sleeping, and avoid intense exercise within at least two hours of lying down for the night.
Whether it's talking with a friend, exercising, praying, meditation, listening to music or reading, Simpson says it's important to have a stress outlet.
"There are many ways in which we can reduce stress," he said. "If necessary, meeting with a professional counselor or therapist may also help."
Atassi says his patients who have done well with maintaining or losing weight during the pandemic have mostly all had one thing in common - they reflected on their lifestyles and took a look at the way they were eating before the pandemic hit.
"Weight loss is more than eating," he said. "It's also exercising, social bonding, spiritual connection, sleeping and healthy coping mechanisms."
Concerned about COVID-19?
Sign up now to get the most recent coronavirus headlines and other important local and national news sent to your email inbox daily.