Chef of Steel:  Chris Pavlou
Title: Chef/owner of Radius in Valparaiso
Location: 15 E. Lincolnway, Valparaiso
For Chris Pavlou, creating dishes in the kitchen is a true passion.
"I've always had a passion for cooking. It's a gift that God gave me," Pavlou said.
Pavlou, chef/owner of Radius, a Valparaiso gastropub, has been cooking all his life.
The chef, who is of Greek heritage, said he enjoys devising new dishes and experimenting with flavors — the bolder, the better.
No better Radius dish encapsulates the wild side upon which Pavlou walks than this week's Chefs of Steel signature dish — a juicy burger exploding with flavor combinations of blueberry, bourbon and bacon.
"A lot of ideas come to me in my sleep — when I do sleep," Pavlou said, laughing.
Pavlou is a chef who takes an adventurous approach to the culinary craft.
"I like to think outside the box," he said. "I look at Guy Fieri, and he takes something simple and then takes it to the next level. When I'm cooking, I'm always trying to think of what goes good together and then take it to the next level."
Pavlou opened Radius three years ago. He's also the owner of Pav's in Hebron and Sandwich City in Crown Point.
The restaurant business can be rather stressful, Pavlou said, so being a chef as a profession must be something one really loves.
"Cooking is my addiction," he said.
At Radius, Pavlou specializes in signature prime burgers.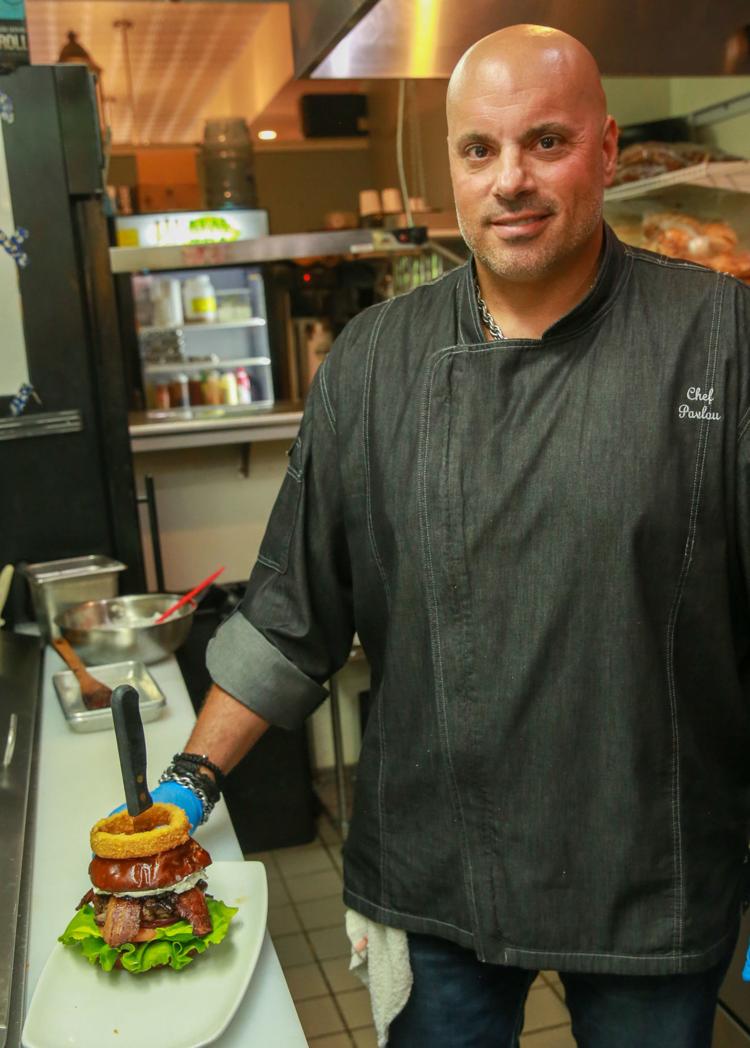 Assorted sandwiches, specialty salads and various appetizers and entrees also star on the menu.
Diners will find burgers, such as the Canadian Poutine; Keto; Redenbacher, named after Valpo's popcorn king; The Black & Bleu; and Elvis Peanut Butter Pretzel.
One of Pavlou's recent creations that he'll be offering as an occasional special is The Triple B — Blueberry, Bourbon, Bacon Jam Burger. It's this week's signature dish in the Chefs of Steel competition series.
Menu entrees include lake perch, a greater Lake Michigan favorite, and baby back BBQ ribs. Featured sandwiches on the menu include Louisiana po' boy, Margarita chicken & bacon and the Memphis BBQ pulled pork. 
Keep reading for FREE!
Enjoy more articles by signing up or logging in. No credit card required.
At Radius, Pavlou also serves a variety of beers, cocktails and other beverages to pair with the bold flavors of his menu.
Popular brews include selections from 18th Street, Devil's Trumpet and 3 Floyd's.
The chef explained the choice of Radius as the name of the eatery.
"My wife and daughter helped pick the name of the restaurant. It's called Radius because it's in the center of downtown Valparaiso and because burgers are round."
Radius' interior decor, which features a variety of drawings with round shapes, he said, is meant to be "industrial but classy."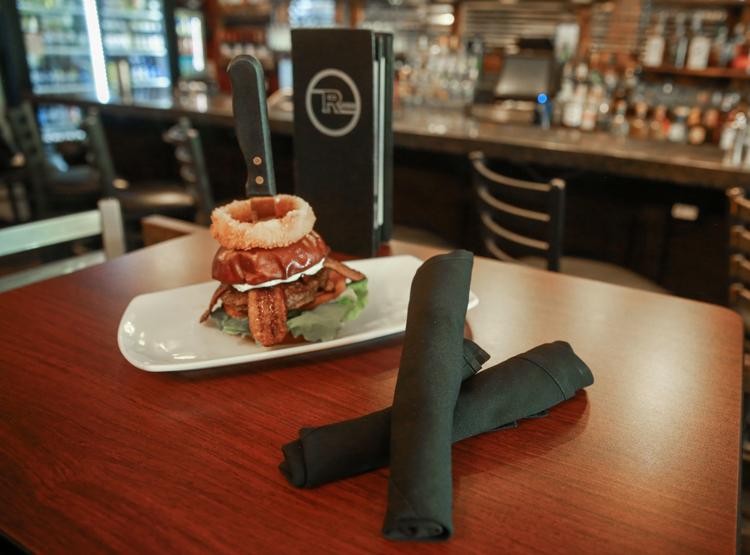 Fast Facts: Resides in Crown Point. Born in Gary's Glen Park area and grew up in Merrillville. Married to Tina and is the father of Alyssa and Niko. Opened Radius three years ago.
My cooking philosophy is: Quality and consistency is the key. I don't look for shortcuts. I believe everything should be fresh. I want to give people value. With Radius, I wanted to give people a place to come and enjoy themselves and to eat some great food. We make everything homemade here. I want you to say, "Wow, this is something good," when you eat here. I'm not just the chef but the owner, so I really care about the people. I always want to do something better.
How I learned to cook: I'm self-taught. I just get in the kitchen, and I cook. My mom always cooked, and so did my dad. I grew up in the food business. When I started watching chefs like Guy Fieri and Anthony Bourdain, they made me think differently about food.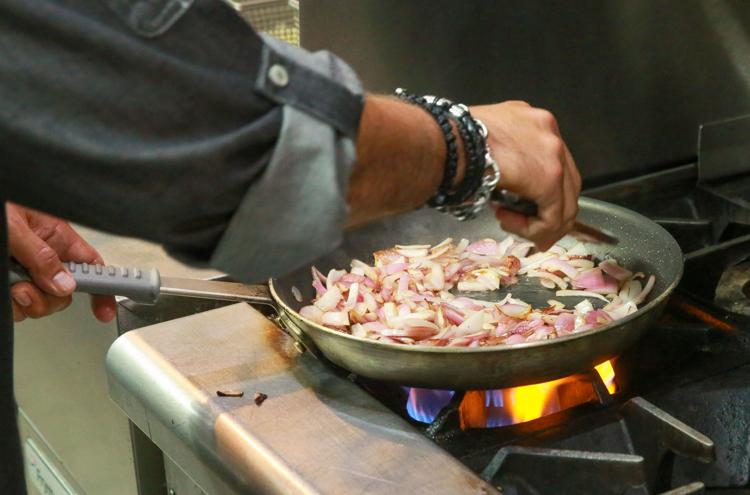 Why burgers are my signature food: It's the all-American food. You can do so much with a burger and get so creative with them.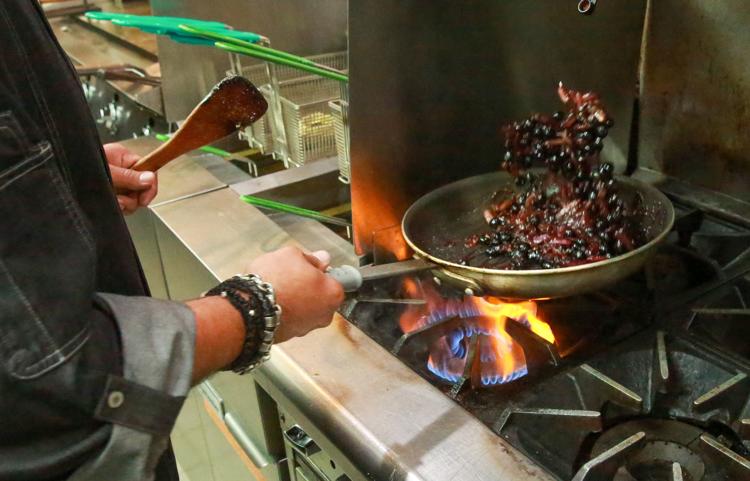 About food presentation: When you eat, you're going to eat with your eyes first.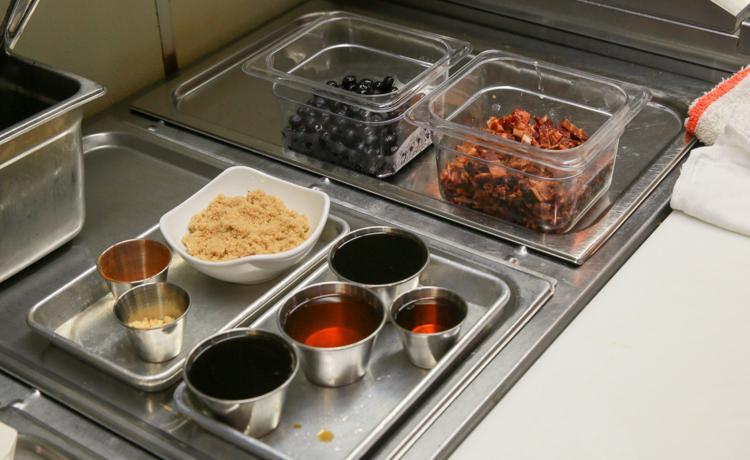 When I go out to eat, I look for: A great big juicy steak. I'm a meat guy. And I also look for good service. That's essential to any business.
Favorite junk food:  I like ice cream. Valpo Velvet is down the street, and they've got good ice cream.
About cooking shows: I watch them all. Watching those shows is like I'm working. It helps with me with different techniques. It's like my schooling. I love Gordon Ramsay and his "Kitchen Nightmares" and "Hell's Kitchen."
My worst kitchen disaster is: Not being fully staffed.
Recipe I'd like to share: The Triple B — Blueberry, Bourbon, Bacon Jam Burger. I'd recommend serving an 18th Street Pils with it. The brew is light and crisp and cleanses the taste buds.