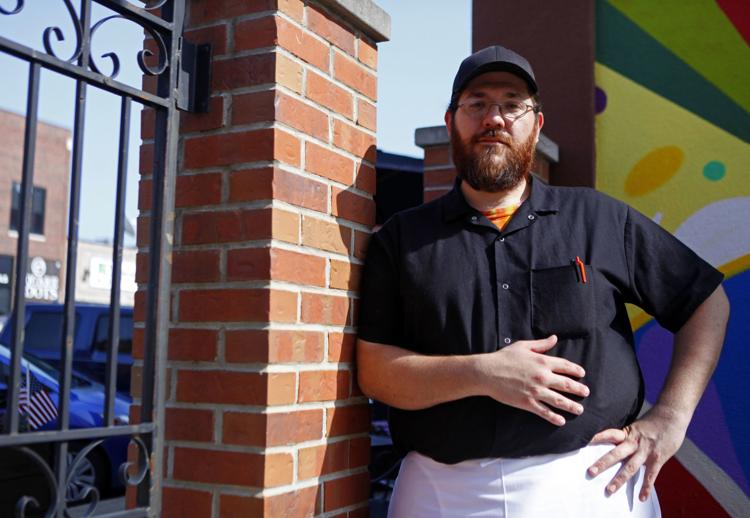 Chef of Steel: James Cannon
Title: Executive chef of One13North
Location: 113 N. Main St., Crown Point
For James Cannon, there's nothing like working with fresh ingredients. The farm-to-table concept is something he keeps at the forefront when it comes to turning out winning culinary offerings.
At One13North, a new Crown Point gastropub owned by Manolie Pappas, Cannon is diligent about his work in the kitchen.
"We are a 'scratch kitchen.' Most of the dishes have a similar scope of work within the recipes. It is a point of pride for us here," he said.
Cannon, who showcased the pub's recent renovation on the outdoor dining area, said management is going after a "family friendly" environment. Adjacent to the outdoor patio is a vertical garden, which the chef planned and planted — embodying his freshness pledge.
"I'm already using (ingredients) from the garden," he said.
A colorful mural with surreal shapes by Gary artist Ish Muhammad decorates the wall in the outdoor dining area, and a gargantuan Connect 4 game is situated on the patio. One13North's patio sports a fun atmosphere.
The indoor dining area also is casual and not ostentatious.
Cannon offers a variety of dishes on the menu from Sammies (hip for sandwiches) and Bao Buns to salads and entrees, including Chicken Vesuvio and Crispy Skin Salmon.
Though Cannon said the gastropub doesn't brew its own beer, it has a variety of brews for pairing with the menu selections.
"We source locally," Cannon said, adding One13North brings in beer from places such as 18th Street in Hammond, 3 Floyds in Munster and Greenbush Brewing Co. in Sawyer, Michigan.
"We have an extensive craft line, and it's always changing. There's always something new," he said.
You have free articles remaining.
Keep reading for FREE!
Enjoy more articles by signing up or logging in. No credit card required.
For Cannon, the culinary field remains exciting.
"No two days are ever the same. It's like a ballet or air-traffic control," Cannon said about manning a professional kitchen.
A key phrase for the chef when it comes to his career remains "Work smarter, not harder."
Fast Facts: Resident of Valparaiso. Grew up in Newport News, Virginia. His father was stationed at Fort Eustis Army Base. Later moved to Griffith. Has three children. Fiancee is Amy Stevens. Has been employed at One13North since late March. A graduate of Lake Central High School. Previously worked at Dante's House of Pizza in Munster. Is also a musician who plays guitar and harmonica. Musical specialty is Americana.
My cooking philosophy is: I like to get as fresh as possible. Growing up we always had a garden. That's something I wanted to bring here and give it a go. One13North has a vertical garden next to its outdoor patio. I used to do vertical farming. It's a passion of mine.
How I learned the cooking craft: I did not go to school. My mother ran delis and bakeries when I was a kid. Growing up, I was always in the deli. And then I started washing dishes at Kelsey's Steakhouse at 15, and at 16 started working in the kitchen.
My cooking specialty is: I go to the concept of farm-to-fork and building dishes from the earth up. I have a lot of experience in Italian cooking and like to accentuate what's local.
The key to pairing brews with food or cooking with beer: It's important not to cover up the flavor of the dish but to accentuate it. It's less about what's in the brew than what's in the dish. It's the same philosophy with wine too.
What I like to splurge on: As a chef, we have zero time. We're working 80 to 100 hours a week. The last thing you want to do is go home and cook. So, if I'm splurging, it's on seafood. My other guilty pleasure is ice cream. There's nothing better than watching TV and eating ice cream. And if cereal was a food group, Fruity Pebbles would be in it.
About influencing my children in the culinary profession: My daughter grew up in the kitchen with me. At nine months old, she was in the kitchen with me and has always been welcome and a fixture in my kitchen. I hope she follows what she wants to do.
About the correlation between music and food: It's art. You can really touch people with music, and with food, it's the same thing. Food and music are communal.
My worst kitchen disaster is: I've had some doozies. One of the hardest days was when, at Dante's, we were catering an event for BP in Whiting and had to feed 800 people, so we had to fry close to 1,000 pounds of chicken.
Famous chefs I admire: The late Anthony Bourdain. I enjoyed reading his book "Kitchen Confidential." He believed in simple things done well. He kept it real and honest.
Recipe I'd like to share: One13North Fried Chicken Sandwich. Pair this dish with a nice, wheat ale, something with citrus notes and a balanced hop finish.