When you're a bartender in Traverse City, Michigan, "The Cherry Capital of the World," you get used to making cocktails with cherries.
That's especially true for the team at Traverse City Whiskey Co., a local distillery that has, since its inception in 2012, grown into Michigan's single largest craft spirits distillery. Co-founder Chris Fredrickson comes from a multi-generational cherry-farming family, so it only made sense for TC Whiskey Co. to incorporate a cherry whiskey into its product offerings. That whiskey, a bourbon variety steeped in Montmorency cherries and dubbed the "American Cherry Edition," is the top-selling craft spirit in the state of Michigan.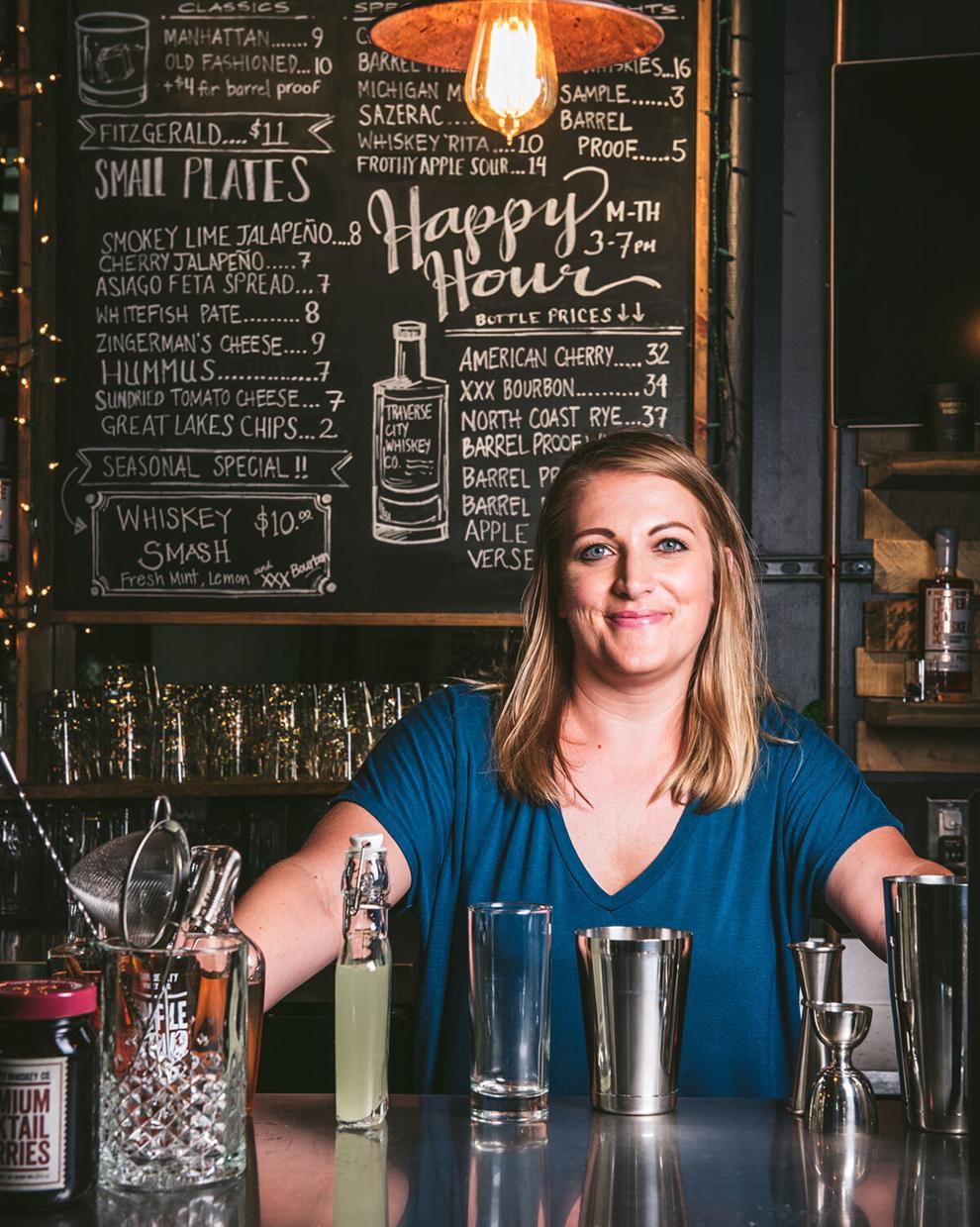 For Diane Corcoran, crafting cocktails with cherries and cherry whiskey is a big part of the fun of working at TC Whiskey Co. Corcoran is a hospitality industry veteran, a bartender extraordinaire, and an expert in all things craft beverages. She spent seven years as the beverage director for Lettuce Entertain You Restaurants, and still works with the Windy City Smokeout management team in Chicago. Before officially joining the team at TC Whiskey Co. in 2020, she had consulted with the company multiple times over the years, even helping the business expand its reach to the Detroit area with a tasting room called "The Traverse City Whiskey Co. Outpost" that opened in Ferndale, Michigan, in 2019.
These days, Corcoran wears many hats for Traverse City Whiskey Co., from product sales and marketing to event planning. She's also one of the core masterminds behind the cocktails served at their two tasting rooms, many of which, predictably, follow a cherry theme.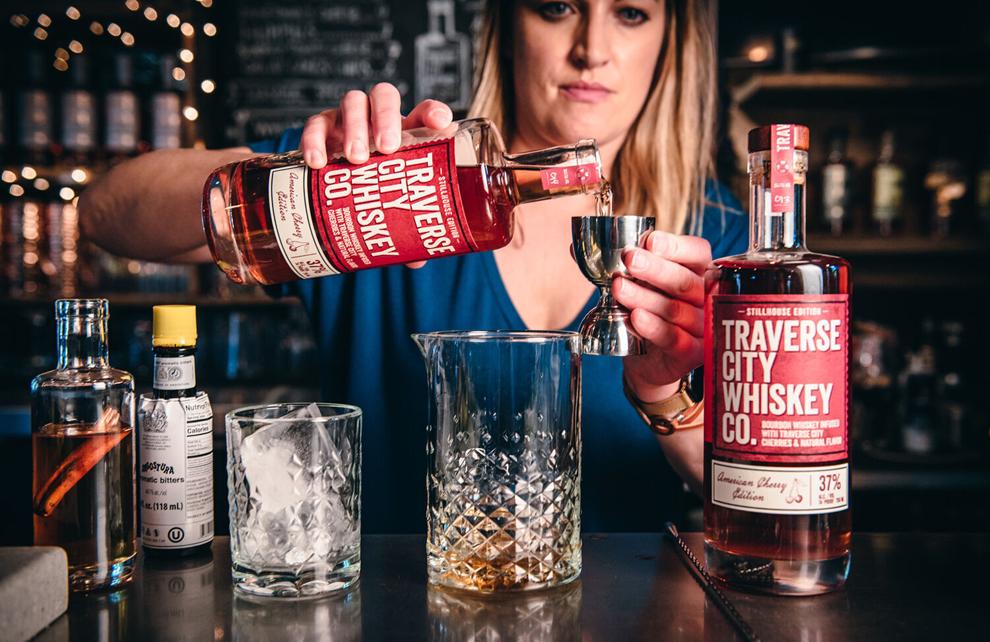 That's fine by her: Corcoran says that one of the best things about using cherries — or cherry whiskey — in cocktails is that "cherry is actually a really versatile flavor." That versatility opens the door for any number of possible recipes.
"Cherry plays beautifully with citrus; it plays beautifully with lemon juice," Corcoran says. "But it also goes great with really spicy things. It goes great with tropical flavors. It plays beautifully with chocolate. I find that, when I'm doing R & D and thinking, 'Okay, I need a cocktail that's going to be sweet,' or 'I need a cocktail that's going to be boozy,' but I want to keep it true to Traverse City, I'll ask, 'Does cherry work in it?' And nine times out of ten, cherry works in whatever cocktail I'm thinking of."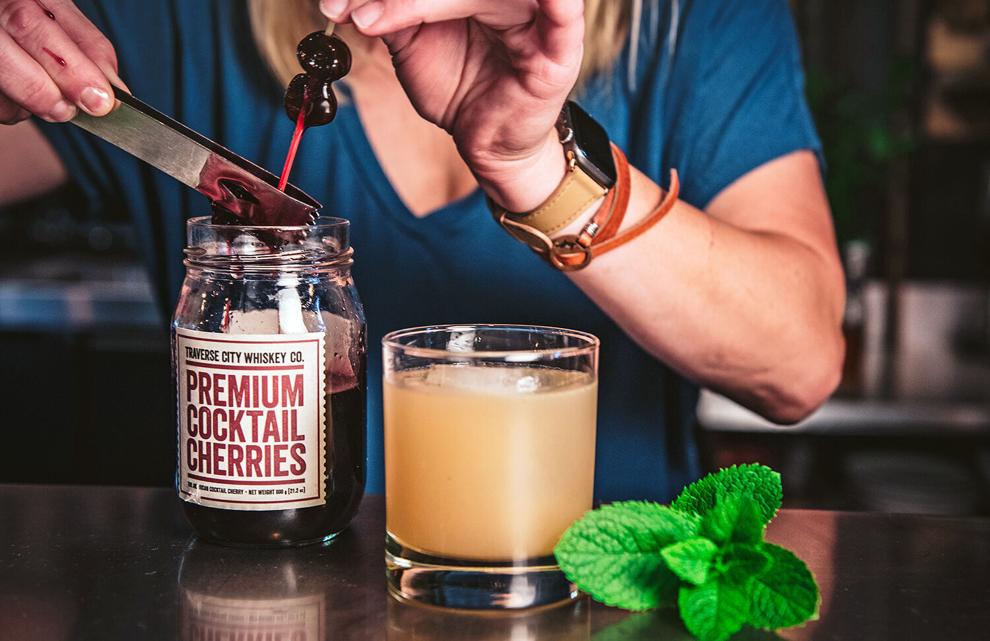 Corcoran's top tips for mixing drinks with cherry? The first is to get creative. Try mixes that pair different kinds of liquor with cherry flavors, or experiment with some of the many complementary flavor pairings such as citrus, spice, chocolate, pomegranate, coconut and even various herbs.
Corcoran's second piece of advice is to be expansive with how you define the idea of "using cherries in a drink." Fresh cherries are terrific for flavor or garnish if they're in-season, but there is also something to be said for a dash of cherry bitters, a bit of cherry syrup or a good cherry-infused spirit.
Finally, Corcoran advises cherry cocktail aficionados to "use well-made, more natural, less commercial forms of cherry" wherever possible. "You will get a more realistic cherry flavor versus a more sugary one," she explains. 
For instance, try trading out maraschino cherries — the bright-red, artificially colored cherries that many bars use — with fresh pitted cherries or with more natural cocktail cherry products. TC Whiskey Co. even makes its own gourmet cocktail cherries, or consider making your own version by heating tart cherries in a mixture of cherry syrup and bourbon.
To get you started, here are four of Corcoran's favorite cherry-centric cocktails.
This whiskey smash recipe is elevated with a few twists, like cherry-infused whiskey, for a crisp, sweet and refreshing cocktail.
A variation on the classic Old Fashioned recipe, this version features cherry-infused whiskey with warming cinnamon and zesty lemon.
Cool off with this cocktail recipe incorporating lemonade, cherry-infused whiskey and a craft whiskey seltzer.
Named for Detroit native Bob Seger, this whiskey cocktail recipe with chile liqueur and cherry whiskey is an ode to Michigan.