The award-winning oyster stew from is prepared on a made-to-order basis to ensure the oysters don't overcook. The trick, from a restaurant stand-point, says Logan Small, the chef behind the recipe, is to toast a large batch of flour first which hastens the process of making a roux, the fat and flour combination that thickens stews and sauces. He adapted his recipe for the home cook to prepare it quickly at home. 
Freshly shucked oysters are essential to making great oyster stew, along with a kiss of Old Bay seasoning and smoked or slow-roasted garlic. Small uses red onion and celery in the base of his stew, but says you can add other vegetables as you wish, like carrots, corn or potatoes. Small says this stew is great for entertaining because it can be prepared in advance up until adding the oysters and vegetables, which only take about a minute to cook.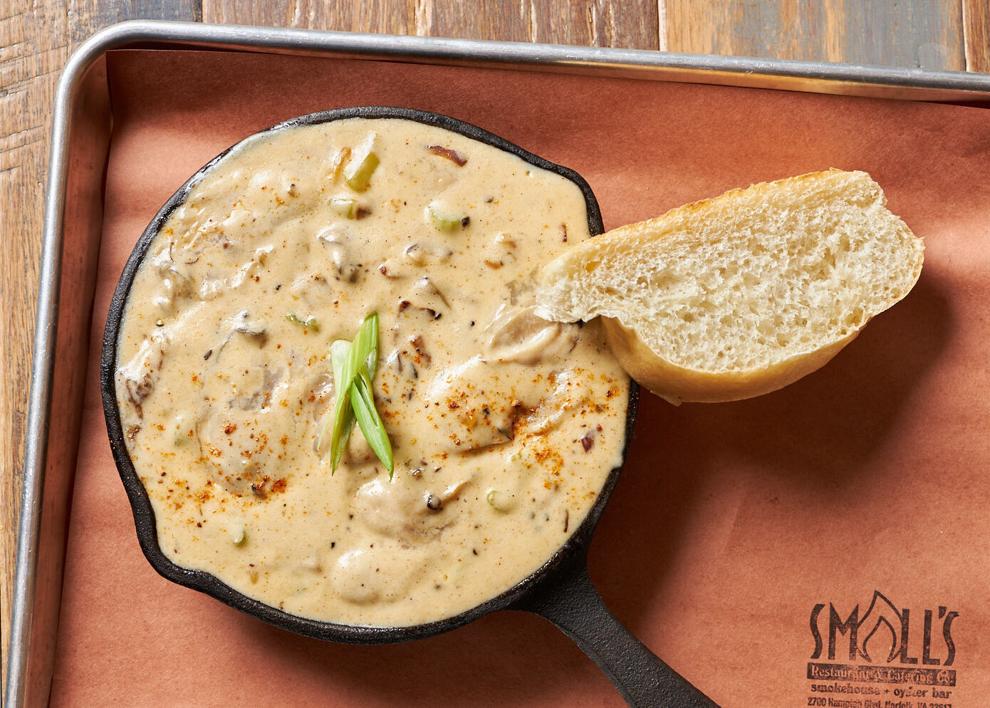 ---
Oyster Stew
4 Tbsp canola oil, divided
4 Tbsp olive oil, divided
½ cup finely diced celery
½ cup finely diced red onion
¼ cup all-purpose flour
1 Tbsp plus 1 tsp Old Bay seasoning, plus more for garnish
1½ Tbsp smoked or roasted garlic
1 quart heavy whipping cream
24 freshly shucked oysters plus their liquor (juices), each cut in half if large
salt and freshly ground black pepper, to taste
In deep 12-inch sauté pan or skillet, heat 2 tablespoons each canola and olive oil over medium heat. Add celery and onion and cook 6 to 8 minutes or until tender, stirring occasionally. Transfer vegetables to small bowl. 
In same pan, heat remaining 2 tablespoons each canola and olive oil over medium-low heat. Add flour and cook 2 to 3 minutes or until golden-brown, stirring frequently with whisk. Stir in garlic, then Old Bay seasoning; cook 15 seconds, stirring.
With whisk, gradually stir in cream; heat to boiling over medium-high heat. Reduce heat to medium-low. Just before serving, stir in reserved vegetables and oysters with their liquor; cook 45 seconds to 1 minute or until oyster edges start to curl and split. Stir in salt and pepper to taste. Ladle stew into bowls; sprinkle lightly with Old Bay seasoning. Serve immediately.