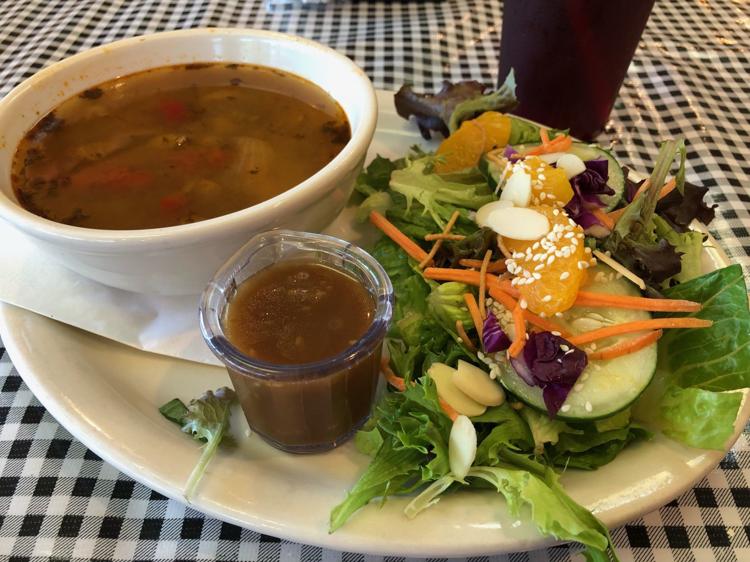 Diners looking for an eatery with a casual yet fun setting will enjoy a meal at Foodie's Cafe.
The restaurant, located in Dyer, debuted on the scene in 2011. It was opened by Cathy Cameron and her husband Tim. Cameron's focus then was on retro-diner type cuisine and that's still what she wants to provide to guests.
At Foodie's, diners will find everything from sandwiches with clever names to soups, salads, various cookies, pastries and more. Cameron also serves up breakfast until 11 a.m.
Owner Cameron formerly worked for the Labriola Bread Company and was known as the "Breadlady" by friends.
In addition to the meals served at Foodie's, other culinary items are sold on the premises as well.
Keep reading for FREE!
Enjoy more articles by signing up or logging in. No credit card required.
We visited Foodie's on a recent Monday afternoon for lunch. Cameron regularly updates her menu by offering seasonal items and often experiments with new dishes. One recent sandwich they've had success with at the restaurant is a chicken-based creation called the Cluck Norris. Cameron said she usually offers it as a special every now and then. But, she'll be featuring it as a regular item on the menu soon.
The Cluck Norris is a jalapeno chicken wrap with lettuce, tomato and Pepperjack cheese. "It has a kick to it," Cameron said, with a laugh, mentioning its name has to do with karate expert Chuck Norris.
Our order at Foodie's featured the Fire Roasted Veggie Soup and the Asian Salad. We ordered it as a combo. The soup was flavorful and had a good amount of spiciness. The Asian salad featured carrots, Madarin oranges, scallions, sesame seeds, almonds, crunchy noodles and a sesame ginger dressing. Both were refreshing choices.
Among other items starring on Foodie's menu are Buffalo Chicken Wrap, Herbivore Wrap, Greek Salad, Supper Club Spinach Salad, Classic Corned Beef Sandwich, Top Drawer Tom Sandwich, Hoosier Hero, Retro Reuben, Farmer's Market Panini, Portobello Mushroom Melt and more.
Cameron said one of the Saturday Breakfast specials that's a hit on the menu is the Biscuits and Gravy, which are made in a special pan and cut in a few hefty slices when served to guests.