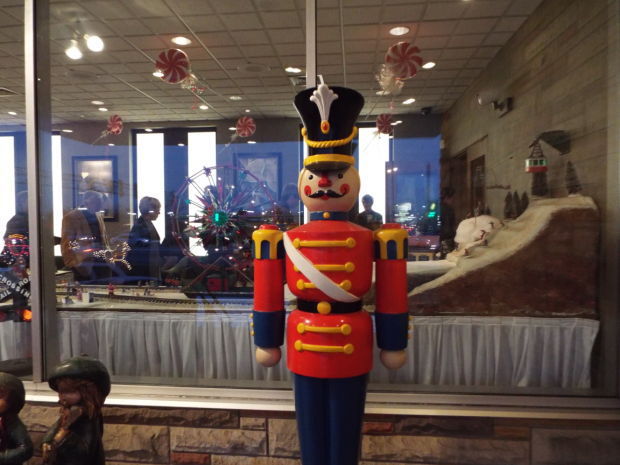 When diners make plans for lunch or dinner at Teibel's in the next month, they'll be surrounded by holiday decorations.
Teibel's, located at the corner of U.S. 41 and U.S. 30 in Schererville, has been known not only for its perch and fried chicken through the years, but also its lavish holiday decor.
Toy soldiers, trains, lights and other colorful decorations have been the norm at the family restaurant for the Christmas season. This season's decor will be displayed through Jan. 1.
Teibel's, which is open for lunch and dinner, debuted on the dining scene in 1929. The family eatery also features a catering menu as well as carryout offerings. A Cafe also is on the premises. Teibel's is available for banquets and parties as well.
During past interviews with Teibel's owners, they said the eatery's holiday decorations are a big draw. Repeat customers annually pay a visit to dine among the bright, festive decor.
On Teibel's menu guests will find everything from the signature perch and chicken to various daily specials. Dinner entrees include Roast Turkey, Walleye Pike Filet, Pepper Steak, Honey Sriracha Chicken Sandwich, Spicy Garlic Shrimp and more.
Entrees at the restaurant regularly come with a tossed salad or relish plate, roll, potato or rice and ice cream.
Guests also may order various combinations of food — for example, perch and chicken together. A children's menu also stars at the restaurant. On the kid's menu, diners can order items such as Chicken Strips, Sirloin Steak, Lake Perch and other offerings.
If you're looking for a casual meal with family and friends amid festive surroundings this season, Teibel's delivers on not only flavor but features a nice environment to hang out for a couple of hours.