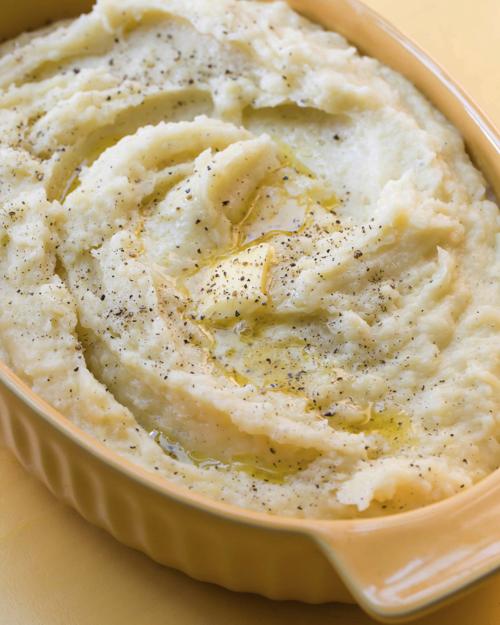 What images come to mind when you hear the words "comfort foods?" Chocolate, macaroni and cheese, ice cream, mashed potatoes, pizza, grilled cheese. Whatever your favorites are, it's possible to enjoy them without  disrupting your healthy eating plan.
We turn to comfort foods for a variety of reasons. When we're feeling sad or lonely, food may be used as a salve.
The memories associated with food involve all our senses and are the strongest of associative memories. When we're looking to re-create happy times, we often choose foods linked to those experiences. Visiting grandma as a child meant that I would be allowed to have her homemade brownies or apple pie for breakfast, something that usually didn't happen at home. Holidays and celebrations are often cause for baking cookies, cakes and generational favorites that evoke feelings of nostalgia.
Cold, snowy days often prompt people to make hearty stews and soups. These offer the comfort needed, along with a healthy dose of nutrients.
It's helpful to reframe the concept that comfort foods are "bad" and that they lead to ill health and overeating.  Most consider sweets, chips, fries and other highly processed foods that are low on the nutritional scale "bad." Eating these types of foods in large quantities may increase health risks.  But our diets are not defined by one single food that we occasionally turn to for comfort. It's about balance.
When the comfort food monster strikes, the real issue is often the quantity eaten. It's one thing to have a couple pieces of your favorite pizza while celebrating with friends, and a different thing to consume a pie all at once alone.
We all will crave comfort food at some point. Knowing that takes away the surprise aspect and gives us permission to appreciate our humanity. Here are a few tips to (maybe) help make those times more manageable:
Consider your go-to comfort foods and choose the most delicious and healthiest versions you can find. For example, if you love potato chips, find a brand that has the fewest ingredients and get a small bag. Hide it, so they're ready when  you absolutely have to eat them. Since they are the very best chips, you'll get the comfort without the guilt because it's just a small bag.
This tip can be applied to any food that can be purchased before your comfort crisis. When ordering a pizza, go for the personal size and get your absolute favorite. You may surprise yourself and have leftovers for the next day.
For those of you who enjoy home baked goods, keep all the ingredients on hand to make whatever it is that will make you feel better. The act of baking may help change your emotional state, so you may eat fewer of the  final product. The same is true for any homemade dish, which is preferable because you're using fresh ingredients and aren't adding preservatives.  Cooking, like baking, is therapeutic.
When you're experiencing an entire day of comfort eating, consider swapping out your calories. That doughnut may look so amazing you're willing to forfeit your cocktail later in the day. Be open to options and trade-offs.
There also are a variety of non-food ways to change your emotional state; however, sometimes you have to eat your cares away. While a salad full of mixed greens, avocado and salmon are sure to elevate your mood and reduce anxiety, there are days when only the macaroni and cheese will do. Homemade, of course.
Carol Slager is a licensed pharmacist, author, blogger and health coach in Northwest Indiana. Follow her monthly in Get Healthy and at inkwellcoaching.com. Opinions expressed are the writer's.