Meat lovers will have no problem finding their fill of prime rib at local eateries.
Prime rib dinners star on menus at dining havens from steak and chop houses to casino buffets, fine dining restaurants and other eateries.
Food fans can celebrate National Prime Rib Day on April 27 by enjoying a cut of the succulent meat at a variety of area restaurants or even by cooking the popular dish at home for a small dinner party.
John Erb, executive chef for Majestic Casino in Gary, said there are a few different ways a prime rib can be cooked successfully but the best way is to cook it slowly.
"We slow roast the prime rib," Erb said. "Prime rib is technically a roast. A good rule of thumb when you're cooking a roast is to cook it at a lower temperature for a longer period of time."
Prime rib dinners are offered at The Majestic Chop House as well as Harbor View Buffet at Majestic.
The chef said the grade of meat used for their prime rib is what's labeled Choice, which is a good quality meat but has less marbling than meat that's labeled Prime.
Erb said there are essentially eight primal cuts of beef.
"The prime rib comes from the rib (portion), which is the most tender," he said. The prime rib is roasted and then let to rest for about an hour.
At Majestic, Erb said the prime rib is seasoned with a coarse black pepper and other herbs, which are also coarse ground.
"It's usually served medium-rare," the chef said. If people are ordering it at the buffet, they can also have it grilled.
When choosing a wine to serve with the prime rib at The Majestic Chop House, Erb said they suggest a red wine, with perfectly complements the meat.
At The Harbor View Buffet, Erb said prime rib is served on Friday and Saturday nights.
"We go through about 125 pounds of meat a night," he said, about The Harbor View's offering.
When serving accompaniments to prime rib, Erb suggests choosing a baked potato or another form of potato as well as a vegetable, such as asparagus or broccoli. Au Jus is often a good sauce/juice accompaniment as well.
If you'd like to make a prime rib roast at home, the following is a recipe for a beef rib roast from beefitswhatsfordinner.com.
Beef Rib Roast with Herb Shallot Sauce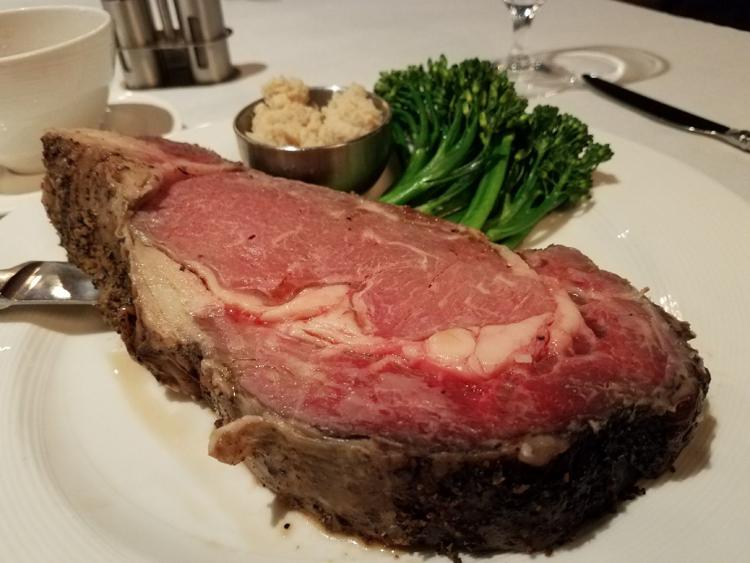 1 beef Ribeye Roast Bone-In, small end (4 to 6 pounds)
2 tablespoons garlic-pepper seasoning
2 tablespoons plus 2 teaspoons fresh thyme, divided
2 tablespoons minced shallot
2 teaspoons country Dijon-style mustard
1 tablespoon butter, softened
DIRECTIONS: Heat oven to 350°F. Combine garlic-pepper seasoning and 2 tablespoons thyme in small bowl; press evenly onto all surfaces of beef Ribeye Roast.
Place roast, fat side up, on rack in shallow roasting pan. Insert ovenproof meat thermometer so tip is centered in thickest part of beef, not resting in fat. Do not add water or cover. Roast in 350°F oven 1-3/4 to 2 hours for medium rare; 2 to 2-1/4 hours for medium doneness.
Remove roast when meat thermometer registers 135°F for medium rare; 145°F for medium. Transfer roast to carving board; tent loosely with aluminum foil. Let stand 15 to 20 minutes. (Temperature will continue to rise about 10°-15°F to reach 145°F for medium rare; 160°F for medium.)
Meanwhile skim fat from drippings. Combine drippings, shallot and remaining 2 teaspoons thyme in medium saucepan. Cook and stir over medium heat 2 to 3 minutes or until shallots are crisp-tender. Stir in wine and mustard; bring to a boil. Reduce heat; simmer 8 to 10 minutes or until sauce is reduced to 3/4 cup. Stir in butter. Season with salt and pepper, as desired.
Carve roast into slices. Serve with sauce.