Lights, camera, food: Oscars party cuisine is stellar
All eyes will be on Hollywood on Sunday as The Academy Awards celebrates its 90th anniversary.
After the Oscars presentation on March 4, the stars will delight in the festive and culinary magic featured at the annual Governors Ball. The Governors Ball is the party of all parties as Academy governor Lois Burwell, event producer Cheryl Cecchetto and celebrity chef Wolfgang Puck present a lavish setting and culinary specialties tailor made for the event.
At this year's gala, Puck and his team will deliver an assortment of decadent and delicious fare. Menu highlights include Crab-Stuffed Hibiscus; Taro Root Tacos with Spiced Eggplant; Edamame and Black Truffle Pot Stickers; Black Bass with Salsa Verde; and popular dishes such as Smoked Salmon Oscars; Truffle Macaroni and Cheese; and Potato with Caviar that appear annually on the menu.
Appetizers, lavish small plated creations, specialty drinks and more will star.
Puck has presided over the creation of the menu of the Governors Ball for the past 24 years. The gala will be held once again in The Ray Dolby Ballroom on the top level of the Hollywood & Highland Center in Hollywood.
Movie fans who want to take part in the Oscars party festivities but, of course, can't be a guest at the official ball, can do it up big at a home viewing party or even special events being held at local restaurants or other venues.
At Ciao Bella in Schererville, restaurateur Joe Scalzo will be dazzling guests with the Italian trattoria's annual Oscars shindig.
"We've been presenting this for eight years," Scalzo said about Ciao Bella's Academy Awards Dinner Party. The dinner will begin at 6:30 p.m. Sunday.
Scalzo said he's long been a fan of the Oscars.
"I used to follow it when I was in Italy. I loved the American theme of Hollywood," he said.
The Schererville eatery's party begins with a red carpet arrival at 6:30 with dinner following at 7 p.m. "We'll also show The Academy Awards," Scalzo said. The fun-packed evening also will include a wine pairing, champagne welcome toast, pictures by "paparazzi" and other activities.
"Dishes will be paired with Francis Ford Coppola wines," Scalzo said, explaining that wines from the noted filmmaker's vineyard seemed appropriate for an event honoring movies.
Ciao Bella's menu also will be unique and whimsical with dishes sporting names of actors and actresses.
The restaurant's chef, Luis Hernandez, has created specialty dishes such as Daniel Day Lewis' Appetizer, which is veal meatballs with pine nuts and dried cranberries in an orange honey sauce; Margot Robbie's Salad, which is a crab meat salad; and Christopher Plummer's Pasta, featuring corkscrew carbonara, crispy pancetta, egg yolk, peas and pecorino Romano. Also presented on the menu will be Denzel Washington's Entree, a stuffed porkchop with fontina, spinach and prosciutto in Jack Daniels whiskey sauce; and Mary J. Blige's Dessert, which is a white chocolate parfait with fresh berries.
"Chef Luis and I get together to plan the menu," Scalzo said. "It's really a nice time and people get dressed up for the party."
Film fans who want to check out another gala event can also attend "Hollywood on State: Where You're The Star" at Chicago's Gene Siskel Film Center on March 4. A VIP reception will feature food and drinks from some of Chicago's top restaurants as well as dessert from Eli's Cheesecake.
Guests also may walk the red carpet in their finest wear. A viewing of The Academy Awards begins at 7 p.m. There also will be a program honoring Chicago filmmakers that evening.
Home cooks who want to plan an Oscars party can test some dishes that will be on the Governors Ball menu. Try the following recipes: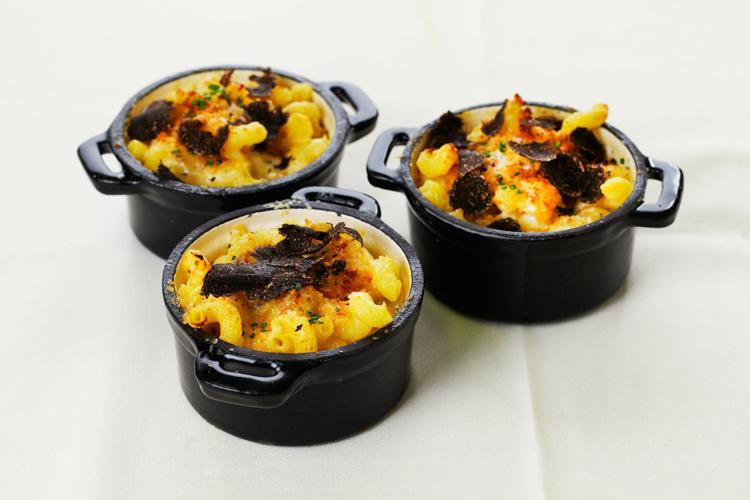 Baked Macaroni and Cheese
(recipe courtesy Wolfgang Puck)
6 tablespoons unsalted butter
3 tablespoons all-purpose flour
3 tablespoons finely chopped black truffle (optional)
10 ounces sharp aged white Cheddar, shredded
3 ounces Gruyère cheese, shredded
1 ounce freshly grated Parmesan cheese
1 teaspoon freshly ground black pepper
2 drops black winter truffle oil (optional)
1 cup fresh brioche or challah bread crumbs
2 tablespoons finely chopped fresh Italian parsley
Thinly sliced fresh black truffles, for garnish (optional)
DIRECTIONS: Preheat oven to 350°F. Bring large pot of salted water to boil. Add macaroni and cook until al dente, tender but still chewy, about 7 minutes. Drain and transfer to lightly oiled baking pan. Set aside.
While macaroni cooks, melt 3 tablespoons butter in separate pot over low heat. Whisk in flour and cook, stirring constantly, for 4 minutes.
Add milk, chopped truffle, onion, and bay leaf to butter-flour mixture. Raise heat slightly and simmer for 10 minutes, until creamy, stirring regularly. Discard onion and bay leaf. Remove from heat.
Stir in 3/4 of aged Cheddar along with other cheeses. Season with salt, black pepper, cayenne, and truffle oil if desired. Fold in macaroni. Pour into 2-quart casserole. Top with remaining Cheddar.
Melt remaining butter in sauté pan. Add breadcrumbs and parsley. Toss to coat. Spread crumb mixture evenly over top of macaroni.
Bake for 30 minutes. Remove from oven let stand for about 5 minutes. Top with shaved truffle, if desired, before serving.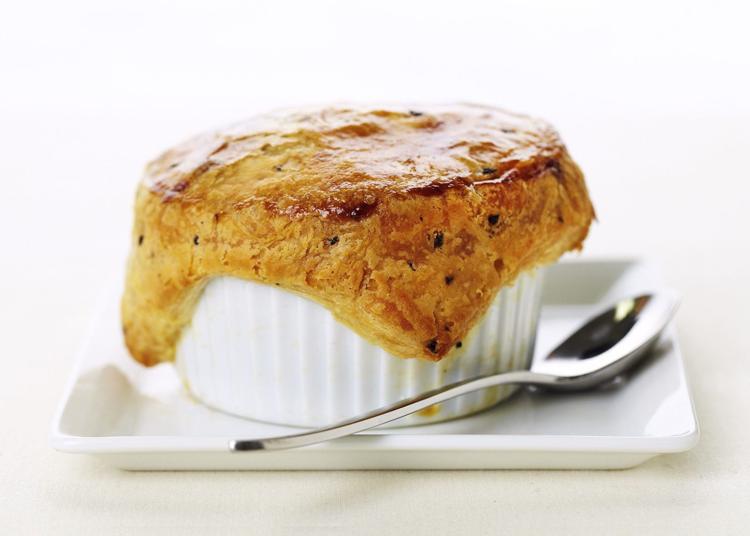 (recipe courtesy Wolfgang Puck, adapted from "Wolfgang Puck Makes it Easy," Rutledge Hill Press, 2004)
2 pounds boneless, skinless chicken, cut into 1-inch chunks
Salt and freshly ground black pepper to taste
3 tablespoons all-purpose flour
4 tablespoons vegetable oil
4 tablespoons unsalted butter, divided
1/2 pound organic red-skinned potatoes, cut into 1/2-inch pieces
1/2 pound organic carrots, peeled and cut into 1/2-inch pieces
1 medium yellow onion, peeled and diced
Pinch of crushed red pepper flakes
2 cups organic chicken stock
1 cup plus 1 tablespoon heavy cream
1/2 cup shelled or frozen peas
Approximately 1/2 pound frozen puff pastry, defrosted following package instructions
DIRECTIONS: Season the chicken pieces with salt and pepper, and toss in a mixing bowl with 2 tablespoons of the flour until evenly coated. In a large skillet over high heat, heat 2 tablespoons of the oil. Add the chicken pieces, reduce the heat slightly, and sauté, turning them occasionally, until light golden and thoroughly cooked, about 5 to 10 minutes. Using a slotted spoon, transfer the chicken to a plate and set aside. Add the remaining oil and 2 tablespoons of the butter to the pan, then add the potatoes, carrots, and onions and sauté until they begin to look glossy and bright, 2 to 3 minutes. Reduce the heat to medium, stir in the garlic, red pepper flakes, thyme, and bay leaf, and sauté, just until the vegetables begin to color slightly, 2 to 3 minutes more.
Add the wine, turn up the heat, stir and scrape with a wooden spoon to deglaze the pan deposits, and simmer until the liquid reduces by about half, 3 to 5 minutes. Add the chicken stock and the 1 cup of cream. Bring the liquid to a boil, reduce the heat slightly, and simmer briskly until the liquid reduces by about half again and is thick and creamy, about 15 minutes. Remove the sprig of thyme and the bay leaf.
Stir in the reserved chicken pieces and the sherry. Stir together the butter and remaining flour and stir this paste into the mixture. Season the sauce to taste with salt and pepper. Transfer to 4 large individual ovenproof 2-cup soup bowls, 4 ramekins of the same size, or a 2-quart baking dish. Cover with plastic wrap and refrigerate until the filling is cold, at least 1 hour.
Preheat the oven to 400 degrees F. Make sure the puff pastry is no thicker than 1/4 inch. With the tip of a sharp knife, cut the pastry into 4 circles that will overhang the rim of the serving bowls or ramekins by about half an inch; for a single large baking dish, cut 4 circles that will cover its top, or use one large sheet.
In a small bowl, beat together the egg and the remaining 1 tablespoon cream to make an egg wash. Brush the tops and outsides of the rims of the bowls. Place the bowls, ramekins, or baking dish on a baking tray and place the puff pastry circles on top, pressing them gently over the sides of the dishes . Pierce the tops with the tip of a paring knife. Brush the top of the pastry with egg wash. Carefully transfer the baking sheet to the oven and bake until the filling is bubbling hot and the pastry is a deep golden brown, 25 to 35 minutes. Serve hot.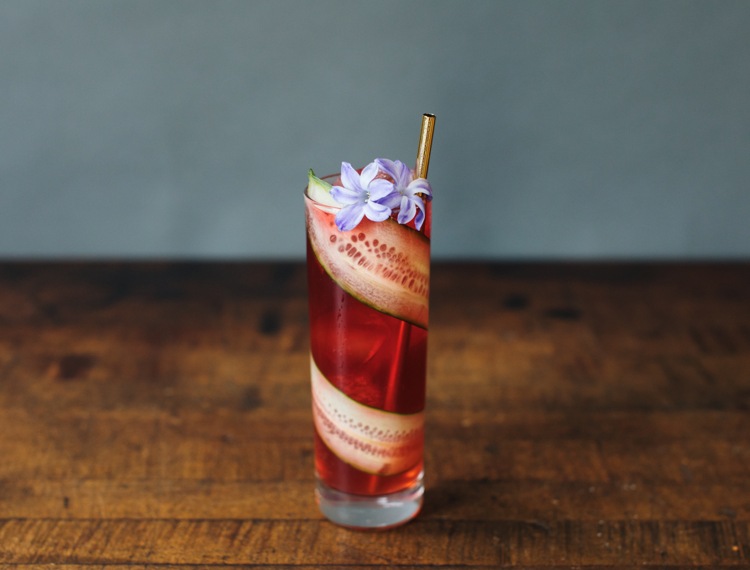 The Sidekick (non-alcoholic)
Created by mixologist Charles Joly
2 ounces Cold Hibiscus Tea
1 1/2 ounces Fresh Lemon Juice
Sliced Cucumber and Borage Flowers for Garnish
DIRECTIONS: Combine hibiscus tea, fresh lemon juice and simple syrup in a cocktail shaker with ice.
Gently shake and roll in tonic water.
Pour over fresh ice into a Collins glass.
Garnish: Wrap thin cucumber slice around inside of glass and top with borage flowers.
Inspiration: Every great hero needs a faithful sidekick. The drink offers a thoughtful combination of tangy, vibrant hibiscus, fresh citrus and effervescent tonic complemented by an elegant garnish.
See photos from the 89th Academy Awards here: