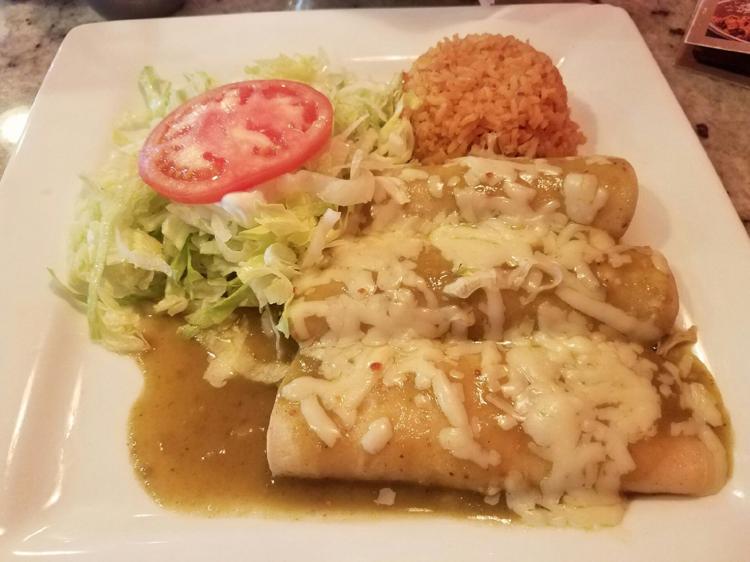 The aroma of fresh Mexican cuisine easily beckons diners while walking into Casa Vieja Mexican Grille.
The restaurant, owned by Pedro Mendez, opened last year on Joliet Street in Dyer.
Casa Vieja, which translates to old house, features a variety of dishes starring everything from tableside guacamole and queso fundido to burritos, flautas, various enchilada preparations and much more. The owner's family hails from the state of Jalisco in Mexico and many of the dishes sport names representing that Mexican region.
We visited Casa Vieja on a recent Wednesday evening. The restaurant's decor was pleasant with various Mexican pictures, knick knacks and other decorations featured throughout. Piped-in Latin music played that night which made the visit pretty festive.
After looking at the extensive menu, we chose the Enchiladas Suizas ($10.49). We also ordered the Horchata ($2.59), a rice milk drink. The enchilada dish came with rice, lettuce, sour cream and tomato.
Three enchiladas were featured in the order and included a beef tips, shredded chicken and cheese enchilada. Instead of a traditional red sauce, Casa Vieja Enchiladas Suizas are topped with a green tomatillo sauce. The sauce wasn't too spicy. The shredded chicken enchilada preparation stood out for its slightly sweet flavor, which was a favorite at our table. The Horchata drink was fairly large but didn't have enough of a sweet rice taste.
Among other menu offerings at Casa Vieja are Tilapia San Juan ($13.99); Camarones Rancheros ($15.99); Veggie Fajitas ($12.49); Spinach Enchiladas ($11.49); Guadalajara Especial ($10.49); Del Mar Bowl ($15.99); Birria Jalisco ($13.99); Flan ($3.99); Fried Ice Cream ($4.19); 3 Leches Cake ($5.99); and more.
The restaurant also offers various food and drink specials. Specialty Margaritas star daily at the eatery. Casa Vieja also features a three-course meal daily for $14.99. A special children's menu also is available at the restaurant.