Recipes: Lemon rice soup a hit at home and at restaurants
There aren't too many dishes as soothing as lemon rice soup.
The popular broth long has been a staple at Greek restaurants and family eateries around the country. Lemon rice soup or lemon rice and chicken soup, also known as Avgolemono, is a Greek specialty favored for not only its texture and delicious taste but its healing properties. Those with colds and upset stomachs often consume the soup in hopes of feeling better.
According to thekitchn.com, "Avgolemono actually refers to a Greek sauce made from eggs, lemon and warm broth. Commonly added to soups for thickening, the sauce is used to dress up everything from roasted vegetables to fish dishes."
At Commander Restaurant in Munster, lemon rice soup is a house specialty.
"My father brought the recipe here from Greece over 50 years ago," said Bobby Sirounis, owner of Commander. "It's the most popular soup at the restaurant."
Round the Clock also goes through gallons of the soothing soup daily.
"We sell close to 200 bowls a day," said Sam McGrath, shift manager at Round the Clock in Highland.
"It's one of our most popular soups. If we run out, people get upset," McGrath said.
She said the key to a good lemon rice soup is to use "just enough" lemon. Depending on individual tastes, the right balance of lemon can definitely change.
Chef Cheryl Molenda, of the American Culinary Chefs of Northwest Indiana, said she's a fan of the soup.
"I've made it several times, but everyone makes it differently. Too much rice and it's too starchy. Don't temper the eggs in and you end up with scrambled egg soup," she cautions.
The following recipes are variations on Greek Lemon Rice Soup.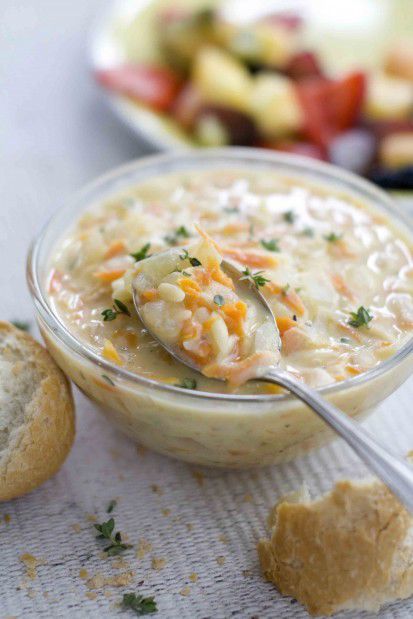 Start to finish: 20 minutes
1 medium yellow onion, diced
2 cloves garlic, finely minced
4 cups (1 quart) chicken broth
1 teaspoon finely chopped fresh thyme
3 tablespoons lemon juice
Salt and ground black pepper, to taste
DIRECTIONS: In a large saucepan over medium-high heat, melt the butter. Add the onion, carrots and garlic, then saute until the onions and carrots are tender, 5 to 6 minutes.
Add the broth and bring to a simmer. Add the orzo and thyme, then cook for 6 minutes, or until the orzo is just tender but not mushy.
Meanwhile, in a medium bowl whisk together the eggs and lemon juice. Ladle out 1 cup of the broth and drizzle it into the eggs while whisking. Remove the saucepan from the heat. While whisking the broth and vegetables in the saucepan, slowly pour in the egg mixture. Whisk until smooth, then season with salt and pepper.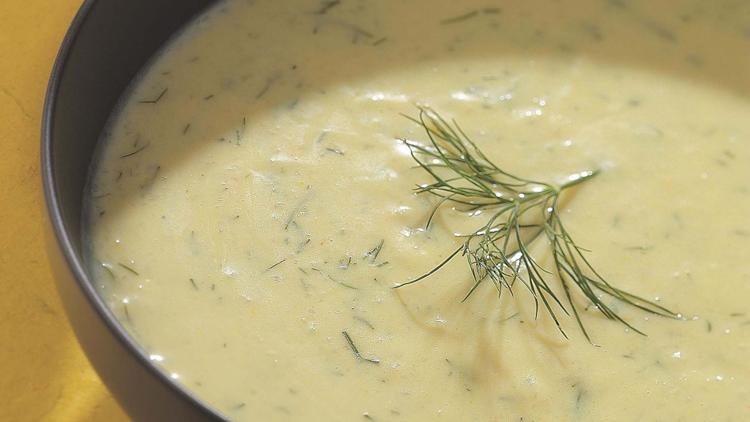 Smooth silken tofu replaces the eggs in our version of the classic Greek soup. Add an extra drizzle of olive oil on top of each portion to give it an extra-luxurious taste.
4 cups reduced-sodium chicken broth
1 12-ounce package silken tofu, (about 1 1/2 cups)
1 tablespoon extra-virgin olive oil
1/4 teaspoon ground tumeric
2 tablespoons chopped fresh dill
1/4 teaspoon black pepper, ground
DIRECTIONS: Bring broth and rice to a boil in a large saucepan. Reduce heat to a simmer and cook until the rice is very tender, about 15 minutes.
Carefully transfer 2 cups of the rice mixture to a blender. Add tofu, oil and turmeric; process until smooth. (Use caution when pureeing hot liquids.) Whisk the tofu mixture, lemon juice, dill and pepper into the soup remaining in the pan. Heat through.
Warm up with lemon rice soup at these eateries: