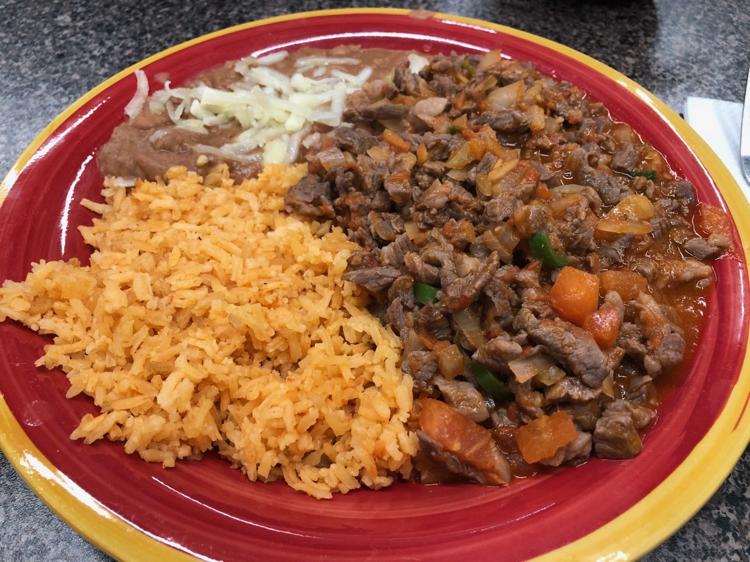 Diners can do their shopping and stop for a bite to eat at Cerro Grande grocery store in Lansing.
The store or supermercado also features the Cerro Grande Taqueria, which is located in the back of the market.
Cerro Grande Taqueria offers various breakfast, lunch and dinner creations and is open seven days a week. Specials are occasionally offered and guests will find those listed on a board near the register.
The Taqueria has a casual, no-frills setting and is situated right next to the meat counter at the supermarket. During a recent Monday afternoon visit to the restaurant, we ordered at the counter and then chose a seat in the middle of the room. Once guests order at the counter, a server will bring your meal to you.
Lunch that day was the special, which was Bistek (or steak) a la Mexicana ($8.75). Rice and beans accompanied the dish. The steak, which was cut in bite-size pieces was served in a flavorful red sauce with onion, tomatoes and small pieces of jalapeno. The serving was fairly large and was a good amount for its price.
Also featured on the taqueria's menu are Chicken or Steak Fajitas ($10.95); Camarones (shrimp) a la Diabla ($10.95); Chiles Rellenos ($10.95); Camaron y Pescado, (fish fillet and shrimp dinner) ($12.95); Burritos ($6.45 or $8.95 for a dinner); Shrimp Taco ($2.95 or $9.95 for a dinner); Taco Salad ($7.95); Flauta dinner ($8.95); and more.
Various other categories on the menu are Sopes and Gorditas; Quesadillas and Homemade Tamales. On weekends the restaurant offers menudo as well. Kids meals include a Taco with a drink for $3.95 or a Quesadilla with a drink for $3.95.
If you'd like to order breakfast, items on the menu include Huevos a la Mexicana ($6.95); Huevos con Chorizo ($6.95); Chilaquiles ($6.95) and other dishes.
Cerro Grande Taqueria also offers catering.