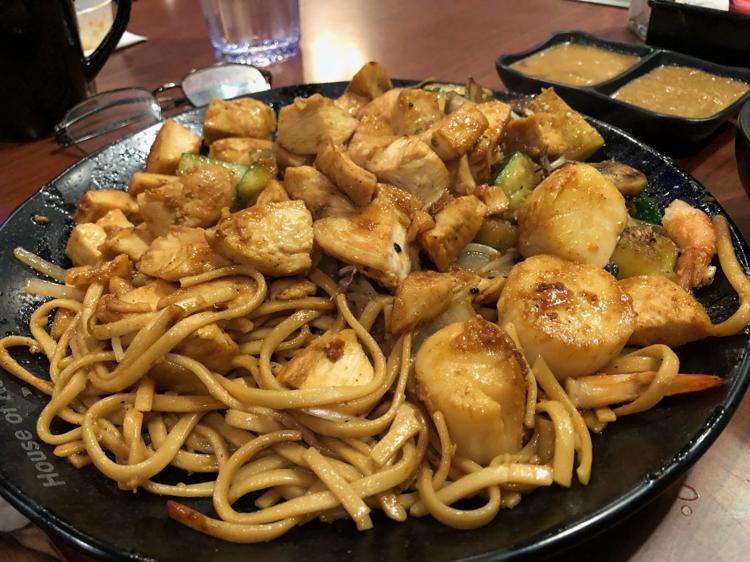 The food is flavorful and the culinary theatrics are high energy at House of Kobe in Merrillville.
House of Kobe, which is a Japanese restaurant specializing in Teppanyaki-style cooking as well as sushi, is located on Broadway in Merrillville. Another location is on Route 41 in Schererville.
For diners who'd like some entertainment with dinner, a visit to House of Kobe is a good choice for a meal. Through the years, the eatery has been expanded to include more tables as well as opportunities for guests to also enjoy a sushi menu in a separate dining area.
Guests dining in the main dining room, which features the Teppanyaki-style of cooking, sit at communal tables. If you're not attending with a large party of guests, you'll be seated with other guests at tables that hold about 10 people.
Once seated and you've ordered your meal, you'll watch as the talented chefs cook in front of you. They'll dazzle with various techniques from quick chopping and dicing methods to little sleight of hand tricks.
As the grill sizzles and smokes, the chefs go into action, quickly chopping vegetables, chicken, steaks and seafood. One of the fascinating theatrical showcases is the making of a "volcano" right on the grill.
Keep reading for FREE!
Enjoy more articles by signing up or logging in. No credit card required.
Taking an onion, our chef assembled the rings to form a volcano. Then he set the volcano on fire and we watched while flames spouted from the top of the onions.
During our Monday night dinner, we ordered the Kobe Royale, which featured Filet Mignon and Boneless Chicken ($26.95) as well as the Yokohama Special, featuring Boneless Chicken and Scallops ($27.95.)
The meals come with soup, salad, rice and two pieces of shrimp added to the order.
The dinner menu also features Ribeye and Salmon ($27.95); the Emperor, which is Lobster Tail and Filet Mignon ($40.95); the Land & Sea, featuring Filet Mignon and Shrimp ($27.95); and many more combinations.
Hot tea, a variety of non-alcoholic beverages, specialty cocktails, beer and more are available at House of Kobe.
12 Things to do in the Region this week
Kathleen Turner: Finding My Voice
John Cleese
Sons of Serendip
The Gift of Art
ARTability
Second Chances: The Thrift Shop Musical
3 Little Birds Holiday Market
Miller Woods Hike
Betty LaDuke: Social Justice Revisited: Remembering, Reliving, Resisting
'A Christmas Story Comes Home'
Perceived Realities
White Christmas