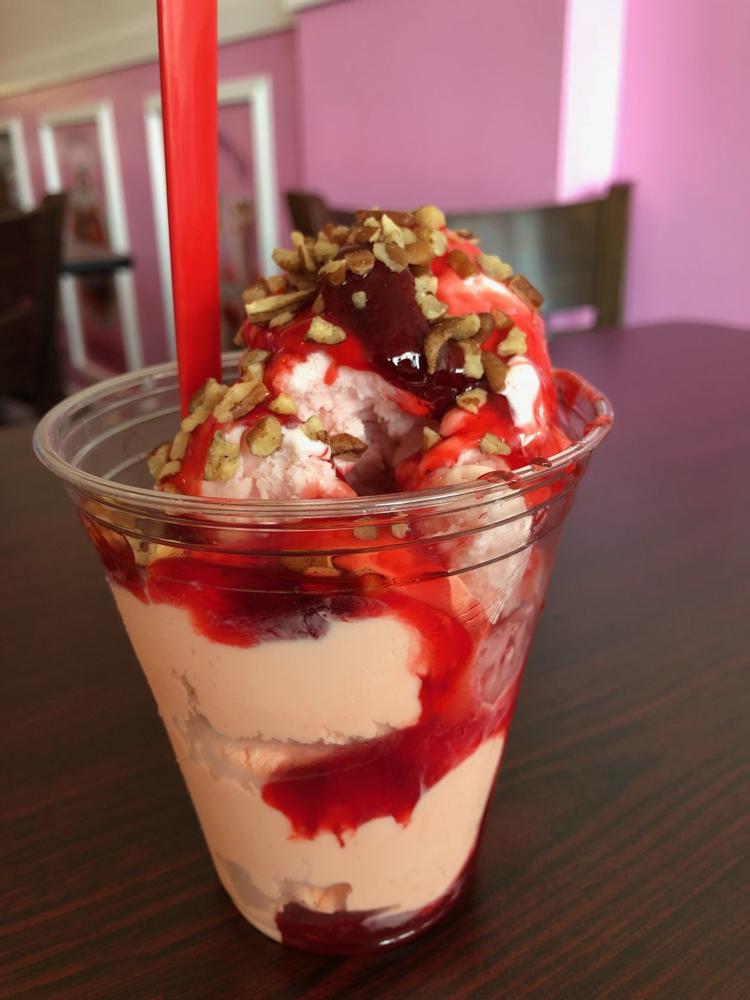 If sweets are what you crave, it's time to visit La Michoacana IN in Whiting.
The Mexican ice cream shop, which opened last fall, is located in downtown Whiting on 119th Street.
La Michoacana IN's menu features everything from sundaes and scoops of freshly made ice cream to paletas (Mexican popsicles), licuados (shakes), fruit drinks, fruit dessert creations and other items such as nachos, tortas and more.
The small shop is decorated in a bright pink hue with photos of various treats on the walls. We visited La Michoacana on a recent Monday afternoon. Since it was a fairly hot day, it was a perfect time to get a sweet, cool treat.
After looking at the menu and surveying the multiple flavors of ice cream available we decided to get a mix of items. We ordered a sundae ($5) and chose two ice cream flavors for the treat - strawberry and pinenut.
We also ordered the fruit treat called Bionicos ($4.50), which has a mix of fruits blended in a smooth cream. It was then covered with whipped cream and pecans.
Our order also included a strawberry smoothie ($2 for a small) and two fruit drinks - mango plus a cucumber/lime blend. ($2.50 each for a small).
The Bionicos fruit specialty proved to be filling and flavorful. It featured a mix of fruits including mango, bananas, apples, melons and more. The smoothie was a hit as well with its mild flavor and creamy consistency. The drink wasn't too sweet and was perfect for a cool summer beverage fix.
The sundae and fruit drinks also rated high. The cucumber/lime creation was refreshing and a good thirst quencher.
Among other menu items at La Michoacana are Elotes;, Chicharrones (pork rinds); yogurt; various drinks and other sweet treats.