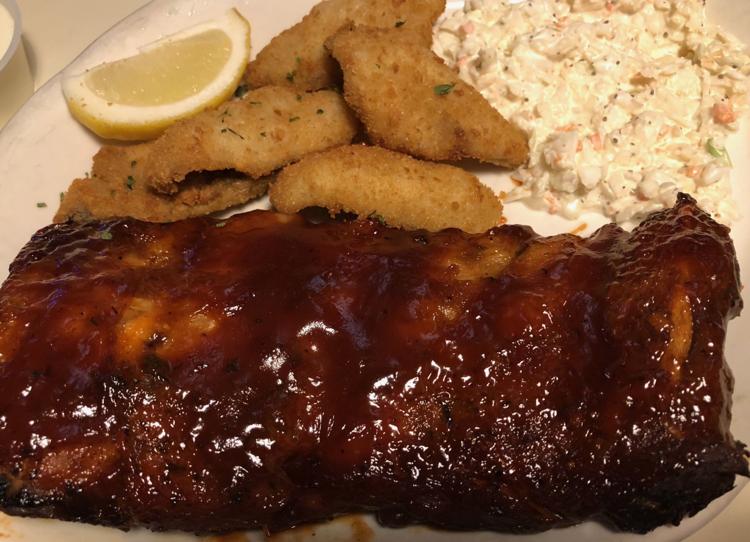 Diners looking for a cheery atmosphere and a menu with various homestyle meals will find that at Traditions Restaurant & Pub.
The eatery, located on Highway Avenue in downtown Highland, features a casual pub/sports bar atmosphere. Traditions is built in an old-fashioned house and diners may even sit at tables on the porch if weather permits.
We visited Traditions on a recent Monday for an early dinner. Though it was a nice day, we chose to sit at a booth in the main dining room. From our seat, we could see a few televisions which are set around the restaurant. There's even a TV on the porch so guests dining outdoors won't miss a game.
Our dinner that night was a combination of ribs and blue gill ($12.95). The half slab of ribs featured a semi sweet/spicy sauce and the meat was tender. The blue gill was a mild tasting fish which also had a bit of a sweeter flavor than perch. Guests could have also ordered perch instead of the blue gill for this particular Monday night special.
The dinner also came with a choice of potato, coleslaw and choice of soup or salad. The meal proved to be a good choice and fairly economical for everything that accompanied it.
Among other items on Traditions menu are Jumbo Shrimp ($18); Ribeye & Perch ($28); Chicken Broccoli Alfredo ($17); Broiled Pork Chops ($16); Filet Mignon ($26) and more. There are various appetizers, soups, salads, sandwiches and desserts starring on Traditions menu as well.
The restaurant features assorted daily specials. Drink specials are often featured at the restaurant's bar. The restaurant also offers Bears specials every Sunday.