Most food lovers tend to pick the best looking ingredients at the supermarket. It's easy to pass up a discolored apple, a smashed potato or a misshapen carrot.
The company Imperfect Produce has been putting the spotlight on what many consumers would think of as "ugly" fruit and vegetables since 2015. Imperfect Produce was founded by Ben Simon and Ben Chesler as a way to find "a home for the 1 in 5 fruits and vegetables that grocery stores wouldn't buy because of how they looked," according to written material from the company.
Imperfect Produce delivers surplus and imperfect fruits and vegetables from farms to consumers around the country. The company is now in various markets in the U.S., including Chicago, San Francisco, Indianapolis, Milwaukee and other cities.
Next week, Imperfect Produce will launch in Northwest Indiana.
"We're really excited about coming to Northwest Indiana," said Reilly Brock, content manager for Imperfect Produce. "We've always had it in the back of our minds that we wanted to (continue) launching in other areas."
Imperfect Produce debuted in the San Francisco Bay area. It launched in Chicago in 2017 and in Indianapolis in 2018.
Brock said the company grew out of co-founder Ben Simon's original mission of trying to help with the food waste problem he saw in the college cafeteria while he was a student at the University of Maryland.
"He noticed a lot of food, at the end of the night, was being trashed," Brock said, about Simon. Later, Simon founded the non-profit Food Recovery Network (FRN) to tackle the food waste problem. Through FRN, Simon tried "to find a home for that food," Brock explained.
"He wondered how he could make a bigger impact...and realized he had to go to farms," Brock said.
Simon and Chesler later learned more about food waste after looking at the surplus and imperfect produce that came from farms and couldn't be sold to grocery stores and other retailers.
Through the company Imperfect Produce, consumers purchase a box of surplus or imperfect fruits and vegetables, and the produce is delivered to their doorstep. The company states that the cost of the produce is 30 percent less than the price of the product at supermarkets.
"All the boxes can be customizable as well," Brock said. "Our goal is always to deliver (a) savings," Brock said.
"Our philosophy is also to follow the waste," he said, adding they found that medium to large farms always have a bounty of produce that can't be sold to stores. "A lot of stuff doesn't meet their expectations," he said, adding that doesn't mean the produce isn't good.
Produce that will be sold to Northwest Indiana consumers will eventually come from regional farms in Indiana, Illinois and Michigan. But, due to the company wanting to provide the best and seasonal produce, products may come from other states at certain times of the year.
Brock said Imperfect Produce personnel also find it important to give back to the communities it serves and impact the various communities by doing their best to eliminate food waste.
A variety of produce, from potatoes, carrots, apples, oranges, eggplant and more, can be found in Imperfect Produce boxes.
"The box selections change from week to week because we follow the seasons and follow the markets," Brock said. The company looks at what each farm market has available. "It changes (depending) on the farm and what they're growing."
Brock said many consumers who've purchased produce from the company are often surprised at the offerings. "We often hear that the stuff isn't as ugly as they thought it would be," he said.
Imperfections, he explained, can range from produce having blemishes to being asymmetrical, being too small or too large and other factors.
"A good example is we had hail storm apples which stores didn't want to buy," he said. The apples were marked and spotted from the hail that hit them.
"We're also all about the community around the food," Brock said. Imperfect Produce often works with food banks and other organizations in various areas.
Since the company launched in Chicago in December of 2017, Imperfect Produce has donated 365, 298 pounds of produce to Chicago-area non-profits such as Grace Housing Complex, The Greater Chicago Food Depository, Chicago Refugee Coalition and more.
Imperfect Produce also offers tips on cooking various produce, recipes and other information on its social media platforms.
The following recipe for Broccoli Stem Hummus is from Imperfect Produce.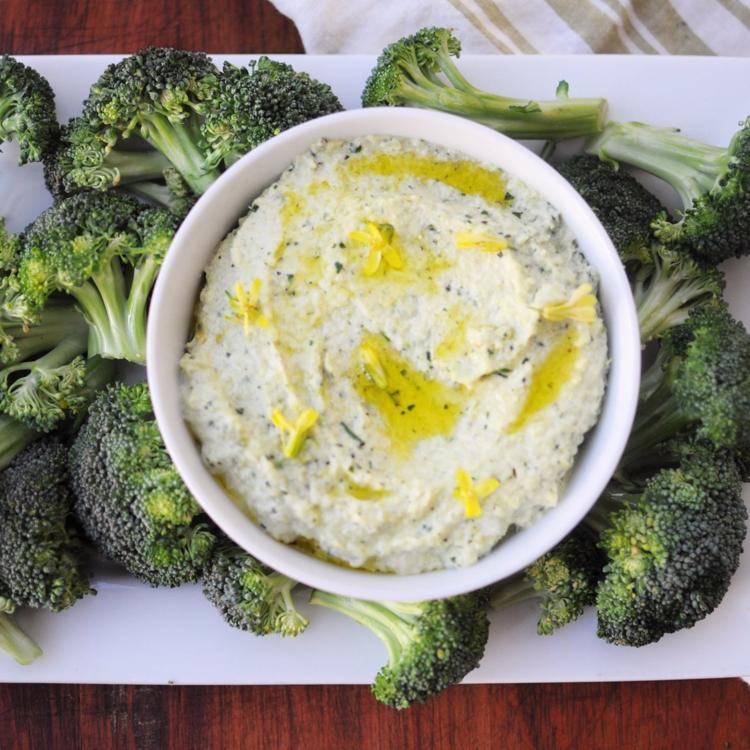 Broccoli Stem Hummus
2 cups peeled and chopped Imperfect broccoli stems
1⁄2 cup chopped fresh herbs (we like thyme or oregano!)
Directions: Bring a pot of salted water to boil. Add your broccoli stems and boil for 5 minutes, or until tender.
Drain the vegetables and plunge them into an ice bath.
Drain the stems again and place them in a food processor along with the garlic, tahini, lemon juice, olive oil, chopped herbs, and salt.
Process the mixture until smooth, stopping to scrape down the sides if needed.
Taste and adjust seasoning as needed. Enjoy!
Recipe Notes: If you grow broccoli at home and your florets start going to flower, pick those lovely flowers and garnish all your dishes with them. Experiment with different herbs and spices in your hummus, like parsley, tarragon, chives, cumin, paprika, za'atar, or whatever you like.
Recipes: Nutritious fare
Nutritious fare: Recipes, restaurants help people follow healthy food path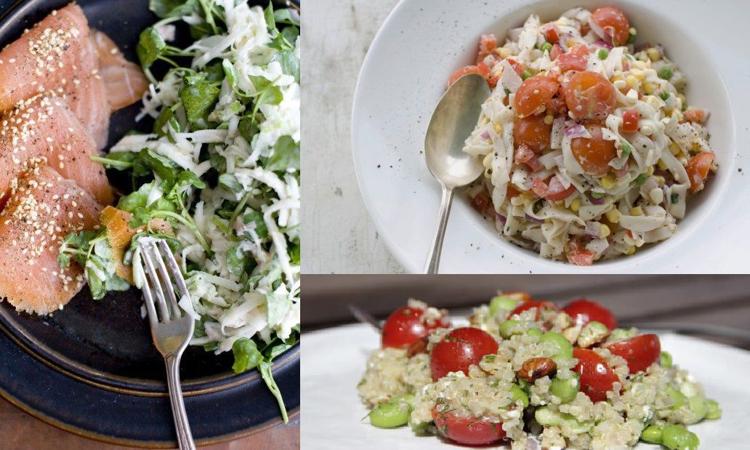 EDAMAME QUINOA SALAD WITH TANGY VINAIGRETTE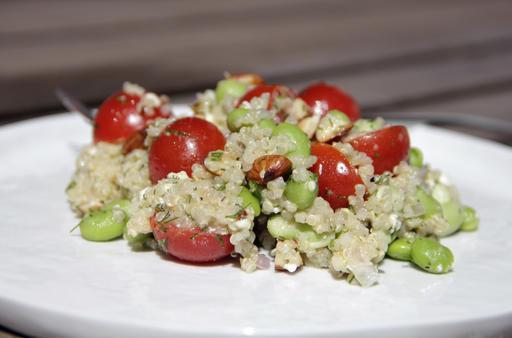 SMOKED SALMON SALAD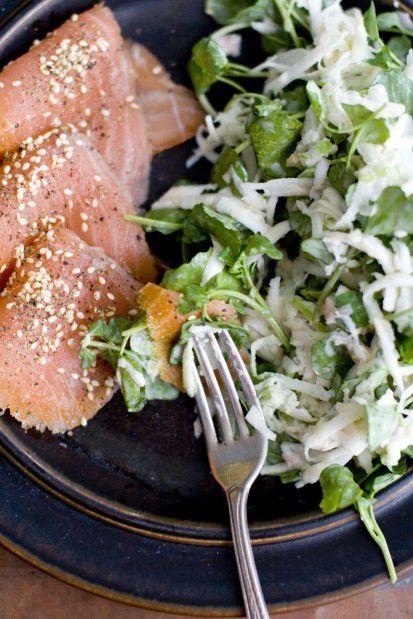 HEALTHY CARB PASTA SALAD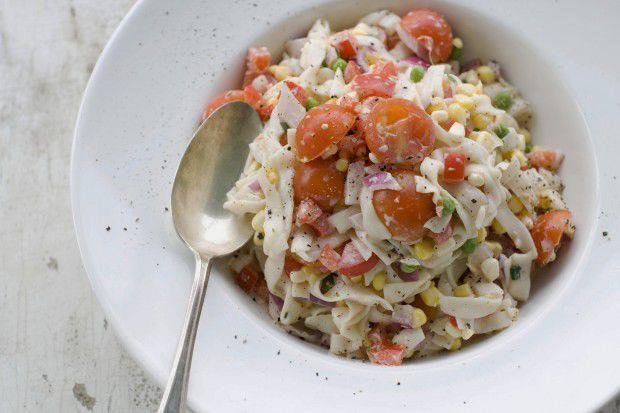 Parmesan Caesar Sirloin Salad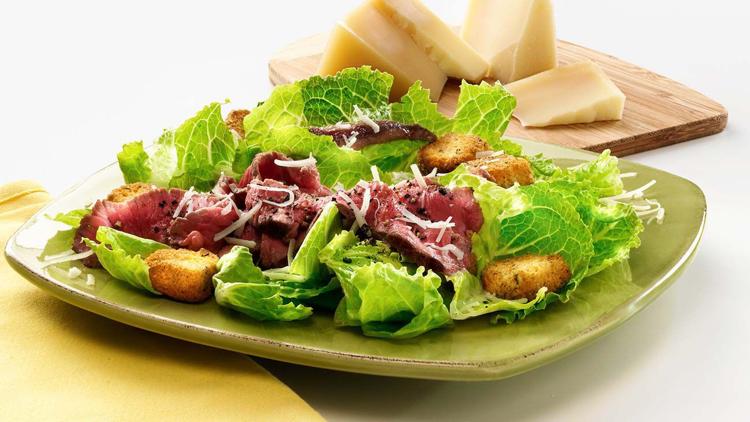 Fontina Fruit Salad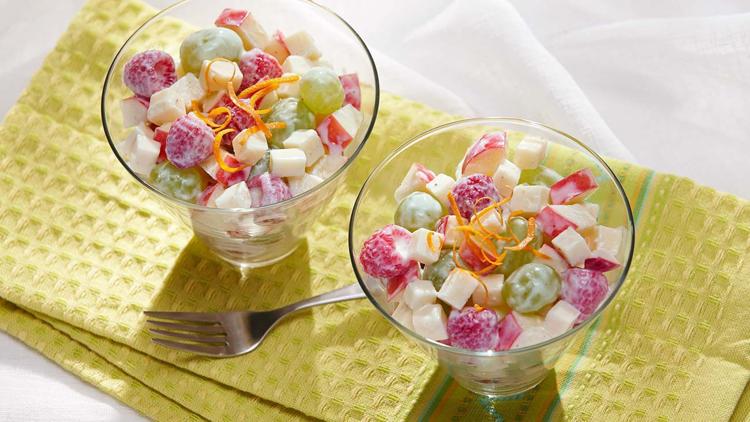 Greek Salad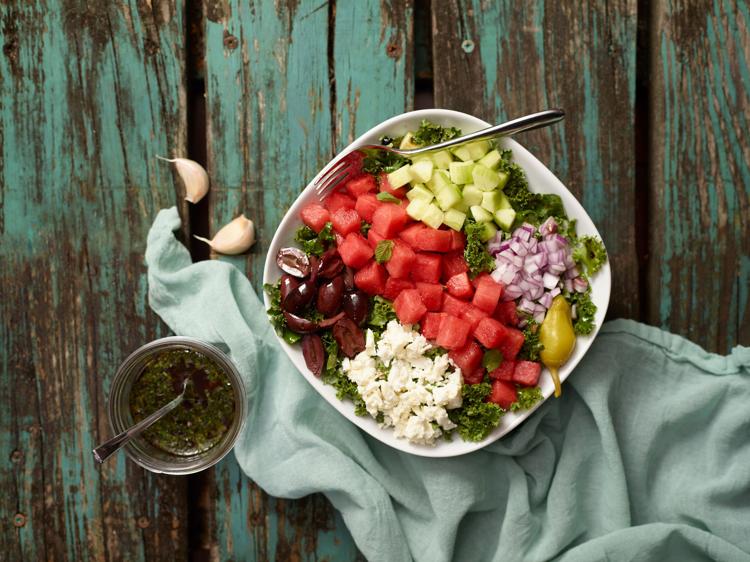 Ancient Grains Salad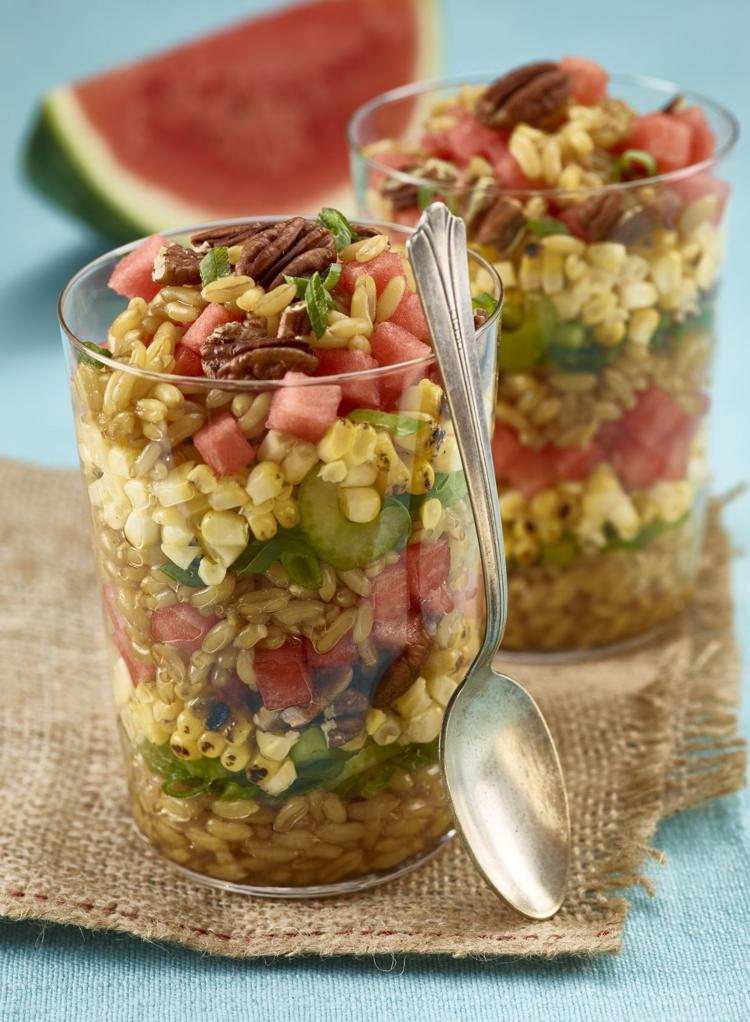 Caprese Pasta Salad
Grilled Greek Salad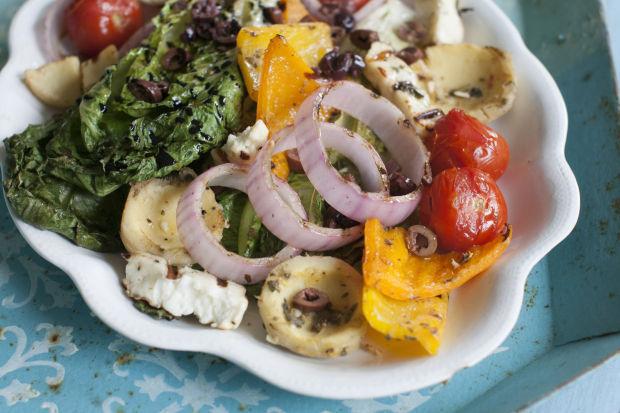 Back-To-School Chopped Salad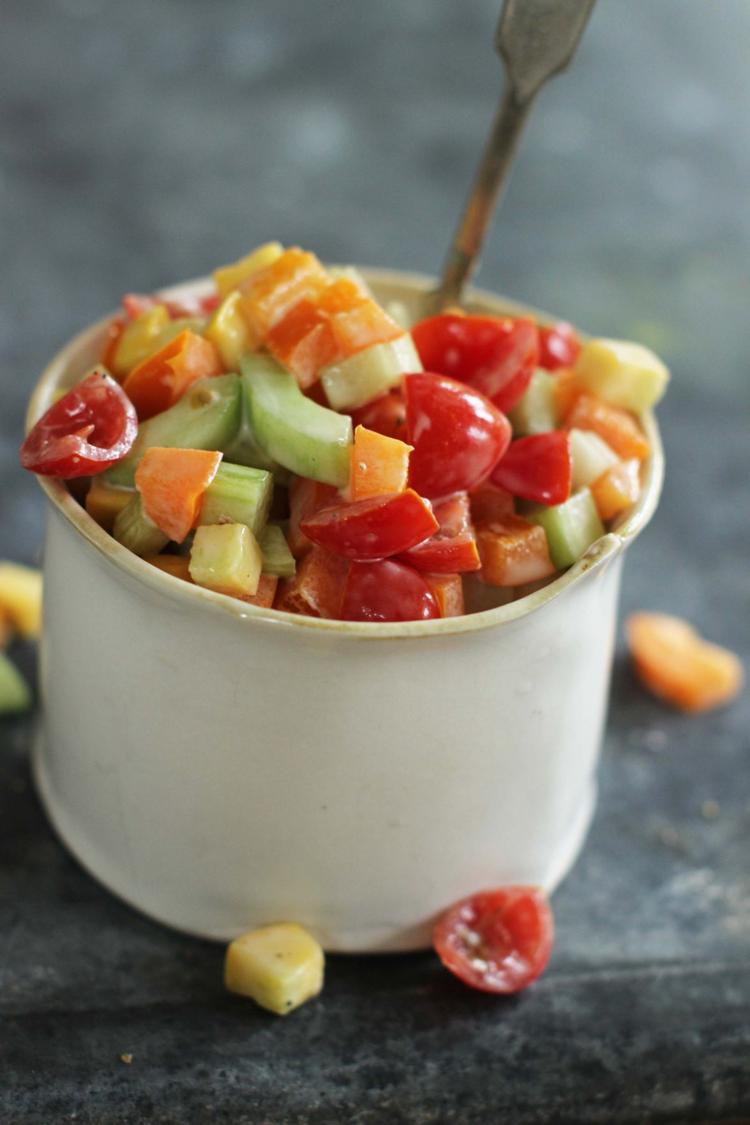 Quinoa Shrimp Salad With Avocado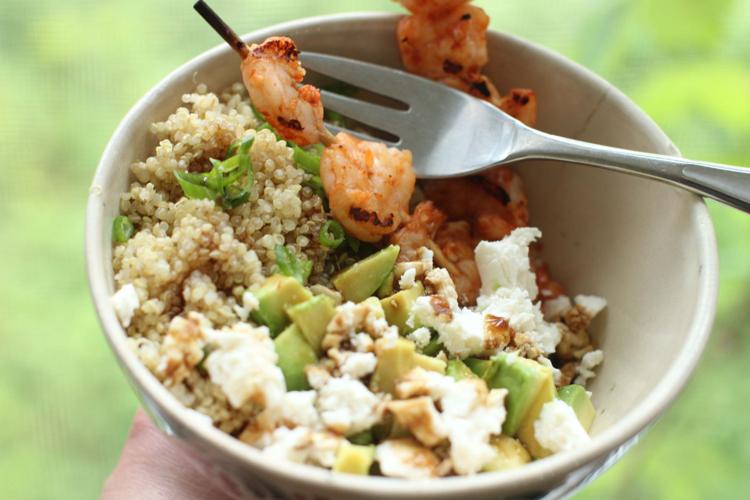 Spicy Watermelon Salad With Salad And Basil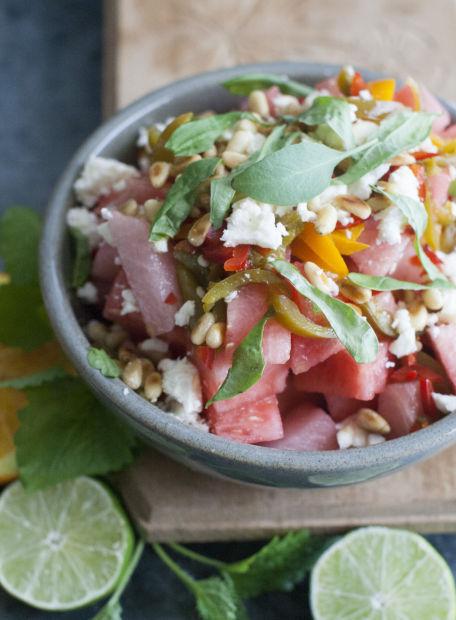 Shades of Green Salad