Party hosts looking for creative drinks for their summer celebration menu can prepare a variety of beverages and cocktails for guests.
Hosts can get creative with a number of drink recipes by adding different spices, fruits and more to the mix.
According to the Flavor Forecast team from McCormick, one of the beverage trends this summer explores icy treats and incorporating them into drinks.
"Our latest Flavor Forecast trend reinvents traditional treats to meet everyone's increased craving for bold flavor experiences," said McCormick executive chef Kevan Vetter. Shaved ice and other iced renditions can easily be added to cocktails and mocktails.
"Bold, concentrated flavors from fresh fruit syrups, bitters, sours and spices guarantee they won't get diluted as the ice melts. Sip, slurp, spoon and repeat," writes the Flavor Forecast team.
In addition to the iced trend, there is much to be done with fresh fruit - such as purees and syrups as well as adding other ingredients such as cucumbers, olives, herbs and more to seasonal drinks.
Creamy creations, according to the team at Flavor Forecast, are also fun and flavorful when it comes to creating drinks. Beverages, such as a buttermilk masala chaas drink, can include various ethnic flavors from regions such as Thailand and India.
Serve the following drinks at your next party.
Twisted Maria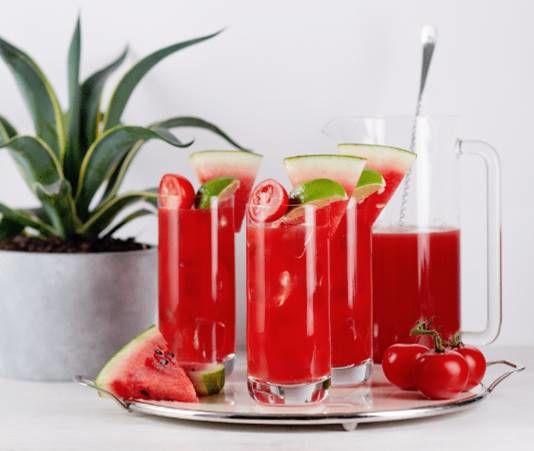 6 ounces DeLeon Platinum tequila
4 ounces Watermelon Juice
12 Cherry tomatoes on Vine
Glassware: Rocks Glass/Collins
Garnish: Lime Wedge and Tomato
DIRECTIONS: Mull 12 cherry tomatoes in a shaker. Blend 10-12 pieces of watermelon or 1 ounce of watermelon juice into shaker. Add in remaining ingredients and pinch of salt. Shake, strain and pour over ice.
From Fingerprint Communications
'Skinny' Mango Margarita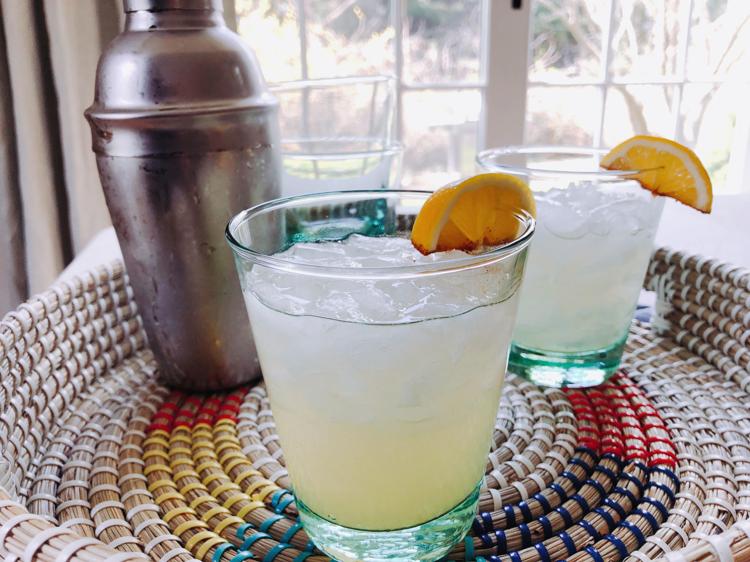 1.5 ounces favorite Silver Tequila
1 ounce Patron Mango Liqueur
2 ounces fresh-squeezed Meyer lemon juice
Meyer lemon or orange slice, cut in half for garnish
Shake all ingredients with ice and strain into a short "rocks" glass filled with crushed ice. Dip the side of the Meyer lemon or orange slice into the cinnamon and garnish the glass. I make a cut in the center of the slice with a paring knife so that it slips over the rim of the glass more easily.
Chef's Note: One ounce is equal to 2 tablespoons. If you don't have an ounce measure, you can use a tablespoon.
Grapefruit Basil Kombucha Mocktail with Butterfly Pea Flower Shaved Ice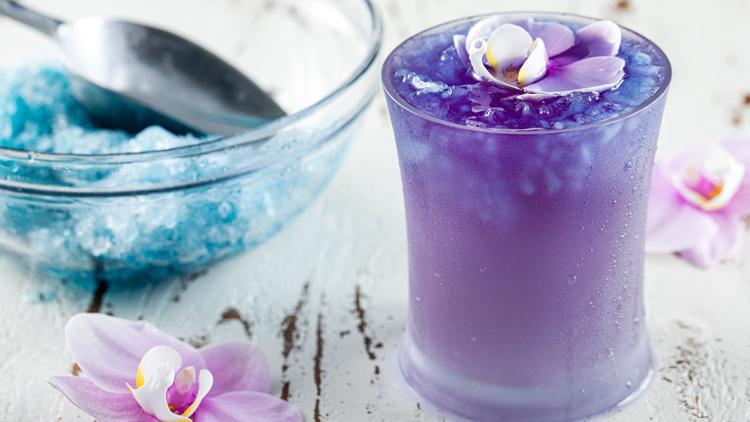 Register for more free articles.
Stay logged in to skip the surveys.
1/4 cup dried pea flowers
2 tablespoons Organic Anise Seed
1 cup Basil & Anise Syrup, chilled
1 cup freshly squeezed grapefruit juice, chilled
1 cup unflavored kombucha, chilled
1 cup chillled seltzer water, divided
4 edible orchid flowers, (to garnish)
DIRECTIONS: For the colored ice, bring 1 cup of the water to boil in small saucepan on medium-high heat. Add pea flowers; steep until flowers are hydrated and water is tinted blue. Strain through a fine sieve; discard flowers. Mix blue pea flower water with remaining 5 cups water in large glass measuring cup, stirring until well blended. Pour mixture into ice cube trays. Freeze at least 4 hours or overnight.
For the Basil & Anise Syrup, mix all ingredients in a small saucepan. Bring to simmer on medium heat. Remove from heat. Let stand 10 minutes, stirring occasionally to dissolve sugar. Strain mixture through fine sieve. Cool to room temperature. Refrigerate until chilled.
To make the Grapefruit Kombucha, mix Basil & Anise Syrup, grapefruit juice, unflavored kombucha and water in large glass measuring cup.
To serve, shave pea flower ice cubes using a food processor or ice shaver. Place 3/4 cup of the shaved ice into bottom of beverage glass. Place orchid flower in glass on top of ice. Layer with an additional 1/4 cup of the shaved ice.
5. Mix 3/4 cup Grapefruit Kombucha and 1/4 cup seltzer. Pour over ice and serve immediately to reveal color-changing beverage. Repeat with remaining ingredients to make 4 beverages.
SANGRIA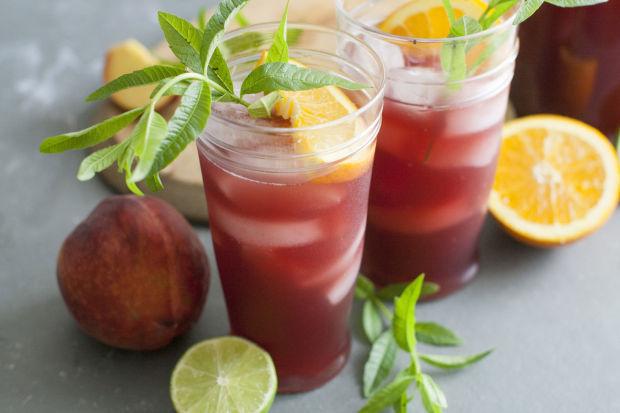 Start to finish: 5 minutes
DIRECTIONS: Combine all ingredients in a large pitcher and stir until the sugar has dissolved. Refrigerate for several hours, then serve over ice.