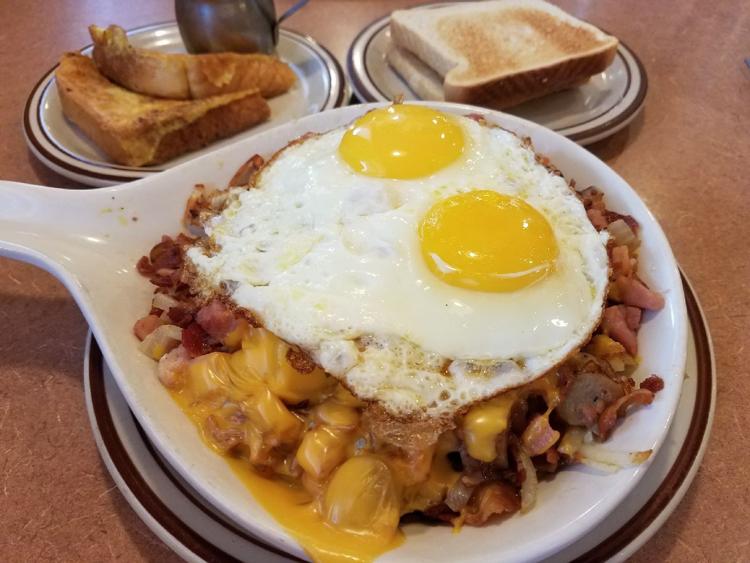 Residents of the Region regularly gather for a meal at Sunrise.
The family restaurant, located on 119th Street in Whiting, has a full house of diners for breakfast, lunch or dinner daily. During mid-morning breakfast hours on Sundays, the eatery is particularly busy with after-church diners and others looking for a substantial meal.
At Sunrise, guests may enjoy breakfast all day as well as assorted dishes from egg recipes, burgers and sandwiches to full meals, seafood, steaks and chops, Greek specialties, Mexican fare and more.
We visited Sunrise on a recent Sunday for breakfast. There was a line of people waiting to get tables that morning, but we only waited 10 minutes to be seated.
Service is usually quick at Sunrise and waiters/waitresses are always pleasant — a welcome nicety, especially in the morning.
After checking out the menu, we decided on the Cheese Omelet ($4.79), The Melting Pot Skillet ($7.39);and a side of Oatmeal ($2.09).
The Melting Pot is one of the popular skillets at Sunrise and rightfully so. It's a delicious blending of ham, bacon and sausage topped with rich American, Swiss and Cheddar Cheese. It also features two eggs, cooked any style, hash browns and onions. On the side, guests may have either toast, two pancakes or French toast.
Sunrise's oatmeal is also a winner for its tasty flavor and a chewy consistency. It's served with sides of brown sugar and cinnamon.
There are many choices on the menu at Sunrise. Among categories of food are sections for croissant sandwiches; Hot 'n Hearty sandwiches such as Hot Roast Beef; Hot Turkey and Hot Hamburger; Skillets, including the Farmers, Greek, Italian, Country and Veggie; Wraps; Pasta; Salads; and more.
On the Greek Town portion of the menu, diners will find dishes such as Beef Shish-Ka-Bob and Broiled Athenian Pork Chops while the Viva Mexico menu category stars Chicken or Beef Fajitas, Tacos and Fajita Wraps.
Various specials appear daily on the menu, including special discounts for senior meals.
Other items featured at Sunrise include Bar-B-Que Ribs; Chicken Marsala; Cowboy Chicken Breast; Roast Loin of Pork; Stir-Frys and other items.
Sunrise also offers carry-out service and has gift certificates available.