top story
urgent
web only
TASTE TEST: Where's the beef? Zel's
Every week, The Times of Northwest Indiana tries out a dish at one of the Region's fine eating establishments. Here's what they've dined on so far.
TASTE TEST: Where's the beef? Zel's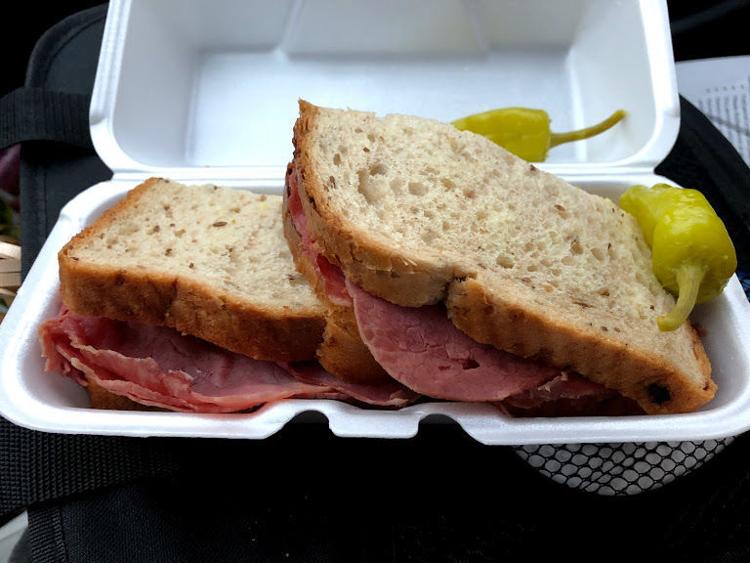 Zel's was built big to feed hungry steelworkers and oilworkers.
The roast beef restaurant chain known for its bright yellow buildings and heaping sandwiches first opened by some of the Region's heaviest industry when it got its start in the Indiana Harbor neighborhood of East Chicago in 1965. Today, Zel's has locations in East Chicago, Hammond, Schererville and Crown Point.
The homegrown fast food joint serves up roast beef sandwiches, Bar-B-Que Beef, Nathan's Famous Hot Dogs, Polish sausages, chili cheese dogs, chili cheese fries, and old-fashioned milkshakes. It's a favorite of many Region residents, including the popular Twitter satirist @RegionRatRants, who's joked that "if loving Zel's beef is wrong, I don't wanna be right," "Lake County uses Zel's beef juice to combat icy roads," and "#RIP to my waistline after finishing off a Zel's beef sandwich, a large chili-cheese fries and large vanilla shake."
A standout is Zel's corned beef sandwich. The traditional delicatessen-style favorite comes either in a Vienna bun or the rye bread you'd expect in a New York City-style deli. The corned beef was cured well enough to taste well seasoned without being too salty. A veritable pile of corned beef is slathered in yellow mustard and served with a hearty slice of fresh tomato and peppers on the side.
Every order comes with a side of golden crinkle-cut fries that are satisfying without being too greasy. They're crisp on the outside and as starchy as steak fries on the inside.
The portions are of course generous.
It's a hearty sandwich that will fill you up, whether you're a hard-working factory worker or anyone else.
TASTE TEST: No shortage of flavors at Jordy n' Jax BBQ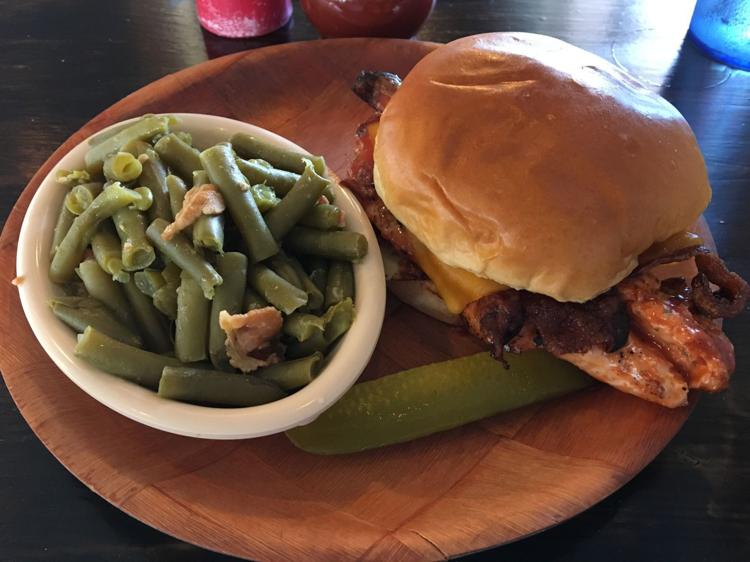 VALPARAISO — If you like pig butts and you cannot lie, or just want that on a T-shirt, you can find it and a scrumptious array of food choices at Jordy n' Jax BBQ.
The restaurant, which replaced the former Petey's City Grill at 255 Morthland Drive, opened its doors in November 2018. Owners Bill and Kim Walz have since served hungry gullets with various barbecue platters, sandwiches and sides.
The space is inviting with multiple booths and tables and a decor in which mid-20th century America meets the Wild West. From washboards hanging on the wall to images of Barney Fife and Yosemite Sam, a fun personality is evoked inside.
The menu has plentiful options, from standard shredded meat on sandwiches or platters to traditional ribs, tips and wings.
A standout is the Six Shooter Chicken sandwich. The dish comes with a grilled chicken piece smothered in barbecue sauce, topped with ranch seasoning and layered with cheddar cheese and a couple of bacon slices. The dish also comes with your choice of "sidekick," and green beans with onions and bacon is a worthy choice.
Each bite of the sandwich is incredibly tasty. The meat is cooked and seasoned well, and the cheese and bacon provide a good texture mix. The green beans also stand out in flavor, and the onions and bacon give a good zest.
Diners should also consider the stampede burger and the brisket haystack.
For more information, call 219-510-1742.
12 Things to do in the Region this week
The Best Christmas Pageant Ever
Winter Lights Night Festival
HoliDaze Craft Show
The Gift of Art
Holiday Show and Sale
Holiday Affair Vendor and Craft Show
Aaron Lewis
Miller Woods Hike
Betty LaDuke: Social Justice Revisited: Remembering, Reliving, Resisting
'A Christmas Story Comes Home'
Perceived Realities
White Christmas
TASTE TEST: Toast & Jam serves up seasonal specials that delight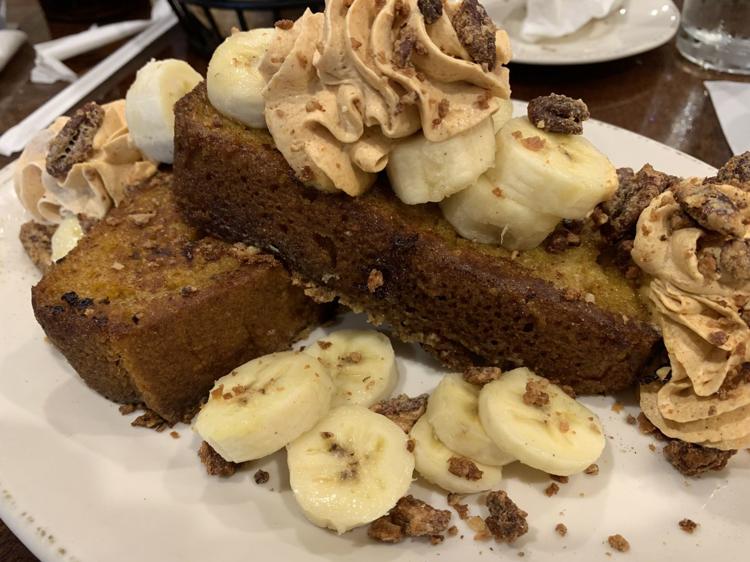 SCHERERVILLE — Pumpkin spice lovers, rejoice. There's a breakfast option catered to all of your pumpkin needs. 
Toast & Jam, 7311 Mallard Lane, serves up flavorful takes on breakfast classics, with a specials rotation that changes monthly. 
In October, and for a limited time in November until the supply runs out, the mom-and-pop-esque eatery focuses on the flavors of fall. 
The pumpkin pie mousse French toast features thick slices of fresh-baked pumpkin bread, piled with bananas, candied pecans and pumpkin pie mousse. 
This dish caters to the sweet side of breakfast, but the sweetness of the mousse and pecans don't overpower the dish. Bananas add a freshness, and you definitely don't need to add syrup (we added a splash).
Toast & Jam offers a plethora of sweet breakfast creations, including Oreo pancakes, banana crumble French toast and cannoli caramel crepes. 
Savory breakfast lovers might opt for the cowboy biscuits & gravy, the Hoosier skillet or a breakfast po' boy. 
Whether you're looking to catch the flavors of the season or grab breakfast (or lunch) with the family, Toast & Jam offers something for everyone.
The restaurant is open from 7 a.m. to 3 p.m. Monday through Friday and from 6 a.m. to 3 p.m. Saturday and Sunday.
12 Things to do in the Region this week
The Best Christmas Pageant Ever
Winter Lights Night Festival
HoliDaze Craft Show
The Gift of Art
Holiday Show and Sale
Holiday Affair Vendor and Craft Show
Aaron Lewis
Miller Woods Hike
Betty LaDuke: Social Justice Revisited: Remembering, Reliving, Resisting
'A Christmas Story Comes Home'
Perceived Realities
White Christmas
TASTE TEST: Burgers of the Month show creativity at Burgerhaus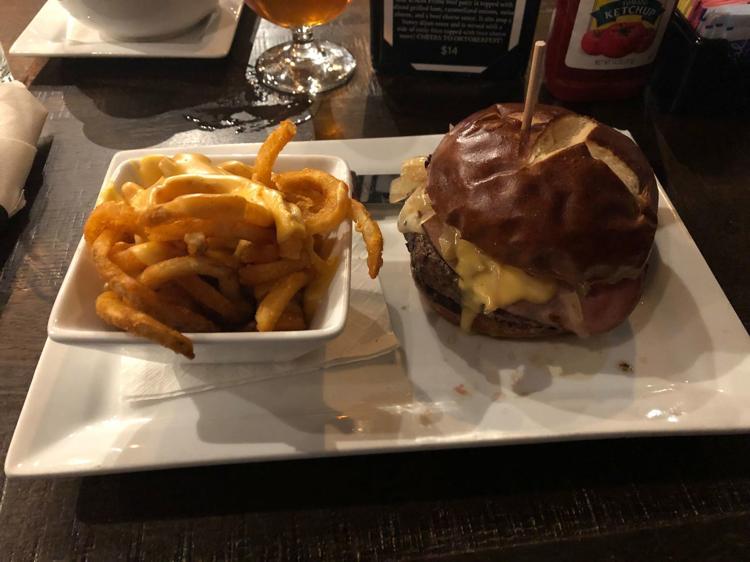 Burgerhaus, a local sit-down restaurant chain with locations in Valparaiso, Schererville, Indianapolis and Carmel, aims to make the burger a more international experience, offering gourmet burgers like The Vienna, The Santiago, The Cozumel and The Monaco.
Founded by the father-and-son team of Jon and Evan Costas, it's found critical success – TripAdvisor for instance named it the best burger in the state of Indiana. Burgerhaus specializes in exotic flavors and premium ingredients like brioche buns, goat cheese, brie, and portabello mushrooms.
It grills up many creative burgers, including the Burger of the Month.
October's special was The Bavaria, a German-inspired hamburger that tops a USDA Prime beef patty grilled to order with a beer cheese sauce, Swiss cheese, honey dijon sauce, a slice of grilled ham and caramelized onions. It, of course, is served in a soft pretzel bun and comes with a side of crispy curly fries smothered with more savory beer cheese sauce.
Unlike many burgers that add another meat, it doesn't overdo it. Constructed well enough to be manageable as a handheld, The Bavaria evokes traditional German cuisine well and could be washed down with an Oktoberfest beer for good measure.
Burgerhaus rolls out a new burger special every month. The menu also includes entrees, salads, appetizers and sandwiches like an ahi tuna burger or a vegan black bean burger for those not interested in red meat.
TASTE TEST: Uptown Cafe focuses on fresh, wholesome food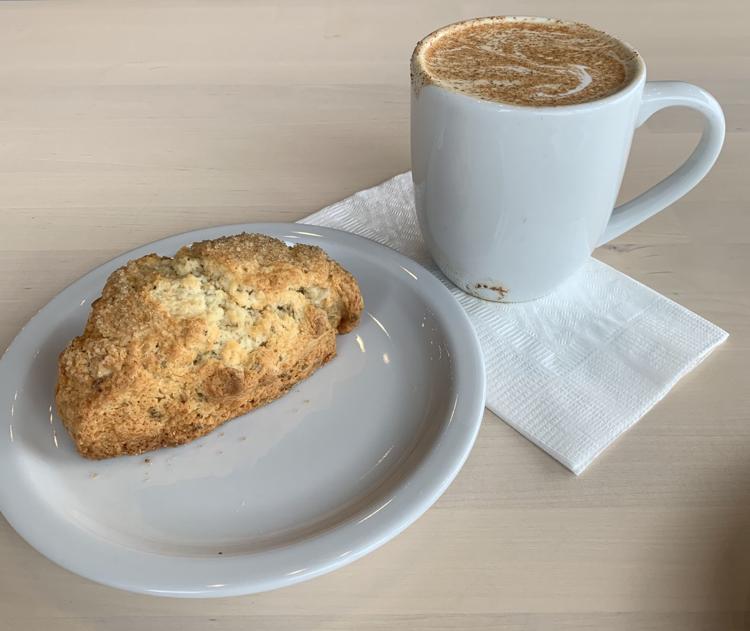 CROWN POINT — Right off the busy Broadway drag sits a quaint, sleek coffee house and cafe. 
Uptown Cafe, 10641 Broadway, offers something for everyone with vegan and gluten-free options. 
The eatery offers a full breakfast and lunch menu, but also has a wide array of pastries, including scones, muffins and cookies. 
The scones are buttery and boast unique flavor pairings like orange Hibiscus, lavender white chocolate and orange cranberry with goji berries. 
Those looking to try something a bit more traditional can sink their teeth into a cinnamon apple, blueberry lemon or chocolate chip scone. 
Both the lavender white chocolate and chocolate chip scones have a soft, crumbly inside. The lavender isn't overpowering and doesn't carry a heavy perfume scent. The flower doesn't take a backseat to the white chocolate, but doesn't overpower the pastry, either. 
The scone carries a nice bite thanks to a golden brown exterior and natural sugar sprinkling the top. 
The breakfast pastry would pair well with any of drinks offered at the cafe; we opted for a hot cinnamon roll latte, which has espresso, steamed milk, white chocolate and cinnamon syrup. The warm, espresso drink is topped with whipped cream and a nice sprinkling of cinnamon — perfect for a crisp, fall day. 
Diners who are looking for lunch options can enjoy a Caprese grilled cheese, chickpea sunflower sandwich or a Voodoo salad, to name a few. 
Large window panels bring plenty of sunlight into the modern cafe that is carefully decorated with cool earth tones and foliage. 
The cafe also has a location in Valparaiso at 1400 Lincolnway. 
Uptown Cafe in Crown Point is open from 7 a.m to 5 p.m. Monday through Friday and from 8 a.m. to 3 p.m. Saturday and Sunday. The Valparaiso location is open from 7 a.m. to 7 p.m. Monday through Thursday, 7 a.m. to 6 p.m. Friday, 8 a.m. to 6 p.m. Saturday and 8 a.m. to 4 p.m. on Sunday. 
TASTE TEST: Keep the ghouls at bay with Figure Eight's Vampire Slayer burger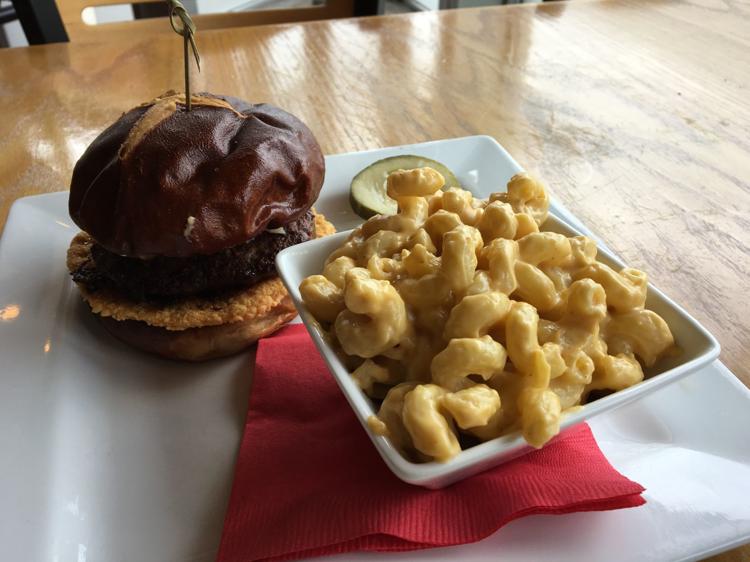 VALPARAISO — Garlic helps fend off the vampires, or so the belief goes. Or the bad breath may just make your friends want to keep their distance.
Garlic and much more is packed into the Vampire Slayer burger served at Figure Eight Brewing, 150 S. Washington St. The hefty peppercorn burger comes stacked with roasted garlic mayo, tomato relish and a parmesan blend crisp, all packed together in a pretzel bun. Although the dish is available year-round, it's a perfectly fitting selection for October.
Various sides can also be added on to the order, from kettle chips to fruit salad. With a dish as delicious as this, mac n' cheese is a worthy companion.
When the selection is brought out, the enticing scents waft upward from the plate. Each bite of the burger proves superbly scrumptious. The tenderness of the meat is a good combo with the pretzel bun's crunch. The blend of garlic, mayo and relish delivers a pleasant zing. As for the mac n' cheese, it's a tasty blend of cheesy, gooey goodness.
Diners should also consider other standouts such as the Flatbread Feast and the PoCo Cubano Panini. All can be enjoyed in a relaxing atmosphere with plentiful seating to enjoy a scenic view of downtown Valparaiso's Central Park and main square.
For more information, call 219-477-2000.
TASTE TEST: Crispy sweet corn sings at Little Italy in Dyer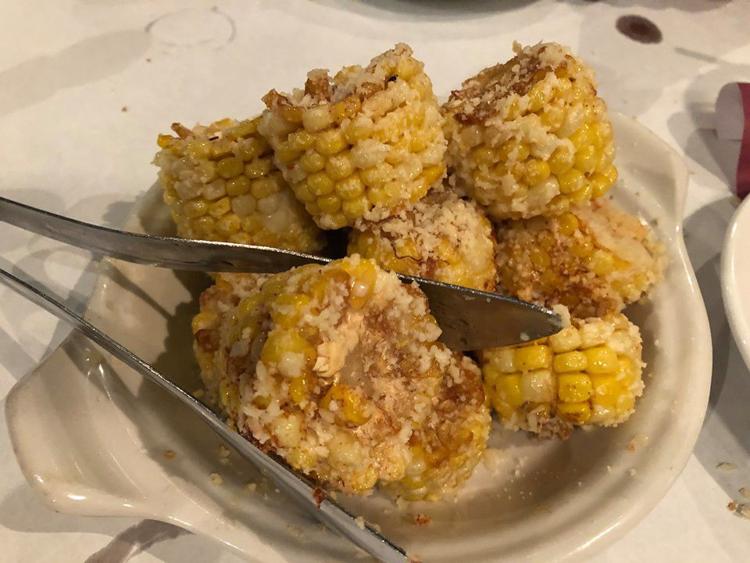 The chef-owned Little Italy restaurant in Dyer serves creative and contemporary takes on traditional Italian favorites, including pasta, pizza, steak and seafood.
The restaurant at 1155 Joliet St. has a classy but cozy romantic ambiance with patio lights strung overhead, a dark wood bar, tasteful decor and an olive oil cruet at every table. No red sauce joint, it makes everything fresh daily and boasts that "the only thing in our freezer is ice cream."
The menu includes salads like a watermelon wedge with arugula, goat cheese, basil and balsamic reduction, brick oven pizzas like Margherita and pasta dishes like a fireside gnocchi or a risotto with asparagus, beef short rib and horseradish gremolata.
Pasta, salads and entrees are available in Little Italy individual portions or Big Italy family-style servings. If you're tempted by an entree like the crispy pork shoulder, pan-roasted salmon, 16-ounce prime ribeye or Lake Superior whitefish, you don't have to worry about missing out on the delectable al dente pasta. Each entree is served with a platter of baked ziti that's carpeted in melted cheese and coated with a light but flavorful tomato sauce as well as a bowl of salad.
Creativity runs throughout the menu, but is especially apparent in the appetizers. The bruschetta for instance is available three ways: the traditional tomato, red onion and balsamic, with brie and apples, or with ricotta, honey and pistachios.
A standout among the appetizers is the crispy sweet corn. A fresh cob of corn is chopped up into smaller morsels, drizzled in white truffle oil, and seasoned with parmesan cheese and cayenne pepper for a nice kick. The oaky truffle oil and freshly grated parmesan make the tender, juicy corn sing.
Every bite of the glistening, cheese-dusted corn - almost an Italian version of elote - bursts with flavor.
TASTE TEST: Fall flavors delight at Olive Cafe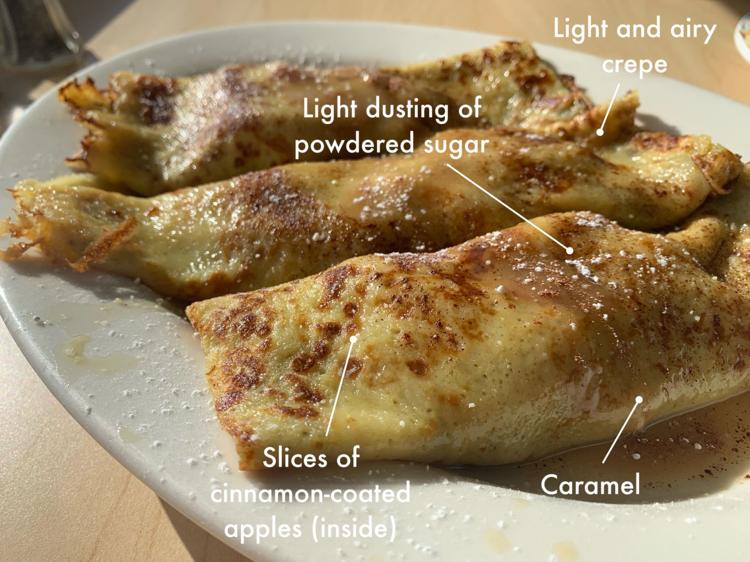 ST. JOHN — The flavors of fall have made their way to the Region, and at Olive Cafe the seasonal ingredients come together in crepe form.
Nestled behind Taco Bell and next to Lake Central High School, Olive Cafe, 8412 Wicker Ave., brings the Mediterranean to Northwest Indiana. The crisp, white interior is relaxing and the hum of piano keys doesn't interrupt table chatter.
The seasonal caramel apple crepes boast strong autumnal flavors like apple and cinnamon, but don't overpower the palate.
Perfect for an October day, the crepes are light and airy, while the apples inside are warm, hearty and still have a bite to them. Caramel is drizzled on top of the fall special, with a dash of powdered sugar sprinkling the top.
Open from 7 a.m. to 3 p.m. Tuesday through Sunday, the cafe offers hearty breakfast go-tos like the country omelette, biscuits and gravy and the Olympus skillet.
Diners can also opt to order from the lunch menu, which includes favorites like the Lake Central special, gyros on pita and the Greek salad.
For more information, call 219-365-2224.
TASTE TEST: A sample of the South cooked up at The Savory Spot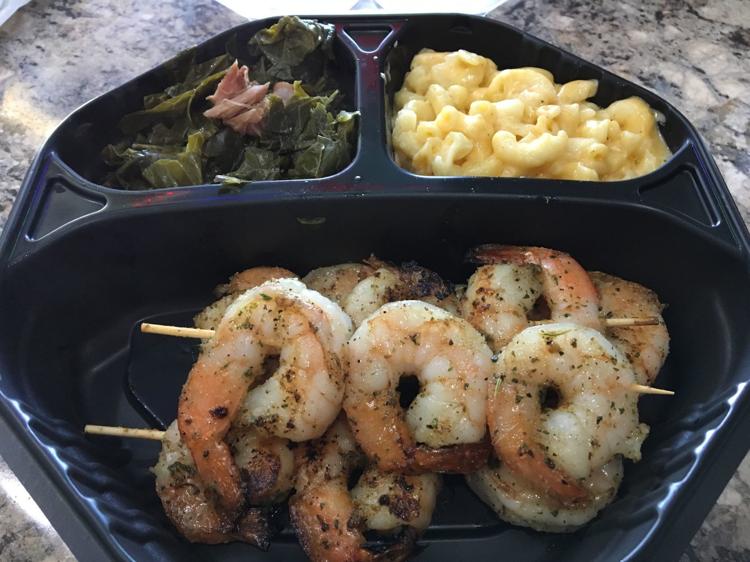 DYER — Southern flavors are steaming in a new kitchen at 202 Joliet St., and the dishes are certain to be satisfying.
It's all in the name at The Savory Spot, where soul food populates the menu. Diners can partake in multiple selections from tried and true barbecue ribs and roasted chicken to takes on the classic Po' Boy sandwich.
The restaurant has a small, cafe-like setting with a few tables in an intimate space. A nice set of windows to the front give a view of the traffic  working its way along U.S. 30 through downtown Dyer.
On a menu teeming with scrumptious options, a worthy standout are the grilled shrimp skewers. This selection gives diners 12 shrimp pieces and 10 different sides to choose from. Some fine pairings include mac n' cheese and collard greens.
The shrimp are incredibly delicious. They're cooked to perfection and have a wonderfully buttery taste. The mac n' cheese melts in your mouth and has been baked well. The collard greens are sauteed excellently and have a great texture.
For more information, call 219-440-7936.
TASTE TEST: Big Mac Egg Rolls at Beer Geeks a new spin on an old classic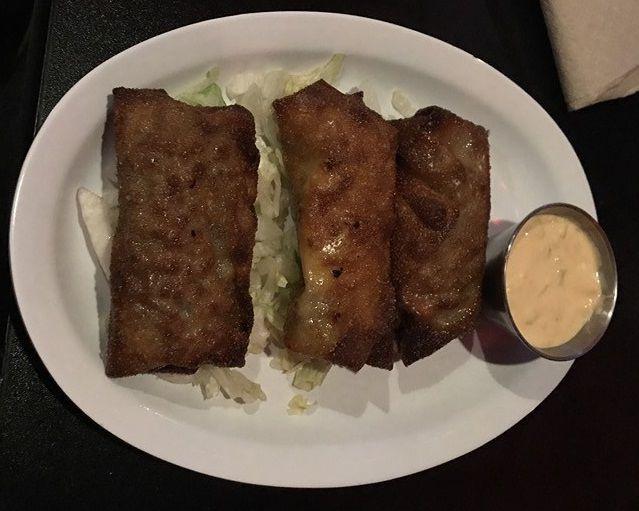 Even as more and more craft breweries open across Northwest Indiana, Beer Geeks Pub in Highland remains a destination for the Region's craft beer lovers.
The craft beer bar at 3201 45th St. in Highland is known for its vast and carefully curated selection of craft beers from all over the world and right in its backyard of Northwest Indiana. It's also known for its colorful pop culture murals, video games, weird movies playing in the background and live music.
But it's more than just a place to sample the latest sour ale or New England-style India Pale Ale.
The bar also serves food from Wednesday to Saturday evenings. It's a short but creative menu with bang bang shrimp tacos, a Big Kahuna Burger that pays homage to Pulp Fiction, a chicken-and-waffle sandwich, Thai curry chicken ramen and a replica of the cult In-N-Out burger.
Try the Big Mac Egg Rolls, a fusion spin on the fast food favorite. Featuring higher-quality ingredients than one would find at the Golden Arches, the crispy egg rolls are packed with seasoned hand-ground beef, deli-sliced American cheese, diced pickles and sauteed onions. Three large golden-brown egg rolls are served on a bed of shredded iceberg lettuce with a ramekin of house-made secret sauce, which is totally not just Thousand Island salad dressing.
The egg rolls are meaty, cheesy and fairly substantial for an appetizer. They evoke the McDonald's classic in a deeply nostalgic way while adding some fresh flavor.
TASTE TEST: Crown Point's Square Roots impresses with smokehouse nachos, homey atmosphere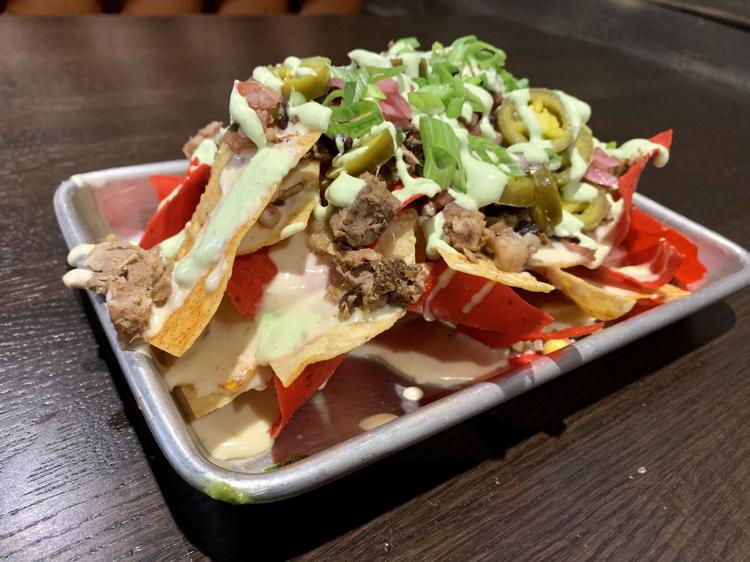 CROWN POINT — Zingy. Crunchy. Fresh.
All of the words you want to hear when diving into a plate of nachos, and Smokehouse Nachos at Square Roots, 108 N. Main St., have it all.
This small plate is perfect for anyone with a big appetite. Diners can opt to try the nachos as is, or add meat. (We added the smoked brisket, but there's pulled pork, smoked chicken and beer-braised beef.)
Every bite is packed with flavor and each multi-colored tortilla chip has melty pepper jack queso and avocado crema — these aren't your average ballpark nachos.
The dish hits all the nacho basics on the head: a sturdy, seasoned chip, cheese with a kick, pickled jalapenos and meat, if it's a part of your diet. Pickled red onions, fresh black bean salsa and scallions add a bite of freshness to what could otherwise be a heavy meal.
Smokehouse nachos shine as an appetizer, but also stand up to the expectations of an entree.
The menu offers a slew of comfort food options, including The Animal burger, Smashville Hot Chicken Sandwich and Skillet Mac & Cheese.
Opened in June 2019, the gastropub offers a homey atmosphere with rustic decor. The dark espresso wood paired with the warm leather booths create a relaxed, yet modern vibe right in Crown Point's downtown.
At Square Roots, "Where food is multiplied with drinks for a positive result," foodies will find wholesome menu items to pique their interest without having to break the bank, and families will find a kid-friendly restaurant that serves up honest grub.
TASTE TEST: Chicken & waffles from Tavern on Main a unique take on classic comfort food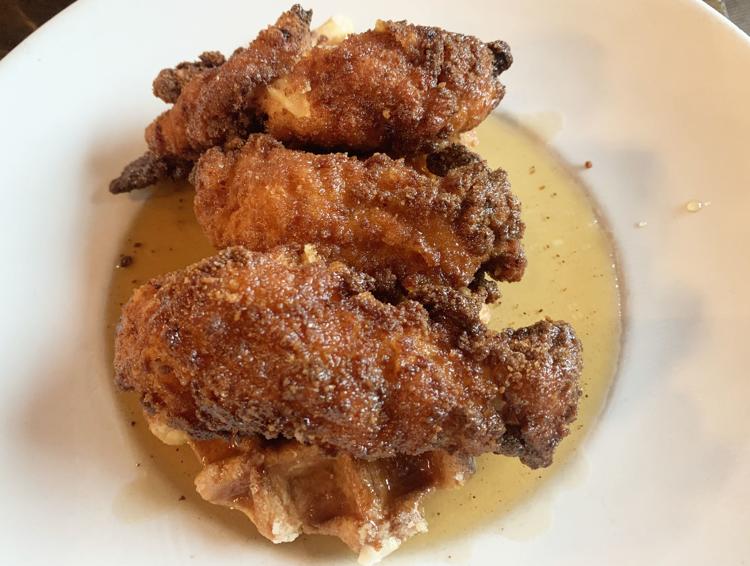 CROWN POINT — Hidden behind the modern steampunk facade of Tavern on Main is a plethora of upscale dishes to appeal to any palate.
The chic black and gold exterior at 136 S. Main St. might look intimidating, but the grub is anything but.
Opened in November 2016, the gastropub set itself apart from other Region eateries by offering unique twists on classic comfort foods like mac and cheese, grits and chicken & waffles.
A real stand-out and fan favorite is the chicken & waffles. Three hand-breaded, boneless pieces of fried chicken perch atop two cinnamon kissed waffles that sit on a bed of brown butter maple glaze.
If you like sweet dishes, this is the plate for you.
The chicken has a sweetness of its own, but doesn't overpower the pillowy waffles. Fear not, this dish doesn't end up a soggy mess on your plate. These waffles, while soft, are sturdy.
To balance out the sweet, diners can choose savory sides like grits, French fries, onion rings or tots. Those looking for a healthier option can opt to try the crispy Brussels sprouts or a side salad.
Other flavor-packed offerings on the menu include short rib poutine, street tacos and a pork belly burger.
While the 21-and-over venue boasts a grunge vibe with rock hits playing in the background and industrial, black wire mesh light fixtures, the atmosphere is anything but intimidating.
Weather permitting, the eatery offers an outdoor patio. Those looking to try something new should check out the tavern's rotating weekend specials.
TASTE TEST: Arcadia offers avocado toast with smoked salmon and a great view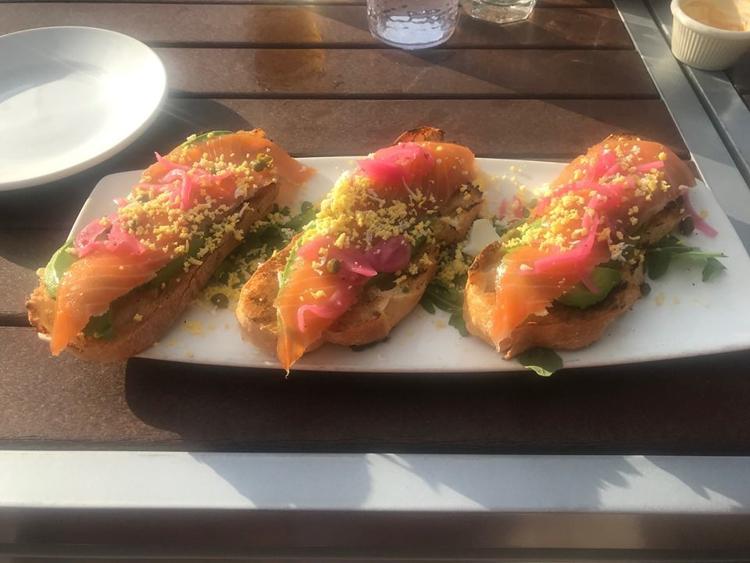 Here in coastal Indiana, people savor the summer flocking to the beaches along the sandy South Shore of Lake Michigan. 
With its idyllic, highly Instagrammable lighthouse and sweeping views of the dunes, the Michigan City beachfront is one of the top attractions along the lakefront in Northwest Indiana.
Many dining options are clustered a short walk from the beach, including Sunset Grille, Fish Camp, Mateys Restaurant, Galveston Steakhouse and Shoreline Brewery.
Nestled in a former train station, Arcadia Cafe + Bar, at 100 Washington St., by the Amtrak station and the Lubeznik Center for the Arts, has a patio with tiki torches that offers a sweeping view of Trail Creek emptying into Lake Michigan. The upscale contemporary eatery boasts many seafood options, including fresh catch specials, as one would expect with its lakefront location.
Among its many small plates like Thai curried mussels, carbonara deviled eggs, ahi tuna ceviche and blistered shishito peppers, Arcadia offers an interesting spin on the trendy avocado toast that features smoked salmon. Rustic artisanal sourdough bread is topped with rich, creamy slices of fresh avocado and a cured smoked sockeye salmon that's savory without being too salty. It's garnished with pickled onions and capers.
Grated eggs add richness and texture. The ingredients blend together in a sublime way, and are plated in an impeccable fashion.
TASTE TEST: El Jimador offers solid, authentic Mexican staples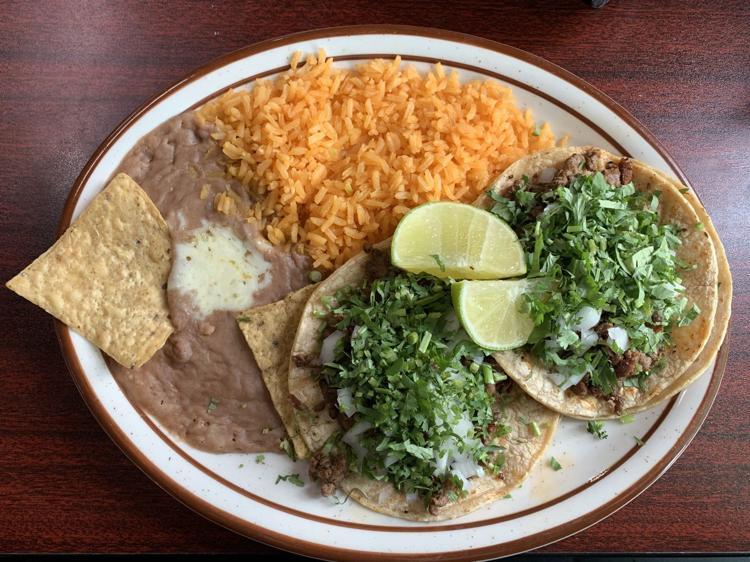 WINFIELD — The Region has its fair share of Mexican restaurants, but nestled right next to the Lakes of the Four Seasons is a hidden treasure trove of authentic dishes.
El Jimador, 9071 E. 109th Ave., offers a variety of Mexican fare for breakfast, lunch or dinner. However, the hidden gem on the menu is what most seek out for a quick bite: tacos.
The No. 17 special offers a customized experience that will fit any palate. Foodies can choose between pork, ground beef, chicken or steak for their tacos (we went for the steak).
Each plate comes with two tacos, which traditionally have cilantro, onion and a side of lime, refried beans and rice. Every bite has the perfect ratio of toppings to meat, and you won't find any charred bits lurking about.
The menu features other favorites, including the carnitas dinner, El Jimador Especial and chiles rellenos de queso (Mexican peppers stuffed with cheese).
The restaurant, which recently expanded its Winfield location, opened a second front at 7856 E. Ridge Road, Hobart.
For more information, call 219-663-3700.
TASTE TEST: Lobster claw tacos wow at Chesterton's Las Mamacitas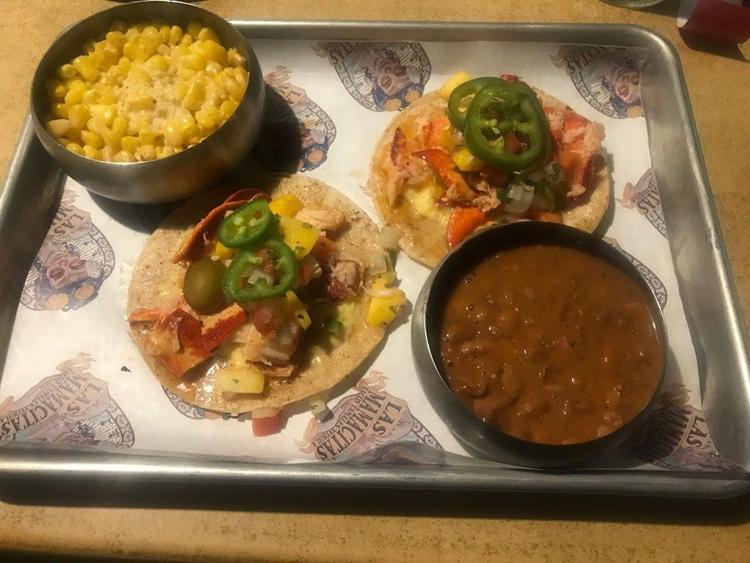 The new Las Mamacitas restaurant at 225 S. Calumet Road in Chesterton is built for the Instagram era.
The contemporary Mexican fusion restaurant features many colorful Día de los Muertos-inspired murals, beautifully plated items like the crema-drizzled avocado fries and buzz-generating offerings like a 100-ounce margarita that will only be served to parties of at least four people.
Originally intended to be a food truck, the restaurant that replaced the acclaimed Volstead in an old house in downtown Chesterton specializes in tamales, tacos and high-end tequila.
A standout is the Lobster Claw taco. Succulent lobster meat is piled high on your choice of a corn or flour tortilla. Fresh mango pico de gallo adds sweetness and pickled jalapenos bring the heat.
The lobster portion is generous, with large chunks of prime claw meat. The pico de gallo is a little watery but contributes to the lightness of this Mexican spin on a lobster roll.
A pair of lobster claw tacos comes with your choice of two sides: the usual rice and refried beans but also the options of elote and frijoles charros, a soupy, savory serving of pinto beans with chunks of diced ham.
TASTE TEST: Bacon-wrapped shrimp a scrumptious specialty at La Cecina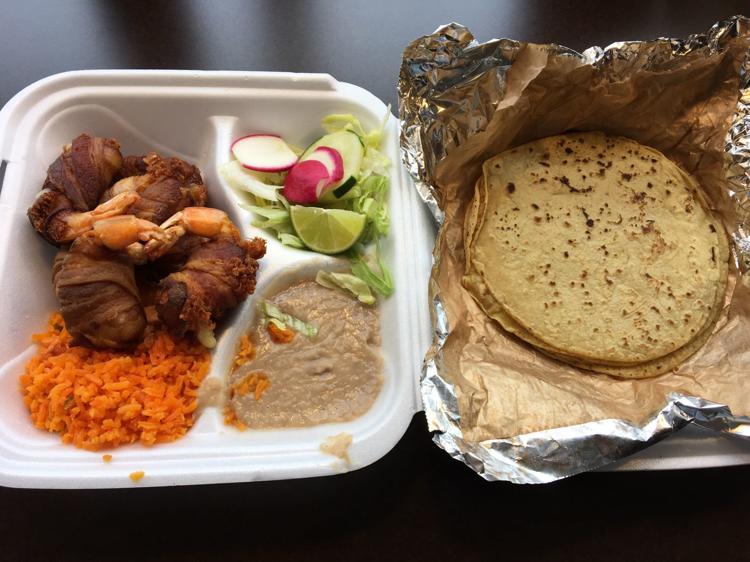 DYER — Diners seeking out hearty Mexican meals can find many satisfying options provided by the crew at La Cecina.
The restaurant, located at 2013 Hart Street, is like a wonderful hidden treasure. Traffic often bustles by the unassuming exterior to and from nearby U.S. 30. Inside, the atmosphere is welcoming and bright. The seating arrangement and high windows give the establishment a cool basement or cellar-like feeling.
On a menu packed with mouthwatering selections, the plethora of seafood choices offers some good standouts. Diners can partake in stuffed or grilled filet, sauteed shrimp and whole bagre, mojarra and huachinango fish.
A fun choice to dig into is the camarones rellenos, or bacon-wrapped shrimp platter. The dish supplies six bulky fried shrimp wrapped tightly in the pork, tortillas, rice, beans and a side salad.
The shrimp proves to be incredibly scrumptious. The combined taste of the fish and its bacon wrapping give a juicy, powerful taste. The corn tortillas are also excellent and prepared well. The rice is wonderfully seasoned and tastes delicious.
Diners should also consider one of the various cecina, pechuga and torta plates.
For more information, call 219-322-9566.
TASTE TEST: Fresh to Order blends fast-casual and fine dining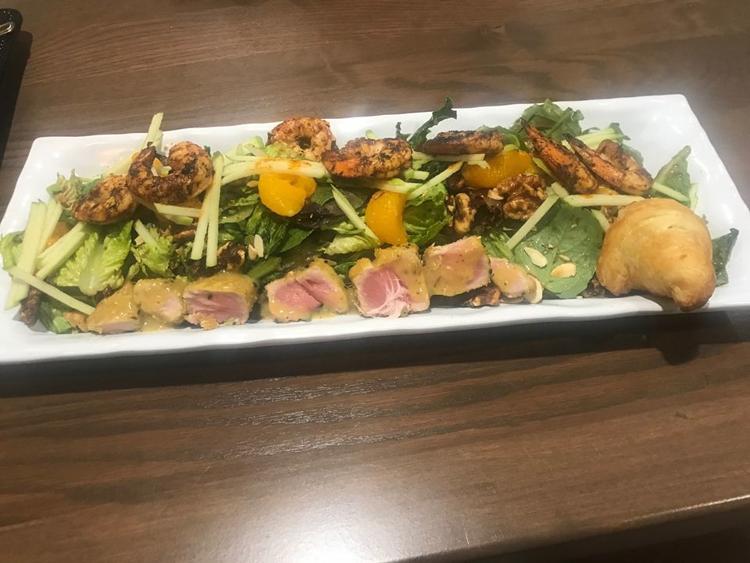 Fresh to Order, which opened last year at 540 81st Ave in Merrillville, is a chain, but a small one with locations concentrated in the metro Atlanta area and Noblesville.
Pierre Panos, a South Africa native of Greek descent who opened his first restaurant in Johannesburg, started Fresh to Order with the philosophy that "great food doesn't have to leave you broke." It aspires to be a "fast fine" restaurant, combining the convenience and ease of a fast-casual joint with the chef-driven culinary experience one would expect at a swanky fine-dining joint.
The varied menu features paninis, salads, bison burgers, small plates like crispy calamari and salmon roasted corn hushpuppies, and large plates like almond chicken skewers and prime steak medallions.
Fresh to Order offers a wide array of salads, either in full servings or half salads that come with a choice of "chef-inspired" soups like tomato bisque or wild mushroom.
The market salad blends mixed baby greens with a lot of sweetness from mandarin oranges, cranberries, golden raisins, julienned apples and candied walnuts. Toasted almonds add more crunch and texture, and balsamic vinaigrette balances it all out with a tart acidity.
The salad can be topped with one or more proteins, including blackened chicken tenders, ale-laced chicken tenders, blackened lime shrimp, almond-crust tuna, grilled salmon, seared tofu, fire-grilled chicken breast or grilled steak.
Whatever permutation you prefer, it adds up to a fresh, healthy and satisfying meal. The presentation and plating are classy but the prices are much lower than a white-tablecloth place.
Fresh to Order is open from 11 a.m. to 9 p.m. daily.
TASTE TEST: Fun flavors abound at Guacamole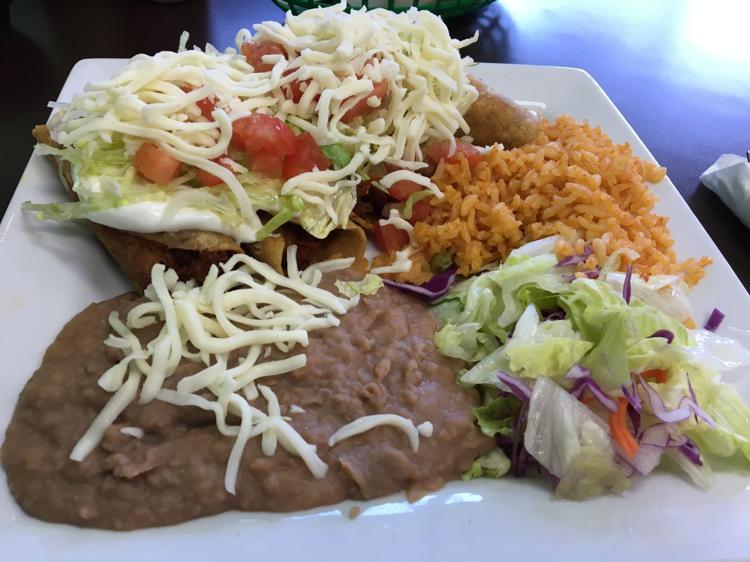 ST. JOHN TWP. — Those in search of your next filling venture for Mexican fare need look no further than the cooks ready to prepare delicious dishes at Guacamole Restaurant.
The restaurant, located at 15275 101st Ave. in unincorporated Dyer, is an easy drive south on Sheffield Avenue or quick to access coming east from Exchange Street over the state line. The joint has a small amount of seating and a modest interior, but still provides a welcoming atmosphere with large windows, music and the scents floating from the kitchen.
The menu is populated with typical favorites, such as taco dinners, fajitas and chiles rellenos. It also has a nice selection of breakfast items, including heuvos rancheros and omelettes, seafood and more.
A filling standout is the flautas de pollo dinner. The dish comes with five chicken flautas garnished with lettuce, tomatoes, cheese and sour cream, as well as sides of rice and beans.
The selection is fantastically satisfying. The flautas are wonderfully crispy, and the chicken contained inside is seasoned and cooked well. The rice also has a wonderful flavor and is nowhere near ordinary. The beans also don't come up short and prove tasty.
With plenty of additional appetizing options, diners should also consider the tampiquena, pechuga and chilaquiles.
For more information, call 219-365-3925.
TASTE TEST: Fat Burrito not for the faint of appetite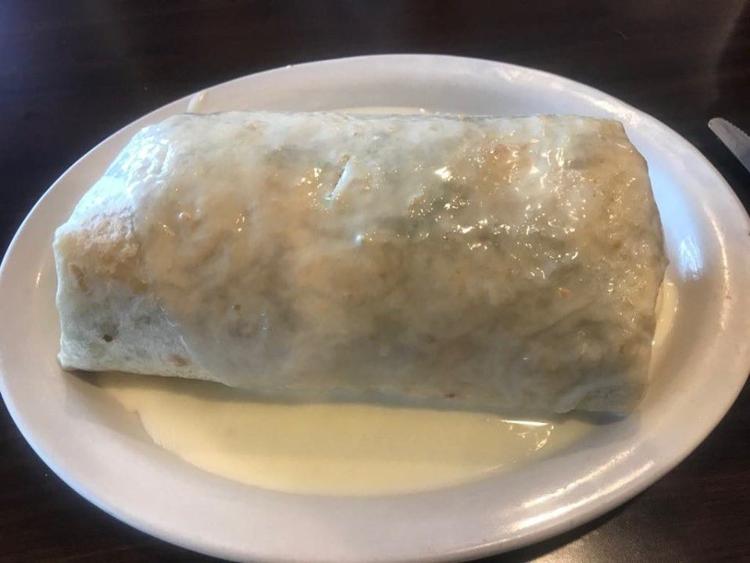 There are burritos, and then there are fat burritos.
No one could accuse Fat Burrito at 1302 N. Main St. in Crown Point of false advertising. The Mexican restaurant's wet Mission-style burritos are indeed ginormous, a feast not for the faint of appetite.
The menu also includes tacos, breakfast items and appetizers, but why would you go to a place called Fat Burrito and order anything else?
Fat Burrito, which recently opened a second location called Fat Burrito #2 at 2128 45th Ave. in Highland, offers an eponymous Fat Burrito in which cheese, beans, lettuce, tomato, sour cream and your choice of pork, ground beef or chicken are stuffed into a massive 16-inch tortilla. It's 50 cents extra if you'd like steak or chorizo.
The huge brick of food – about the size of a Nerf football – is blanketed with a rich, savory melted cheese and finished off with your choice of red or green sauce. The green sauce is more mild and complex in flavor. The meat is succulent and well-seasoned.
The portions are – needless to say – generous.
In fact, if you're not hungry, you'll likely leave with a to-go container.
For more information, call 219-213-2382 for Crown Point or 219-513-8027 for Highland, or find the business on Facebook.
TASTE TEST: 3 Floyds Distillery features delectable morsels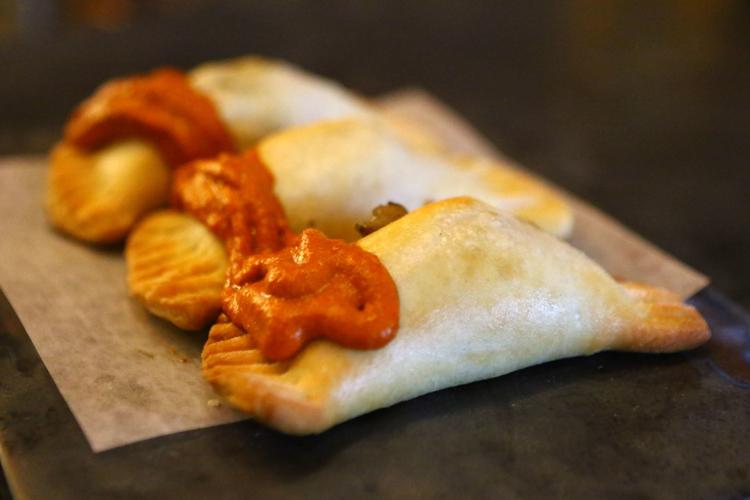 MUNSTER — The distillery at 3 Floyds, 9750 Indiana Parkway, has been open for several weeks and hosted a grand opening event Friday.
While drinks are the obvious stars on the menu, visitors shouldn't overlook the dishes available from the kitchen.
From salty to sweet, diners can mix and match what they feel would pair well with ordered drinks.
One favorite is the vegetable pasties. The dish, a Midwestern staple, particularly in the north, is a small pastry typically filled with meat. But even with veggies, it tastes stellar. The inside of the pastry is stuffed with items including carrots and onions, and is topped with a red sauce. The selection is a crispy delight. Watch out as they give a delicious spicy kick in the aftertaste.
Those craving something sugary can try out the doughnut, which is a featured partnership with Munster Donut. The item is a sour cream creation that can come with a whiskey caramel dip and a pretzel topping. It's a flavorsome and rich creation and melts right in your mouth.
If you're looking for something more neutral, consider the German loaf. The dish comes with four small, finely cut slices of brown bread and a small serving of butter to slather on. The bread is wonderfully delicious and pairs well with some of the cocktail varieties.
For more information, call 219-922-4425.
TASTE TEST: 18th Street brews up some fine barbecue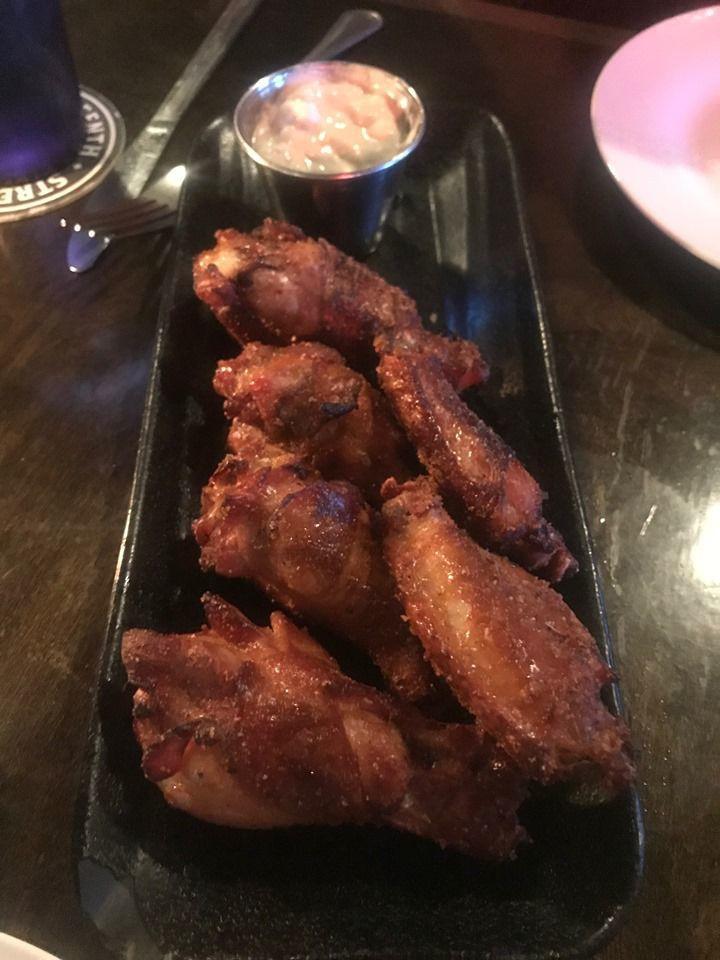 USA Today recently named 18th Street Brewery in Hammond the best brewpub in the country in its annual 10 Best Awards, which is reason enough to visit if you haven't gone or been there in a while.
The celebrated craft brewery, which also has a brewpub in Miller, also expanded upon its gastropub menu by adding a barbecue program featuring house-smoked meats that you can take to go or enjoy there with a Rubicon West Coast-style India Pale Ale, a Temporal Purgatory session Pale Ale or many of its other fine beers.
18th Street's smokehouse cooks up stockyard choice Angus house-smoked brisket and 16-hour house-smoked pork that are served with a beer-based barbecue sauce and house-made pickles. Available sides include mustard slaw, potato salad, hand-cut fries and mac and cheese.
A standout is the smoked chicken wings, which are beer-brined, house-smoked, flash-fried and served in orders of six. They get tossed in your choice of a dry rub, a house buffalo sauce or a house beer BBQ sauce. For 75 cents, you can get a ramekin of Ranch or a rich chunky blue cheese.
The exterior of the wings is crisp, the interior juicy from the brining. The dry rub bursts with flavor without being too spicy. It's an elevated version of the sports bar favorite, taken up a notch by the execution in the kitchen.
Smoking meat takes time and patience, so 18th Street Brewery sells what barbecue it has for the day and once it's gone, it's gone and you have to come back tomorrow. That's how you know it's the real deal and no corners are cut.
TASTE TEST: 219 Fries piled high at U.S. Steel Yard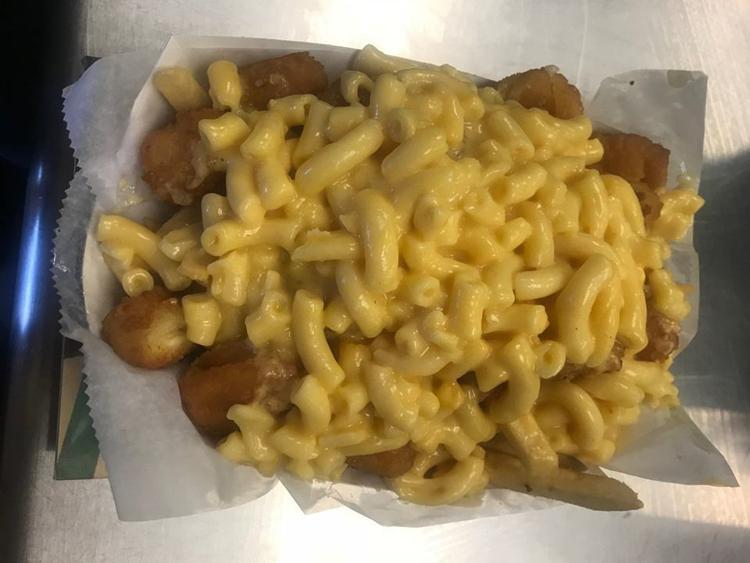 Ballparks, both major league and minor, are notorious for over-the-top menu items like foot-long hot dogs, Coney Dog egg rolls, baseball helmets full of ice cream, and the Texas Rangers' Fowl Pole, a two-pound chicken tender served on a bed of waffle fries.
Such culinary monstrosities, often straight out of the deep frier, get fans talking, make great Instagram photos, generate free word-of-mouth publicity and give you something to brag about if your team falls short that night.
The U.S. Steel Yard – home of the Gary SouthShore RailCats – is getting into the game this year with fries that best could be described as "redonkulous."
The Region concession stand behind home plate sells 219 Fries, a basket of crispy golden French fries piled high with cheese curds, corn fritters, and mac and cheese.
Technically, there could be more Region-y fry toppings like Gyros, elote, cevapi, halupki, Italian Beef, Polish sausage, jerk chicken, taco meat, halupki meat, or maybe even lake perch nuggets, pulled or shredded frog legs, a blanket of party-cut pizza cheese or something like that. Maybe you could chop up some pierogi and sprinkle it on there.
The toppings seem arbitrary and not geographically bound to Northwest Indiana specifically. Cheese curds are more of a Wisconsin thing, corn fritters more of a downstate delicacy. Mac and cheese at least feels grounded in the soul food tradition that's often enjoyed in Gary.
But the symphony of flavors works in a hearty, starchy dish that could easily be shared as a meal for two. The mac and cheese solves a common problem with cheese fries in that the cheese sauce gets glooped and too heavily concentrated in a small area, over just a few fries. It's more evenly distributed under a blanket of mac and cheese, which also makes it easier to drag the other fries through for a coating of cheesiness.
The cheese curds offer the pure euphoria of melted cheese, while the creamed corn in the corn fritters lends a contrasting sweetness.
These loaded fries are so loaded that it's the kind of dish you can boast about finishing, which is the whole point in the end.
TASTE TEST: Buffalo chicken and eggs are a worthy combo at Petros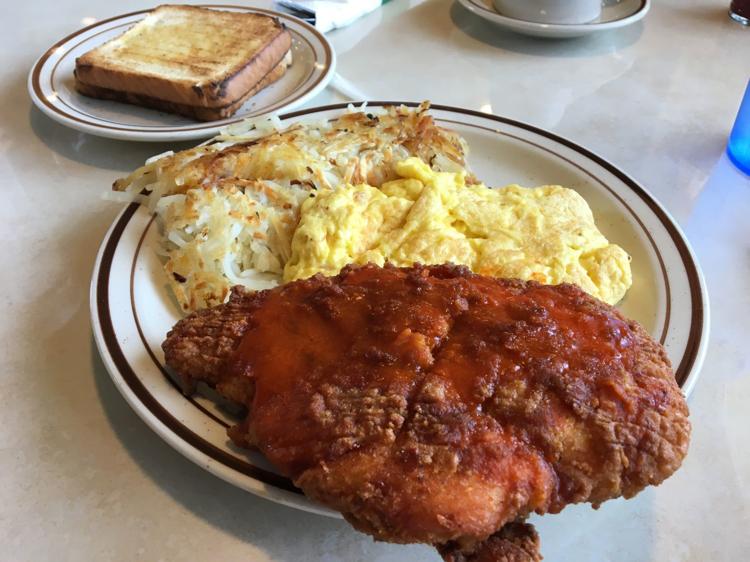 HAMMOND — Those seeking adventurous and filling comfort food need only turn to the tried and true cooks and servers at Petros Restaurant.
The family-style diner, located at 6525 Indianapolis Blvd., is a Hammond staple. The joint is often filled with the hustle and bustle of hungry Region Rats looking to get their fill like a car in need of gas.
Petros keeps it interesting, no matter the time of day or meal type. The menu abounds with numerous delicious choices, and the specials are standouts. Diners can partake in breakfast creations such as a pecan waffle, or lunch and dinnertime specialties like Athenian pork chops, or Greek pastitio.
A worthy selection for diners to try for a flavor kick is the buffalo chicken and eggs dish. Move over, chicken and waffles - this one takes it a notch up.
The dish comes with a heaping chicken breast covered with buffalo sauce, eggs done your choice, a serving of hash browns and a choice of pancakes or toast.
The combination between the chicken and eggs is superb. The eggs have a buttery flavor to them, and the chicken is cooked well. The buffalo sauce gives a significant taste to the whole ensemble. The hash browns and toast prove average, but good.
For more information, call 219-844-5951.
TASTE TEST: The Ron Swanson at Buttermilk Pancake House brings the bacon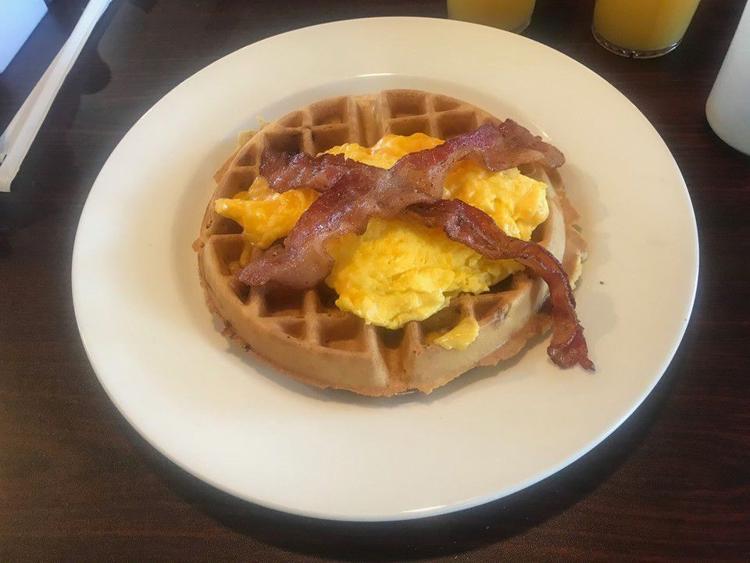 A man of strong opinions, the uber-masculine and mustachioed Ron Swanson from the cult show "Parks and Recreation" is known for his hatred of skim milk that's "water lying about being milk" and love of steak, more steak, whiskey, woodworking, still more steak and, of course, breakfast foods.
Swanson asserts at different points that "there is no sadness that can't be cured by breakfast foods" and "I can't think of anything more noble to go to war over than bacon and eggs."
Buttermilk Pancake House at 805 Ridge Road in Munster, one of the Region's newest pancake houses, pays tribute to Pawnee, Indiana's deadpan parks director with the Ron Swanson Sweet N Savory.
Owner Sam Yfantis came up with it as an alternative to the trendy but nearly ubiquitous chicken and waffles while watching the show, and it's something the real Ron Swanson would have loved, packed as it is with his favorite food.
The Ron Swanson Sweet N Savory is a bacon-filled waffle topped with more bacon and scrambled cheesy eggs. It's hearty, meaty and satisfying, combining popular breakfast staples so you can spear them all on one forkful. It's also better constructed than many similarly over-the-top items with just the right proportion of bacon to waffle so it's not just an onslaught of saltiness from the bacon, which it could have been. Pour some maple syrup on there to maximize the sweet/salty dynamic and go to town.
Buttermilk Pancake House is open from 7 a.m. to 3 p.m. daily.
For more information, call 219-513-8119.
TASTE TEST: Pancakes are the name of the game at Eli's Golden Apple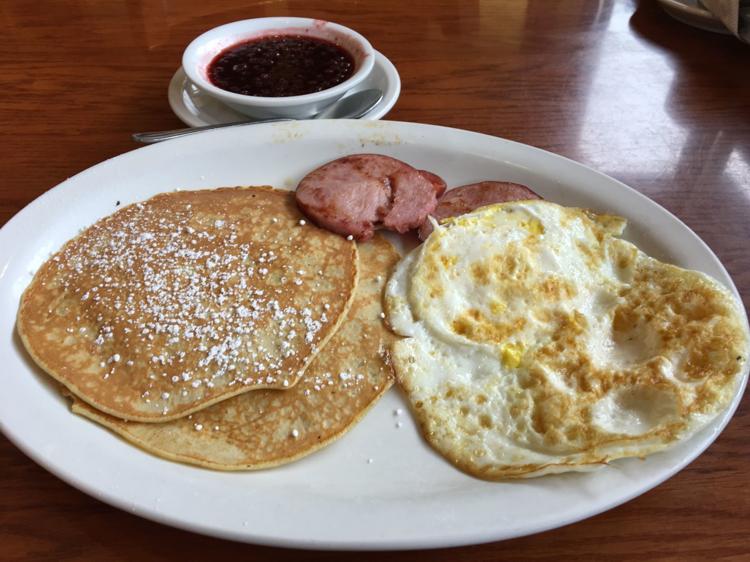 CROWN POINT — Pancakes abound at many of the Region's breakfast joints, but some of the most adventurous selections are served up at Eli's Golden Apple & Pancake House.
The restaurant, located at 101 E. 107th Ave., hosts an extensive menu of breakfast options, from filling omelettes to waffles topped with fruit and other goodies.
If you're feeling a slight sweet tooth on your next breakfast expedition, the kitchen staff is prepared to cook up a splendid variety of pancakes. Some standouts include a large apple pancake that has apple pieces and caramelized sugar mixed into their pancake batter, or an oven-baked German pancake that involves batter cooked to a golden-brown color and then sprinkled with powdered sugar.
A worthy selection among these specialties that comes with some extras is the Viking. This dish brings on two thin Swedish pancakes with a side of lingonberries, two eggs cooked your way and two slices of Canadian bacon.
For a sugary breakfast choice, the pancakes are delicious and not overpowering. They're thin, soft and have a dusting of powdered sugar. A dash of the lingonberries also gives a sharp sweet flavor kick. The eggs are cooked well, and the Canadian bacon slices are a good size to give a satisfactory protein offering.
For more information, call 219-663-7060.
TASTE TEST: Linger in the Stacks, Valpo's library-themed eatery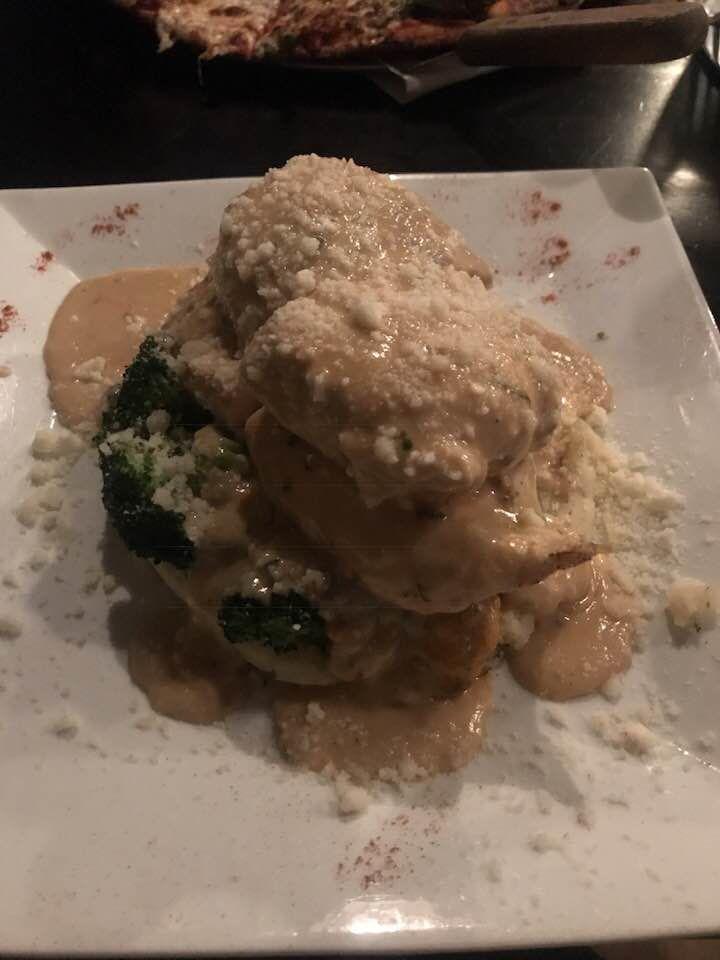 Readers and library regulars will want to dive into the Stacks in downtown Valparaiso.
A fine place for a meal, the library-themed Stacks Bar and Grill at 175 W. Lincolnway offers a studiously cultivated ambiance. Hardcover books line the walls. Dark wood predominates the cozy, dimly lit space. Vintage card catalogs, artsy black-and-white photos of library shelves and check trays with old school library card holders complete the look.
Tucked away in an office building, it's a casual place where one can sip a craft beer or a cocktail while reading a book, or enjoy a wide array of sandwiches, salads, pizzas or appetizers. It's the kind of restaurant where you can grab a Bruschetta Burger or a filet. The menu features regular specials and has many creative twists such as pork shank buffalo wings served on a bed of crispy onions.
A specialty is the stuffed chicken, a massive entree in which two splayed-open chicken breasts are stacked atop a base of smashed potatoes and broccoli, smothered in a creamy, decadent roasted garlic sauce and dusted with Parmesan cheese. They're stuffed with more cheese, a salty pancetta, spinach, sun-dried tomatoes, and pine nuts. It's a hearty and savory dish bursting with sophisticated flavors.
Stacks Bar and Grill is open from 4  to 11 p.m. Tuesdays through Fridays, and from 4 p.m. to 1 a.m. Saturdays.
For more information, call 219.462.0553.
TASTE TEST: John's Pizzeria creates masterful meaty sandwiches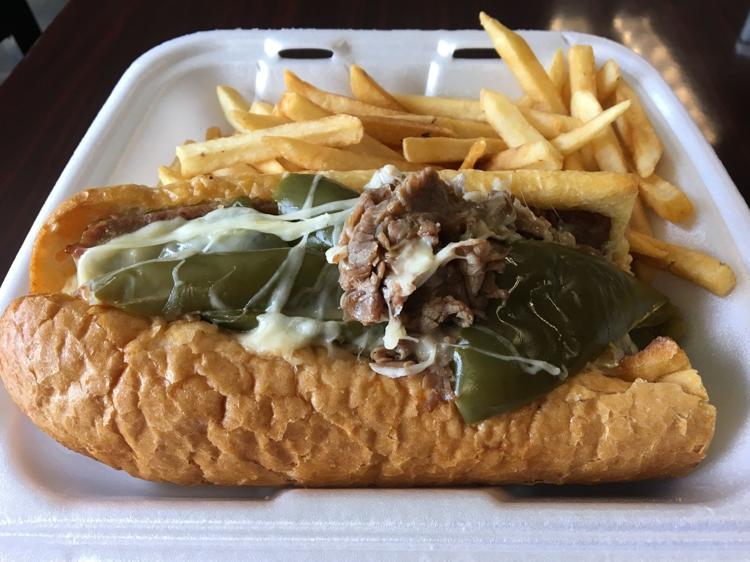 MUNSTER — It's all in the name when it comes to what the Original John's Pizzeria, 247 Ridge Road, specializes in, but don't overlook the grinders popping out of the oven.
Meat lovers, take note: this is right up your alley. A variety of sandwiches populate the menu. They're sizable, filled to the brim with ingredients and super filling. They're so scrumptious, it might even motivate Twitter personality Chicago Party Aunt to make a pilgrimage to our little slice of heaven over the state line.
Diners can revel in options from an Italian sub with hefty slices of salami, capicola and pepperoni, or a beef sandwich doused with barbecue sauce.
If one desires to go big or go home, the clear choice is the Grande. This sub, starting at $9.50, comes with a choice of beef or sausage decorated with marinara, mozzarella and a choice of sweet or hot peppers. All is stuffed between two slices of garlic bread. If you're hungry for more, you can add a sausage link for $2. A heaping side of fries also comes with.
The sandwich is beyond packed with flavor. Right off the bat, John's delivers with the signature taste of its Italian beef recipe. There's gooey mozzarella smothered all over the sandwich. The marinara and peppers are a little more subtle, but still contribute for a nice cool balance. If you're a garlic lover, you're in luck, because the cooks don't hold back when it comes to the amount placed in the slices holding the ensemble together.
Diners can also consider partaking in a custom pasta order, or dinner platters like the restaurant's chicken Parmesan.
For more information, call 219-836-8536.
TASTE TEST: Albano's Pasta Shop's Spanish Octopus Confit a delight
There are plenty of great Italian places in Northwest Indiana and elsewhere, but Albano's Pasta Shop in downtown Valparaiso offers a contemporary twist on classic favorites.
Albano's Pasta Shop at 22 Washington St. took over space previously occupied by Olga's Place, another restaurant that aimed to bring a modern flair to traditional European cuisine. The cozy space a short walk from Lincolnway features Edison lights, exposed ductwork, brick walls, an open kitchen and a chic modern industrial look.
The trendy eatery makes all of its pasta by hand and features a creative menu, with small plates like grass-fed beef meatballs in a tomato sauce simmered for six hours, charred cauliflower curry and charred cabbage in a bed of beet hummus that's topped with mint, julienned apples and sumac yogurt.
You start your meal there with fresh baked bread with both olive oil and a cheesy, chunky marinara sauce for dipping.
An impressive array of housemade pasta dishes includes the Spanish Octopus Confit, in which fresh octopus cooked in its own fat is mixed with olive-filled agnolotti pasta. It's bathed in a light tomato sauce with herbs and bone marrow that confers a savory, meaty flavor. The tartness of the olives in the doughy pasta contrasts nicely with the tenderness of the octopus.
It's meant for a sophisticated palate and lighter than many pasta dishes.
For more information, find Albano's Pasta Shop on Facebook or call (219) 462-0773.
TASTE TEST: Jalapeno's consistently brings the heat
SCHERERVILLE — Jalapeno's has long delighted diners for years with its extensive menu and weekly specials.
The restaurant, located at 200 U.S. 41, has a bright environment with plentiful seating. Multiple wide tables and booths provide a good location for large dining parties or special get-togethers. With the weather warming up, the patio is a pleasant spot for grabbing food and drinks outdoors.
The menu is likely to have something for everyone. Guests can munch on favorites from carne asada to chilles rellenos. Those with a thirst for margaritas can choose from a wide selection at the bar, from standard strawberry to green laguna.
On a prolific menu with many delicious options, a standout is the Rita's Tacos dinner. This dish comes with three fried flour tortillas that are filled with pocadillo style beef and jalapeno chihuahua cheese, and a garnish of lettuce and tomatoes. The dinner comes with a standard size of rice and beans.
Each bite is a scrumptious burst of flavor. The tacos are crisp, and the meat and cheese blend is outstanding. The beef is seasoned and cooked very well, and the cheese included inside has a nice, slightly hot kick. The sides of rice and beans are also prepared well and taste excellent.
Guests can peruse many more delicious items on the menu, and should also consider the various drink specials throughout the week and occasional music entertainment.
For more information, call 219-864-8862.
TASTE TEST: Dixie Kitchen & Bait Shop's Crawfish Etouffee packs a Cajun kick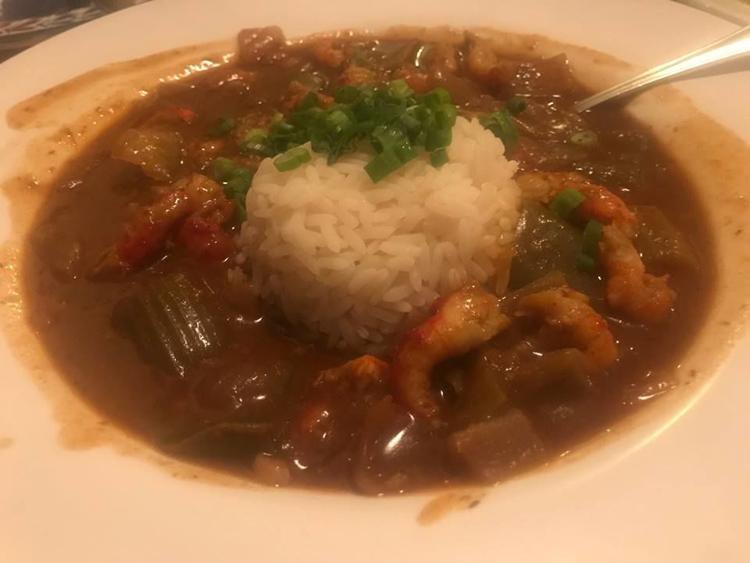 Dixie Kitchen & Bait Shop, whose original Hyde Park restaurant former President Barack Obama reviewed on the long-running WTTW show "Check, Please!" way back when he was still an Illinois state senator, moved its longtime Lansing location to a much larger space last year.
The Cajun and southern restaurant took over the former Bohemian Joe's space at 17940 Torrence Ave., transforming it into a New Orleans-like fleur-de-lis-adorned eatery filled with funky, eclectic decor that makes for a memorable dining experience.
Dixie Kitchen does Creole and soul food so well it's a destination that's invariably packed on Sundays.
The menu is filled with down-home fare you'd find in Louisiana and the deep south like gumbo, po' boys, jambalaya, fried oysters, peach-glazed wings, fried chicken, smothered pork chops, fried green tomatoes, catfish, okra, sweet plantains, peach cobbler, and sweet potato pie. A full bar serves specialty drinks like a Bourbon Street Hurricane and a Mississippi Mudslide.
Instead of bread, you get a basket of Johnny Cakes, cornbread pancakes that come with a creamy dollop of house-made honey butter.
A standout on a menu full of standouts is the Crawfish Etouffee. You get a bowl of a roux-based stew packed with fresh crawfish, green onions and a mound of rice. It's spicy and decadent, a symphony of shellfish and butter. The crawfish are tender, and the smothered sauce is rich and flavorful, with just enough kick. 
For more information, call 708.474.1378 or find Dixie Kitchen & Bait Shop on Facebook.
TASTE TEST: Paninis at a candy store? The Sweet Tooth debuts new treats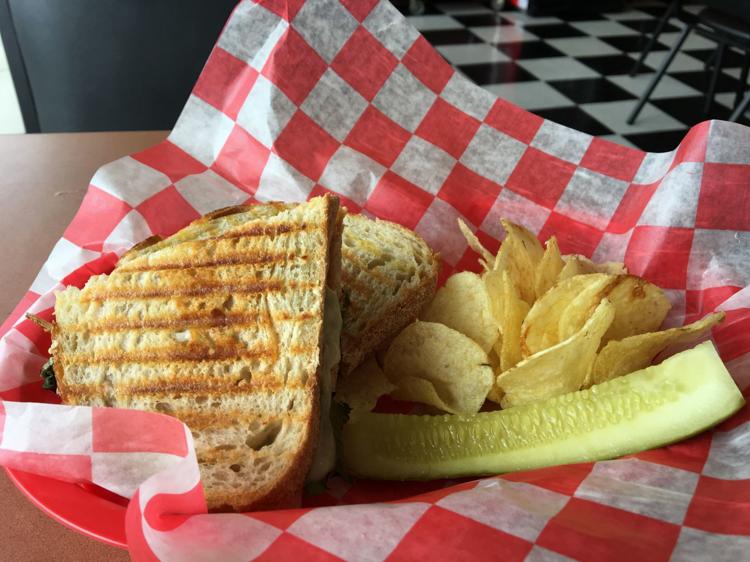 MUNSTER — The Sweet Tooth is a north Lake County staple that has delighted customers for years with its extensive assortment of sweets and treats.
The shop, now at 227 Ridge Road,, has bounced around from past locations that included a spot more east on Ridge Road and a corner location on Jewett Avenue in Highland.
The store sports sugary goodies certain to tantalize anyone's sweet tooth, which include muffins, hard fruity pieces, gummies, chocolates and fudge.
But a recent Facebook announcement showed that an old dog can certainly learn new tricks. Paninis have made their appearance on the menu. Ten options are available to customers, and range from a meaty Italian beef to a cheesy caprese with vegetables.
A worthy option is a classic ham and cheese. The sandwich is sizable and a good value. The bread is wonderfully crispy and crunchy with each bite. The ham is cooked well, and the mozzarella cheese is pleasantly gooey and warm. Lettuce and tomato give a nice cool balance to the mixture. A helping of dijon mustard in the middle gives a slight zing for an awesomely complete taste.
Sandwiches come with a side of potato chips and a pickle to also help fill the gullet.
Besides taking in some of the new sandwich options during the impending warmer weather, customers shouldn't forget to sample the ice cream flavors as a dessert, with options from classic strawberry to raspberry cheesecake. All can be enjoyed in the small seating area up front with large windows that give a nice, scenic view of Ridge Road.
For more information, call 219-301-5062.
TASTE TEST: Overstuffed Italian Bomb sandwich a massive 'fork and knife' feast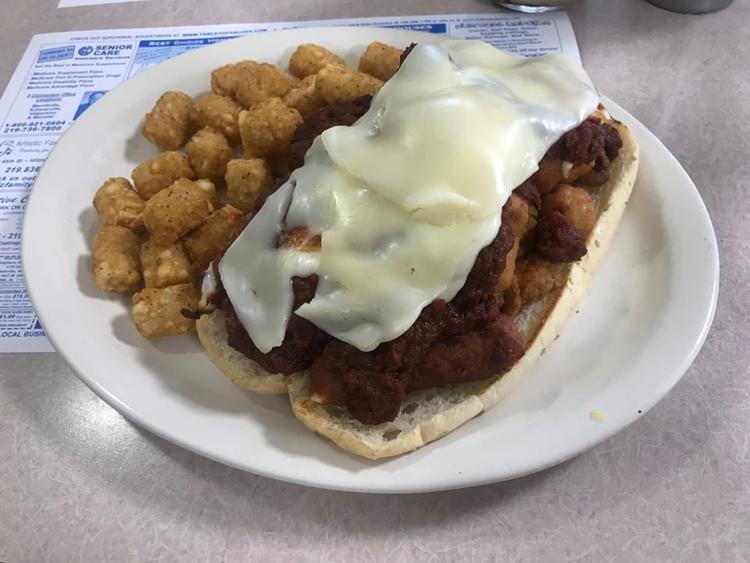 HIGHLAND — There are mere sandwiches, and then there are the hulking "Overstuffed Bombs" at Overstuffed Skillets and Sandwiches in Highland.
Chef Tim Champagne opened the breakfast and lunch restaurant in the old Zorba's space at 3309 45th St. on the border of Highland and Griffith. He's run the concessions for the Chicago Fire, Colorado Rockies, Oakland A's, San Jose Sharks, and Gary South Shore RailCats.
Champagne likes to feed his customers at the 140-seat restaurant and warns it's not a place for those looking to cut calories. The portions are so large no one will leave hungry and you may even need a to-go container.
The menu includes skillets, omelets, fried bologna sandwiches, Philly cheesesteaks, burgers, wings, and salads. Champagne also uses the old ballpark trick of having extreme menu items to get people excited and talking, as with the Churro Dog offered by the Arizona Diamondbacks or the baseball helmet full of ice cream served at Guaranteed Rate Field.
The Overstuffed Bomb sandwiches are too massive to be eaten like sandwiches – they have to be tackled with a knife and fork. The open-face Italian Bomb for instance is piled so high it would be impossible to fold the sub roll into any semblance of a sub sandwich.
The Italian Bomb tops chicken fingers with mozzarella sticks, pepperoni pizza bites, cheese curds, chunky marinara sauce and a warm blanket of mozzarella cheese. It is a lot of fried food if that's not your thing. It almost seems like a fantasy wish list dreamed up by an overly enthusiastic kid at a cafeteria table.
For the daring, it offers four different cheeses and two meats in a glorious pile of delicious goodness. It's almost like a Chicken parmesan on steroids. It's so huge you feel like your name should be hung up on the wall if you can finish it in one sitting.
It comes with your choice of fries, tots or onion rings.
TASTE TEST: Tiger Lily serves up appetizing sandwiches and wraps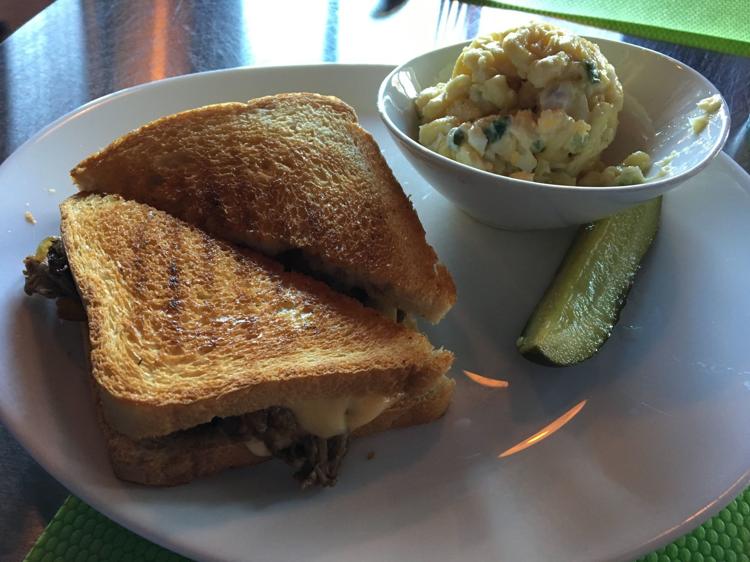 CHESTERTON — Springtime road tripping and excursions to the beach are around the corner, and having a nifty spot to catch grub in Duneland is a must.
There's something for everyone at Tiger Lily Cafe, 1505 S. Calumet Road. The restaurant sports several menus to appeal to the pallets of traditional, vegetarian and vegan diners.
The establishment is a bright spot with plenty of large windows that allow a plethora of natural light. The decor contains bright hues of green and purple, contrasted with black ceiling tiles, and the lights sport decorative, large bulbs.
The various menus are filled with scrumptious options, from a ribeye steak sandwich to a vegan avocado cucumber wrap. A standout is the beef and smoked gouda panini, which comes with roast beef cutlets, caramelized onions and a quality serving of gouda cheese. Side choices include chips, side salad, macaroni salad or potato salad.
The sandwich is a delicious ensemble packed with flavor. The beef is incredibly tender, but has a nice chewiness. The cheese is awfully gooey and gives a spike in the overall taste. The toasted bread is perfectly crunchy. The caramelized onions, although tasty, are too subtle and get lost in the mix. The macaroni salad is a solid choice to go along with the sandwich, and has the perfect rationing of mustard and mayonnaise.
Diners should also consider munching on the carnitas tacos and spicy chicken burrito. Visitors can check out the selections in the bakery section too.
For more information, call 219-921-0488.
TASTE TEST: Vegas Baby fries up all-you-can-eat fish on Fridays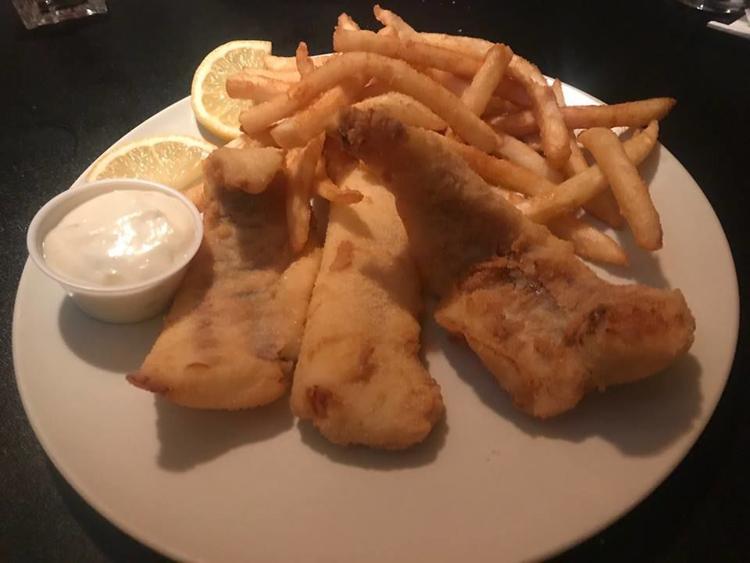 Seafood is suddenly everywhere during Lent in the Region.
Churches and VFW halls fire up the fryers for weekly fish fries. McDonald's pushes its Filet-O-Fish, and White Castle rolls out its crab cake sliders. Seemingly every restaurant starts running specials on lake perch, salmon or other catches from the sea.
Vegas Baby Restaurant & Bar at 213 N. Broad Street in Griffith celebrates Lent year-round with plate after plate of tasty cod.
Started by the previous owners of the Vegas Cafe in Schererville, the restaurant specializes in traditional American diner fare and ethnic food, including cevapi. You can get breakfast at any hour of the day.
It was fairly quiet on a recent Friday evening, which was a pity. Vegas Baby offers a year-round all-you-can-eat fish special for $11.95 on Fridays that could satisfy the biggest appetite in the Region. A single plate of cod or fish and chips also is served up there on any day of the week.
On Friday, diners get an unlimited amount of golden brown cod and tilapia with fresh lemon wedges and a rich creamy tartar sauce. The fish is thick and meaty, lightly breaded, and fried to a glorious glisten. The service is attentive and they'll get your second or third plate out quick.
The special comes with crispy golden fries with a satisfying texture and crunch or a fresh garden salad.
For more information, call 219-513-9174 or find Vegas Baby Restaurant & Bar on Facebook.
TASTE TEST: Twelve Islands is a comfort food king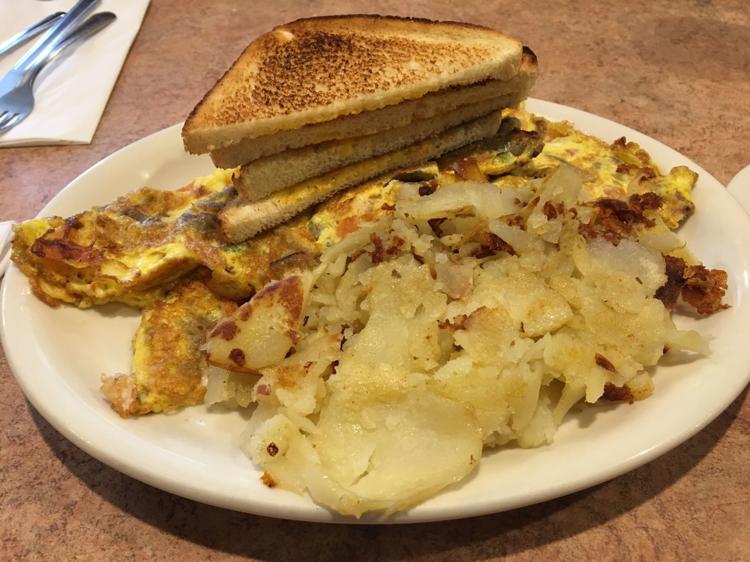 CROWN POINT — Those in search of a spot for their next comfort food craving or a filling meal for the gullet ought to place Twelve Islands at the top of the list.
The restaurant, located at 114 S Main St., has been a Crown Point staple since 1983. The establishment is quaint and has plentiful seating, and a friendly staff that makes you feel right at home. The best seating is near the window where diners can take in the views of the square. With long hours of operation from morning to nighttime, the cooks can help cater to early birds, night owls and anyone in between. Plus, food is prepped and served in a pinch, so those in a time crunch can grab a quick bite.
The menu is filled to the brim with delicious selections. Breakfast lovers can peruse the omelette, skillet and platter varieties. Those looking for fuller meals can browse for melts, wraps, pitas and even triple decker sandwiches.
A standout is the aptly named Twelve Islands Omelette. This selection features diced gyro meat, feta cheese and servings of tomatoes, onions and green peppers. The omelette also comes with sides of potatoes and toast.
The entire ensemble is a delectable creation with a splendid overall taste. The eggs have a buttery taste, and the vegetables blend right in. The gyro meat is cut into bite-size slices, and has a slight spicy kick of flavor. The sharp ping from the feta cheese is a quality accent. On the side, the potatoes have a pleasant, soft texture and taste, and the crisp toast is buttered up just right.
For more information, call 219-663-5070.
TASTE TEST: El Poblano's Carne Asada brings the beef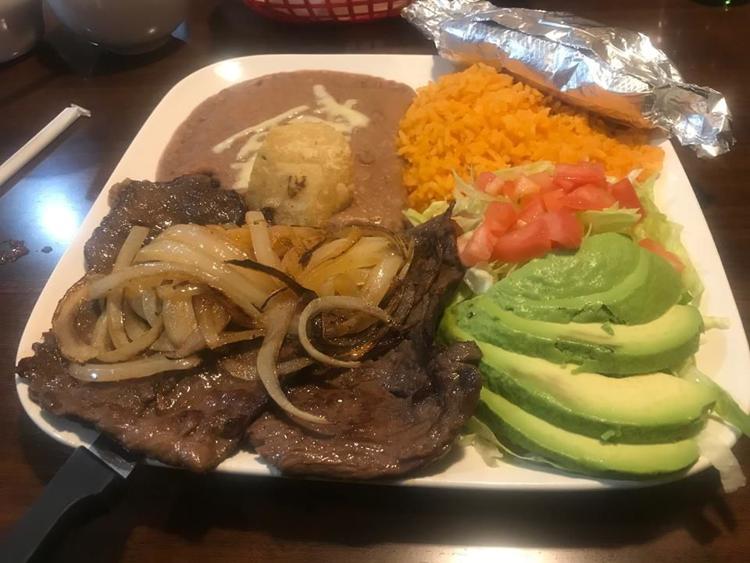 Many new Mexican restaurants have been cropping up across Northwest Indiana, but El Poblano features more traditional Mexican cuisine than the average Tex-Mex place with crowd-pleasing bucket-like margaritas.
El Poblano at 7600 Broadway in Merrillville serves many favorites like flautas, enchiladas, chimichanga, shrimp tacos and Camarones a la diabla. Run by alumni of Fat Burrito in Crown Point, the restaurant in the extensively renovated former Delta restaurant space also features a hulking oversized burrito on a 16-inch tortilla known as the "large burrito."
The large and varied menu includes many steak options, including the Steak Con Rajas, Steak A La Mexicana, Steak Ranchero, and the succulent El Poblano Special in which steak, chicken, shrimp, bell peppers and tomatoes are piled over a bed of rice and topped with cheese and ranchero sauces. 
The place takes pride in its Carne Asada, tender skirt steak that's grilled to perfection. The juicy beef is topped with sauteed onions that bring out the meatiness.
The $11.99 Carne Asada dinner platter is served with light, fluffy rice and rich creamy, refried beans sprinkled with melted Chihuahua cheese. It's also accompanied by a fresh salad made with lettuce, tomato and sliced avocado, as well as your choice of flour or corn tortillas.
The portions are generous, the steak well-marinated and seared expertly. The pile of sauteed onions that tops the steak adds even more savoriness and just a hint of sweetness.
For more information, call 219-525-4193 or find El Poblano on Facebook.
TASTE TEST: Hog Haven is pork paradise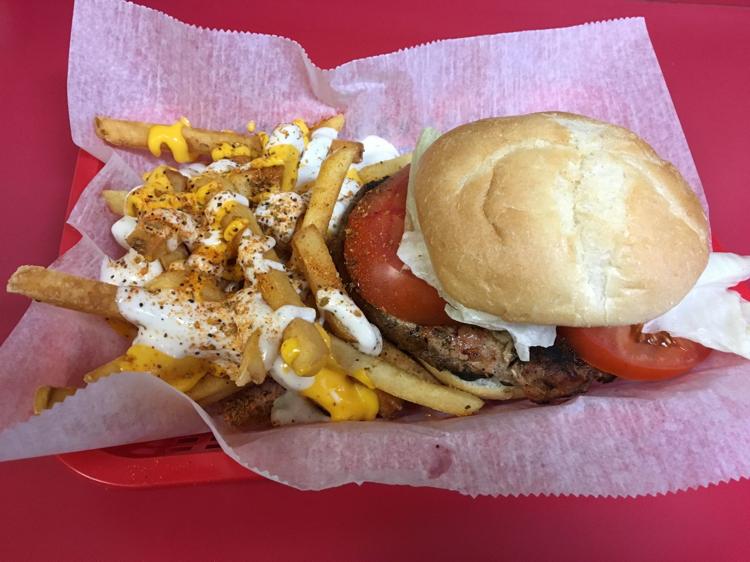 DYER — Even in the cold, blustery days of winter the sweet sustenance of barbecue is welcome nourishment for a big appetite.
The folks at Hog Haven, 1514 Joliet St., are ready and raring to cook up massive meals for meat lovers. The restaurant is a small, cafe-like setting with a few tables, barstool seating along the walls and a bar area up front. It's casual and no frills, but still incredibly congenial. Cooks that chat at you from the kitchen and photos adorning the walls from past events and customers make you feel right at home.
Hog Haven sports an extensive menu with plenty of classic barbecue options, including tips, ribs and pulled pork. Lunch and dinner platters are available as well as hefty sandwiches with meat varieties.
A standout is the mouthwatering grilled pork tenderloin sandwich. This selection features a large slab of pork, bulky servings of lettuce and tomato slices and mayonnaise all squeezed together by a pair of buns working overtime to hold it all together. The sandwich is a hunger cure-all. The pork is grilled to perfection and proves chewy and tender. The vegetables and mayonnaise provide some cool flavors to balance out the juiciness and saltiness of the meat.
Most dishes at Hog Haven come with a side of fries. A worthy upgrade for a couple extra bucks are the psycho fries. This specialty item features nacho cheese, ranch dressing and Cajun seasoning tossed on top of the fries, which will leave your taste buds tantalized throughout the meal.
Other worthy considerations off the menu include the pork chop dinner and hot wings.
For more information, call 219-322-8108.
TASTE TEST: Pretzel Encrusted Cod a standout at Station 21 American Grill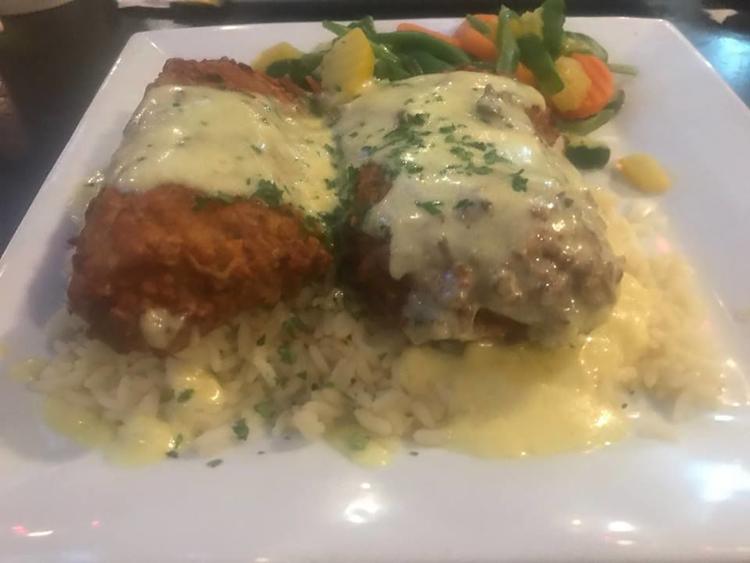 Commercial fishing in Lake Michigan died out long ago, but seafood remains a staple of Region cuisine.
Many places still serve lake perch, frog legs, and other freshwater fare.
Station 21 American Grill, a firefighter-themed, two-level tavern at 201 N. Main St. in downtown Crown Point just north of the Old Courthouse, has a varied menu that includes the usual lake perch and some excellent seafood including seared ahi tuna, panko encrusted whitefish and beer-battered fish and chips.
A standout is the pretzel encrusted cod. Thick but flaky Atlantic Cod is served on a bed of rice and smothered in a decadent lemon cream sauce that takes it to the next level. A side of sauteed vegetables rounds out the generally healthy if buttery entree.
The dish comes with two huge fish fillets that are meaty in texture but delicate in taste. The thick coating of smashed pretzels gives the cod a crunch and heft. The lemon cream sauce is so divine you'll want to sop up every last bit of it.
The pretzel encrusted cod could be washed down with something from Station 21's extensive and well-curated craft beer menu. The restaurant has a cozy neighborhood environment that exudes charm. In the warmer months, the restaurant also offers New Orleans-like al fresco dining on its second-floor balcony overlooking the buzz of activity in downtown Crown Point.
For more information, call 219.661.0021 or find Station 21 American Grill on Facebook.
TASTE TEST: Visit Mi Ranchito during a Mexican cuisine craving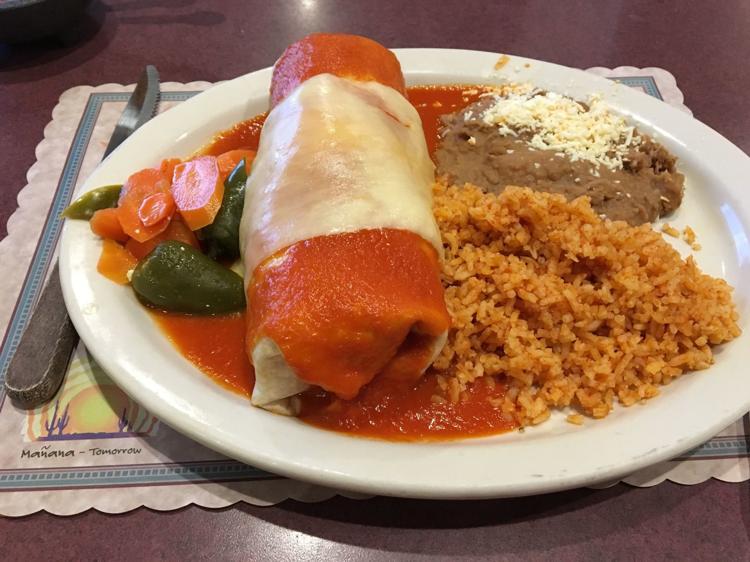 LOWELL — Those seeking some good grub during a future excursion to south Lake County can swing past and be served by the friendly faces at Mi Ranchito, 149 W. Commercial Ave.
The establishment is bright and welcoming. Windows provide a view out to the gentle slopes of Commercial Avenue, several televisions are available if one wants to catch TV or sports and a bar area is available to satisfy alcoholic beverage desires. However, the environment has less seating than a typical family restaurant, and the decor is a tad lacking.
The menu is populated with scrumptious varieties, from filling breakfast dishes such as Huevos con Chorizo to hefty dinners including the Chile Rellenos.
A prime selection is the house special, the Mi Ranchito Burrito. This powerful dish comes stuffed with steak, lettuce, tomatoes, cheese, sour cream and avocado. The burrito can also be ordered suiza, and comes topped and surrounded with a sweet, but slightly spicy red sauce. Rice and beans are included as sides.
All of the stuffings make for an excellent ensemble. The meat and vegetables blend together nicely with the melted cheese and the cool tastes of the sour cream and avocado. The steak is especially savory and is cooked very well. The red sauce gives a nice singe of spiciness.
Other fine options worth trying include the Taco Ranchero and Chimichangas Acapulco.
For more information, call 219-696-2270.
TASTE TEST: Town Club's cheese squares an appetizer for the ages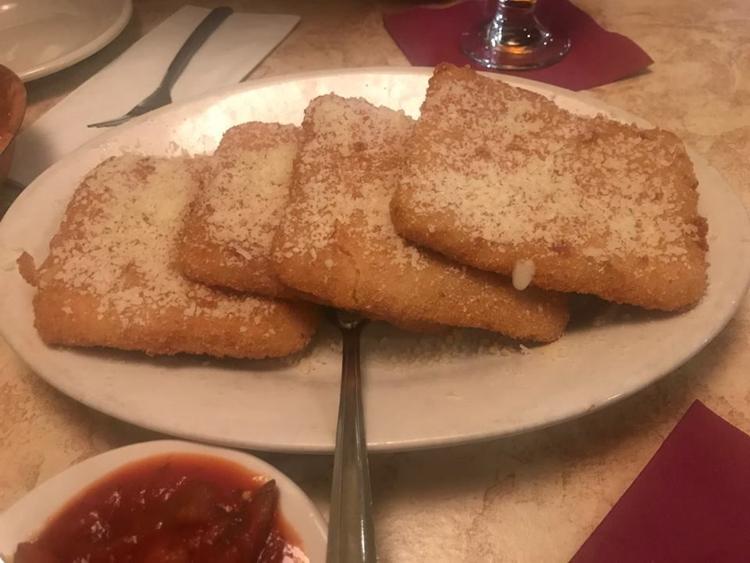 There comes a fateful, momentous time in every person's life when they need to get their fried cheese on.
Should one reach such a critical juncture, they might want to consider a trip to The Town Club Restaurant and Lounge at 2904 45th St., Highland. The vintage steakhouse and seafood place was founded in 1947 and has maintained a cozy neighborhood feel.
A traditional menu includes many crowd-pleasers like steak, prime rib, chops, corn-fed Indiana duck, lake perch, frog legs, and Canadian walleye. It's a time-tested place that has stayed true to its roots and also pours a large martini.
Starters include shrimp cocktail, crab cakes, and many fried items, including onion rings, zucchini, and mushrooms. You can't go wrong with the huge cheese squares that make mozzarella cheese sticks look like toothpicks.
You can get a half order of two squares of fried mozzarella and cheddar for $6 or a full order of four for $10. If you ask for the full order, the waitress will always ask if you've tried them before and caution you that it's a lot of food.
It is indeed a lot of decadent melted cheese, lightly breaded, fried to gooey perfection and sprinkled with fresh Parmesan in case you weren't already getting enough dairy. The cheese squares are the size of saucers and deeply satisfying, and are so big they can only really be tackled with a fork and knife. One or two of them will probably exceed your daily dietary requirement for calcium.
For an extra $1, you can order the house-made marinara sauce for dipping. An ideal accompaniment, it's fresh and filled with sliced peppers and mushrooms.
TASTE TEST: Scrumptious sandwiches and wraps are aplenty at Foodie's Cafe
DYER — If you're in the market for a breakfast or lunch made in toasty perfection or in a zesty wrap, Foodie's Cafe has you covered.
The establishment, located at 151 Joliet St., is a splendid and bright cafe  where sandwiches are the name of the game. A significant variety populates the menu where diners can choose from multiple options ranging from unique takes on the classic BLT to meaty and cheesy paninis.
The dining area is popping with color as the restaurant sports a mid-century America design with unmistakable pastel colors on the walls, striped upholstery on chairs and checkered tablecloths. The kitchen and counter are open, allowing the sounds of busy workers speedily preparing meals to ring out into the room.
On a menu with many tantalizing options, a filling standout is the Mediterranean Wrap. This selection comes with diced chicken pieces that are marinated and grilled, lettuce, tomatoes, cucumbers, black olives, red onions, feta cheese, and a tangy Italian sauce. All comes in a bright green spinach tortilla wrap. The warm ensemble is quite the perfect combo as the ingredients' different tastes blend together with ease. The chicken, tomatoes and olives give a soft texture, while the lettuce, cucumbers and onions give a subtle crunchiness. It's a light, yet filling meal.
Other choices worth considering include the ratatouille panini, the portobello mushroom melt or an egg sandwich from the breakfast side of the menu.
For more information, call 219-864-3030.
TASTE TEST: St. John Malt Brothers' bacon pint brings the sizzle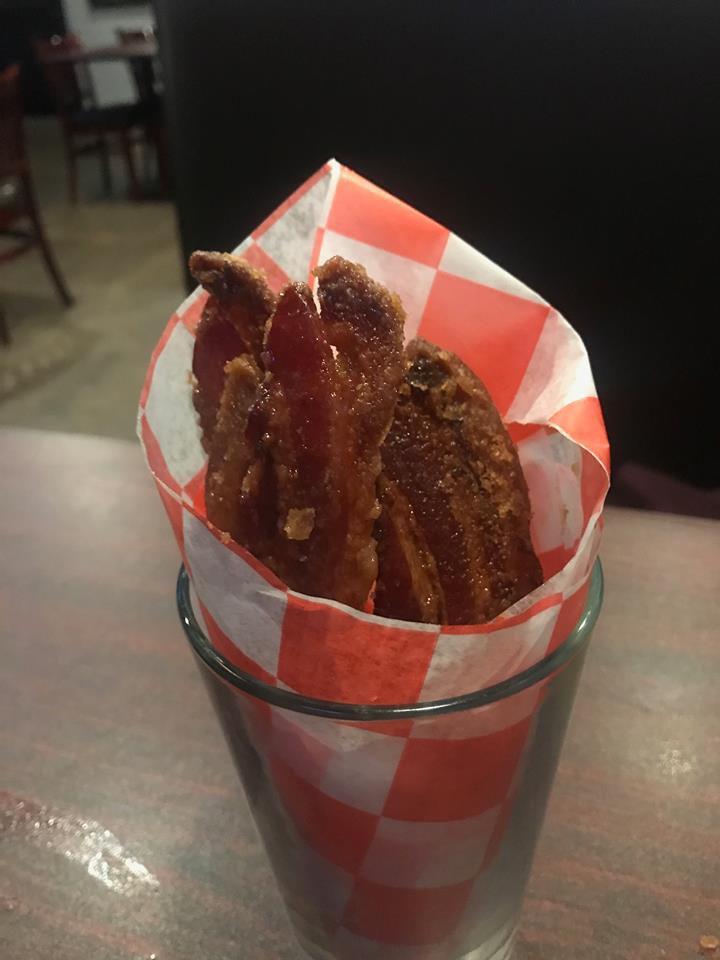 Saint John Malt Brothers has been brewing locally popular craft beers like Deviant Vector West Coast India Pale Ale, Bolder Burnt Bottom Brown English Brown Ale and Herperidium Citra IPA since opening in the Tri-Town in 2015.
The craft brewery at 9575 Wicker Ave. in St. John has more than doubled its production capacity since then, started canning multiple beers that are distributed throughout Northwest Indiana and Illinois, and opened a new restaurant last year. After neighboring Rascal's Pizzeria closed, it moved into the neighboring space and opened a 120-seat eatery with a bar area that's typically popping on weekends.
Saint John Malt Brothers offers elevated pub fare like a smoked brisket platter, chicken and waffles, panko breaded shrimp and mussels.
Much of the meat is sourced from local favorite Welch's Stop and Shop. As was the case with the beer cheese visitors snacked on with pretzels in the original taproom, Saint John Malt Brother's own craft beer is incorporated into menu items like the Deviant Burger which features a Deviant sauce made with its popular IPA. There's a ground chuck salad mixing beef and lettuce that seems unique.
A standout is the Pint of Bacon, which sells for $7 and is exactly as it sounds: a pint glass filled with bacon. Not just any bacon though. Saint John Malt Brothers bakes quarter-inch thick strips of hearty bacon in its Bolder Burnt Bottom Brown English Brown Ale.
A brown sugar candy glaze adds a pleasing sweet and salty dynamic.
It's a meaty appetizer that tastes like dessert.
For more information, visit sjmaltbros.com or call 219.627.4294.
TASTE TEST: Find delicious specials and creations at El Taco Real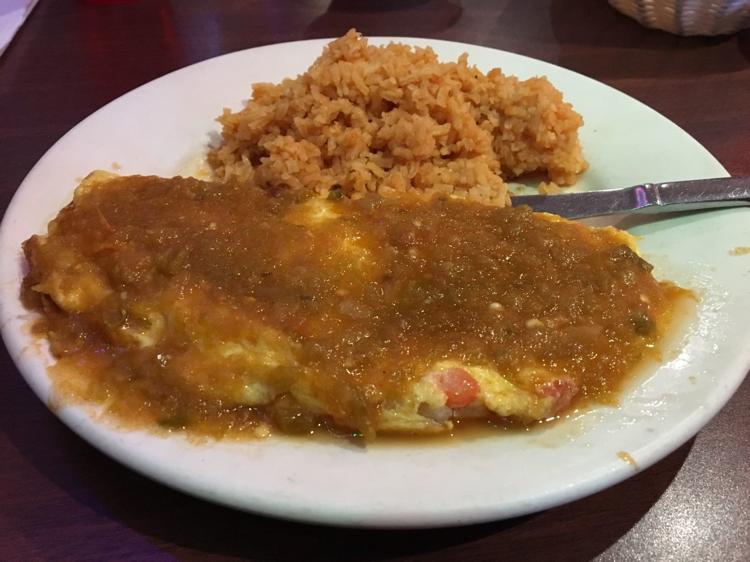 HAMMOND — If there's any culinary establishment that can make you feel right at home, the super cordial staff at El Taco Real, 935 Hoffman St., will take good care of you.
Upon entering, you're welcomed in like family by happy and smiling faces. The restaurant is a north Lake County staple, and will take you in like an old friend. Its seating and decor have a worn look and feel, merely hinting at the mileage the place has earned over the years.
The menu is populated with usual Mexican cuisine goodies, but the specials are king. Depending on the day of the week, diners can partake in scrumptious dishes from chilles rellenos to pollo con mole.
A notable selection from that side of the menu is torta de queso. The dish is a traditional Spanish omelet that comes packed with onions, tomatoes and cheese, and comes topped with the restaurant's signature "Salsa Ranchera." Flour or corn tortillas are also available as well as a side of rice or frijoles.
Those seeking out something flavorful will enjoy this option. All the ingredients mesh together wonderfully. The vegetables have a nice crunch and mix well with the gooey cheese all wrapped together in the eggs. Each bite will leave you craving more.
The delicious options don't stop there. Diners should also consider huevos rancheros, caldo de res and pozole.
For more information, call 219-932-8333.
TASTE TEST: Byway Brewing's The Khalil Mac burger a hit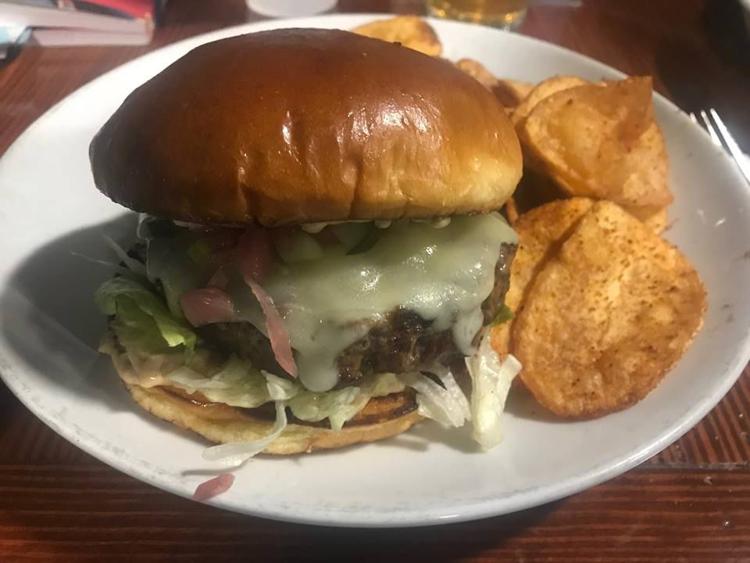 Da Bears went from worst to first in the NFC North with a new coach, a developing second-year quarterback, and of course the blockbuster acquisition of the dominant pass-rushing outside linebacker Khalil Mack.
Mack elevated an already top 10 defense into one of the best in the league and played a big part in the Bears turnaround from the perpetual doormat of the NFC North to a 12-4, playoff-bound team some say might be a Super Bowl contender.
Byway Brewing at 2825 Carlson Dr. in Hammond's Oxbow Landing on the Little Calumet River has been celebrating the defensive superstar all season with The Khalil Mac, a burger inspired by the McDonald's Big Mac.
It features "one all beef patty, special sauce, lettuce, cheese, pickles, and onions on a toasted brioche bun."
Byway's burger, created by chef Brian Rance, is far beefier than the fast food staple it pays homage to and wisely eschews the middle piece of bread that's little more than filler. It features a substantial hamburger patty of high-quality beef cooked to order and smothered in melted cheese. All the ingredients are taken up a notch with pickled onion, a creamy house-made Thousand Island-like sauce, and a much richer, more buttery bun.
It evokes the Big Mac without duplicating it. The Khalil Mac costs $13, comes with chips, and could be enjoyed with a number of Byway's award-winning craft beers, including the Chi.P.A. India Pale Ale, the Chupacabra pomegranate margarita gose, the Orange is the New Wheat wheat beer, or the Stosh.O Polish pilsner.
For more information, call 219.844.5468 or visit bywaybrewing.beer.