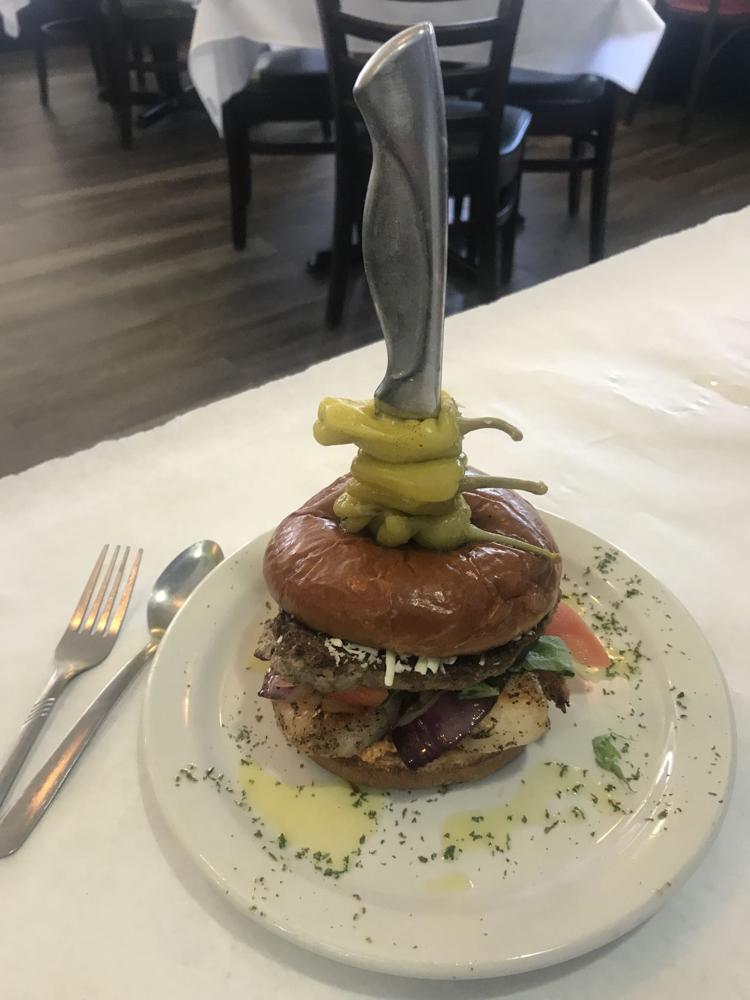 Some burgers are for mere mortals. Other burgers are for the gods.
The Stuffed Pepper's towering Burger of the Gods would satisfy Zeus and anyone else on Mount Olympus.
The Greek restaurant at 7231 Indianapolis Blvd. in Hammond's Woodmar neighborhood is known for traditional old country dishes like Dolmades, Moussaka, Pastitsio, Spanakopita, flaming Saganaki and, of course, its namesake stuffed pepper. It's one of the few newer restaurants to still offer smelt, a longtime local staple that's fallen out of favor.
You can't go wrong with the kabobs, gyros, seafood or anything else on the menu, but at some point you should pay tribute to the Burger of the Gods, a mighty burger so towering it must be held together with a steak knife, like you'd find in a fancy steakhouse.
You can get it with grass-fed lamb or pure beef, and it's divine either way. The patty is topped with feta cheese and bacon. It sits atop a bed of lettuce, tomato, onions and huge, plump Gulf shrimp that are well-seasoned with oregano. A red pepper spread adds extra savoriness. 
All that is somehow stuffed within a brioche bun, and the knife impales three Pepperoncini peppers for good measure. It's elegantly plated with drizzles of olive oil and a sprinkling of parsley.  
It's a burger so big and so tasty you'd be tempted to mythologize it.