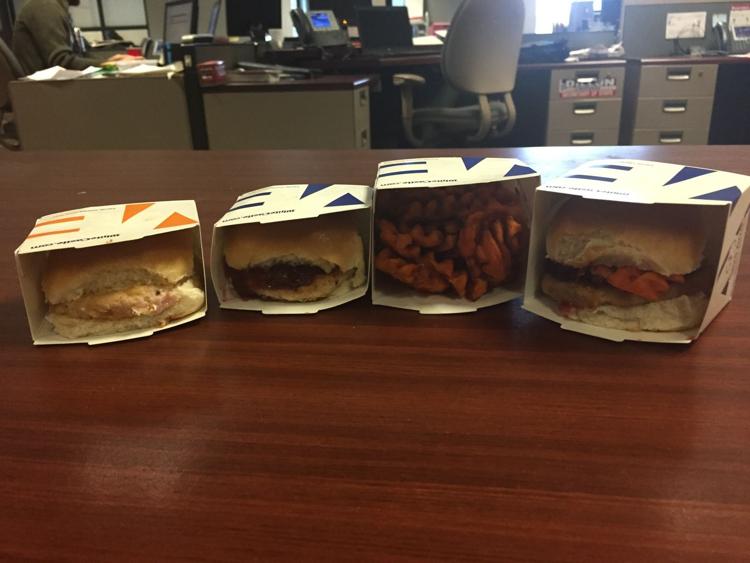 So if you're been on social media or really anywhere on the Internet over the past year, you've probably come across a recipe for White Castle slider stuffing.
If you've actually been to White Castle, you might have had the sweet potato waffle fries before.
White Castle, a beloved stable of the Region landscape known for sliders you "buy by the sack," has been on the periphery of Thanksgiving, but now it's going all in with a unique Turkey Day promotion. The Columbus, Ohio-based chain has rolled out three different Thanksgiving turkey sliders: a turkey slider with "tangy bistro sauce," a turkey slider with cranberry sauce and a "Turkey Dinner" slider with cranberry sauce and a hefty sweet potato waffle fry.
The Butterball turkey burgers are juicy and succulent, a novel fast-food remix of the traditional holiday staples. They taste great when they're piping hot, but can be as filling as a real Thanksgiving feast, especially with a sack of sweet potato fries. The piquant cranberry sauce is the real thing with whole cranberries, adding some authenticity since it's not carved turkey and your family probably doesn't gather around some decorative gourds and a greasy bag of fast-food waffle fries.
What you crave might be a real turkey, green bean casserole and family togetherness, but White Castle's new sliders are a good way to stretch out the holiday season beyond turning leftovers into Thanksgiving burritos or egg rolls or whatever the Internet happens to recommend that day.