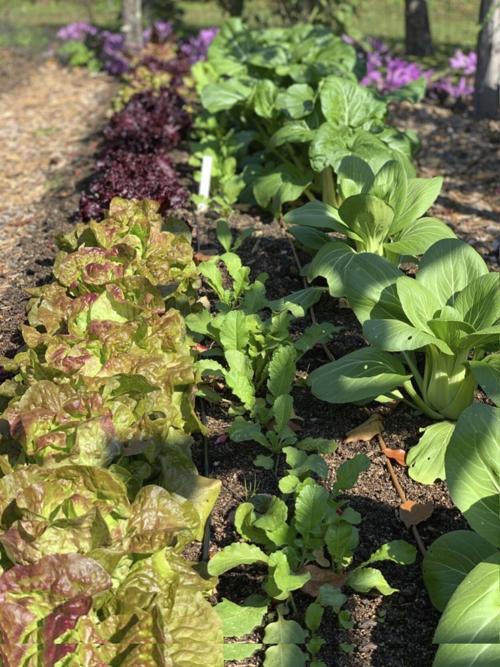 As we experience more sunshine and sweater days, many of us think about gardening. Daffodils and tulips popping up are one of the first signs that we have survived another Midwestern winter.
Now is the perfect time to plan your vegetable garden. You don't need an acre to enjoy growing a few crops. A small sunny patch in the backyard or a patio for a few containers works. Flower gardens with vegetable plants and herbs creatively mixed in are another option. Any area that gets at least 6-8 hours of full sunlight each day is ideal.
Though you can purchase a variety of fresh herbs and vegetables from grocery stores and farmers markets, there's nothing better than the taste of something you pick and immediately eat.
The fresher the food, the more nutritious it is. Fruits and vegetables begin to lose their nutrients within 24 hours of being picked. My father was raised on a farm and must have known this. Growing up, we always had a vegetable garden. He wouldn't pick the corn until my mom had the water boiling.
The following vegetables are known to do well in our growing season: asparagus, beets, broccoli, Brussels sprouts, cabbage, carrots, cauliflower, collards, cucumbers, eggplant, endive, kale, lettuce, melons, mustard, onions, parsnips, peas, peppers, potatoes, pumpkins, radishes, rhubarb, snap beans, spinach, squash, sweet corn, tomatoes, turnips.
You may find that you eat more vegetables when you grow your own. Some of us find it to be a fun hobby, in spite of the attendant weeds.
Speaking of weeds, don't discount the dandelion. All parts are edible as long as no pesticides or other chemicals have been applied. The flowers may be eaten raw on their own or added to a salad. They can be breaded and fried (you didn't hear that from a health coach) or used to make jelly and wine. The roots can be steeped to make tea. The greens may be consumed raw as a salad or a sandwich topping and are milder in flavor when harvested before the flowers have emerged. They can also be cooked in stews, casseroles or any other dish that calls for hearty greens. They are rich in antioxidants, vitamins and minerals — and eating them is a good reason to get them out of the lawn.
Herbs are easy to grow, have a variety of health benefits and add flavor to your dishes. Some of the more common plants are mint, basil, chives, cilantro, parsley, dill, garlic, oregano, marjoram, sage, tarragon, lemon balm, rosemary and thyme. A word of caution: Many herbs spread to areas where they are unwanted, such as the lawn. So, it's best to plant some in containers to avoid a problem.
If you're a new gardener looking to start small or are simply short on space, a few containers of vegetables and herbs may be ideal. Tomatoes, cucumbers, peppers, squash, radishes, lettuce and salad greens do well in containers. If you feel adventurous and want more variety, you can combine certain vegetables/herbs in a pot: beans, carrots and squash; tomatoes, basil and onions; lettuces with almost any herbs. Not all garden companions coexist happily, so do your homework before you plant.
Many flowers are nutritious and contain potent antioxidants and anti-inflammatory compounds that benefit your health. Lavender has a calming fragrance, may be eaten fresh or dried and pairs well with citrus, berries and savory herbs. It can be added to herbal teas, infused syrups and baked goods.
The leaves and flowers of nasturtiums add a peppery, slightly spicy flavor to food. The bright orange, red and yellow flowers liven up salads, cakes and pastries. Pansies have a mild, fresh and lightly floral flavor. The primarily purple, blue and yellow flowers can be chopped and mixed into a simple green salad or used to garnish any dessert.
Squash blossoms from zucchini are popular, raw as a garnish or stuffed with herbed cheeses and fried or baked until crispy. Because only the female blossoms can become squash, eat the male ones. They have a long thin stem and typically grow around the outer edges of the plant.
John Denver said it best: "Only two things that money can't buy. That's true love and homegrown tomatoes." Have fun planning your garden.
Carol Slager is a licensed pharmacist, author, blogger and health coach in Northwest Indiana. Follow her monthly in Get Healthy and at inkwellcoaching.com. Opinions expressed are the writer's.