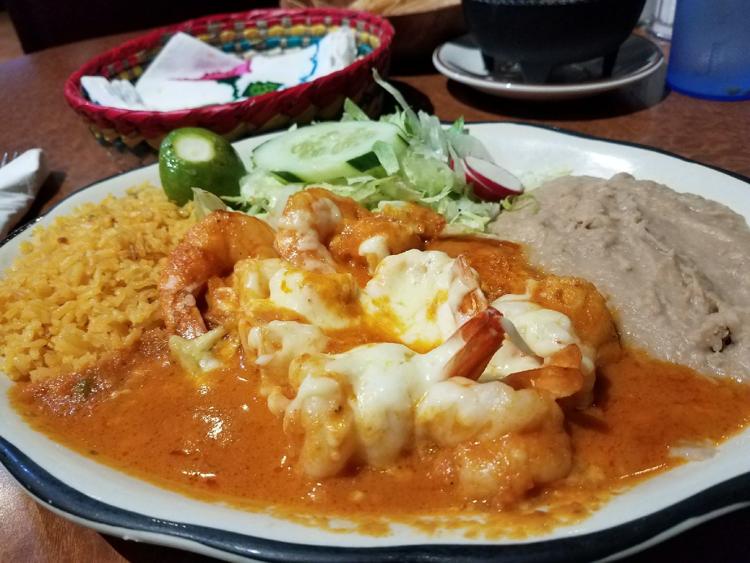 Visit La Cecina for a flavorful taste of Mexico.
La Cecina, located on Hart Ave., in Dyer features a quaint setting and a menu starring a good selection of traditional Mexican dishes. While a variety of the dishes are staples on many area Mexican restaurant menus there are quite a few that are unique creations to La Cecina.
Guests will find everything from fajitas to enchiladas and assorted tacos on the menu but there are also dishes such as Caldo de Rana (frog leg soup), Filete Marinera (which is a fish fillet covered with seafood sauce with shrimp, calamari and octopus) and even the out-of-the-ordinary Creadillas al Gusto (bull's testicles).
You have free articles remaining.
Keep reading for FREE!
Enjoy more articles by signing up or logging in. No credit card required.
We visited La Cecina on a recent Monday night. Many dishes sounded appetizing but we chose the Camarones en Salsa Chipotle, ($14.95) shrimp covered with chipotle sauce and melted cheese.
The entree came with rice, beans and a salad. The dish wasn't too spicy but was flavorful. We enjoyed the melted cheese covering the medium-sized shrimp. Our beverage of choice, which was a good accompaniment to the rich seafood dish, was a tamarind-flavored drink.
Among other dishes on the La Cecina menu are Queso Fundido appetizer ($5.95); Ensaladas de Nopales (Cactus Salad, $2 for medium); Cecina Azteca ($12.95), beef covered with molcajete sauce and melted cheese; Carne Charra ($14.95), skirt steak served with black beans; Coctel de Ostion ($12.95), oyster cocktail; and much more.
La Cecina also offers Parrilladas, which is a mix of barbecue/grilled items cooked over a hot grill that's brought to your table. The variety of Parrilladas include a seafood platter, meat platter or combo. They range in price from $19.95 to $40.95.
Breakfast is also served at the restaurant. Guests will also find milkshakes and other beverages such as Horchata; Limonad;a and Jamaica on the menu.