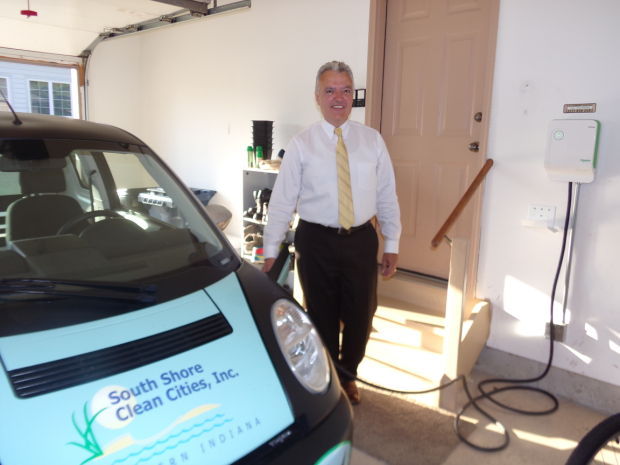 Once a fight between industrial Goliaths and Save the Earth "tree huggers" is now an alliance in Northwest Indiana.
"A big part of the story of environmental changes is that more and more corporations and businesses are recognizing how important it is that they change the way they do business and are working to greatly reduce the release of pollutants," said Lee Botts, Northwest Indiana environmental activist and has worked for the Environmental Protection Agency (EPA), the Great Lakes Basin Commission and is the founder of the Indiana Dunes Environmental Center as well as a long time member of the Save the Dunes Council. "Instead of the fights between environmentalists of years ago, there are lots of partnerships and relationships."
Kay Nelson, director of environmental affairs for the Northwest Indiana Forum, has a long list of alliances which are making the Region a healthier, cleaner place to live.
"U.S. Steel and ArcelorMittal have household hazardous waste collections days providing employees the opportunity to dispose of hazardous waste," said Nelson. "ARCO in Burns Harbor is using some of the natural area inside their grounds as a walking path and are huge advocates of the heart association. NiSource is allowing some of their property to be used for walking paths and Dan Plath, Water Program Leader for the Environmental Department of NiSource, is president and founder of the Northwest Indiana Paddling Association (NWIPA). And, of course that means we can paddle now because our municipalities have cleaned up waterways of the Grand and Little Calumet."
It is quite a change considering that in the early 1980s when the EPA designated the Grand Calumet as one of the most polluted waterways in the country with all 14 beneficial uses considered impaired. Just two years ago the river's West Branch, including Roxanna Marsh, clean-up was completed. Currently other sections of the river are in the process of being restored.
"It's important to understand that the people working in these industries live here too, and they also want a high quality of life," said Nelson.
Nelson said Northwest Indiana is in compliance with the current Clean Air Act standards set by the EPA.
"It's something we should be very proud of—it took a lot of work to obtain those standards," Nelson said.
To continue our rising air and water quality requires an effort by everyone, said Kathy Luther, Director of Environmental Programs at the Northwestern Indiana Regional Planning Commission (NIRPC).
"Use water wisely," she said. "Treat it likes it's precious."
Luther points out how simple solutions can have powerful results. Rain barrels collect water where it lands so it can later be used for watering gardens when needed. Rain gardens improve water quality by forcing storm waters into the ground, preventing them from taking pollutants such as fertilizers and pesticides and washing them into local waterways through storm sewer systems.
Although, we've come a long way but there's still much more to do.
High levels of ozone and particle pollution seriously impact both young children whose lungs are still developing and adults, reducing lung function and making it more difficult to breathe normally especially while exercising as well as causing inflammation and damage to the cells lining the lungs. All this means our lungs become much more susceptible to infection, aggravating asthma and other chronic lung diseases.
"Sinusitis is one of the most common infections affecting one out of seven people," said Dr. Sreekant Cherukuri, an Otolaryngology/ENT at CarePointe Ear, Nose, Throat & Sinus Centers. "Sinuses are lined with tiny cells that act like sweeper cells. Industrial chemicals, smoke, second hand smoke and pollutants paralyze these cells, mucous builds and becomes infected. If you live near a plant and business with emissions, it's more common to get sinusitis."
An easy simple solution said Churukuri is buying over-the-counter salt water spray.
"It's a bio-mechanical force and helps get all the pollutants," he said, noting that for chronic sinusitis they offer balloon sinuplasty, an in-office minimally-invasive sinus treatments. "When you're driving in the air, keep your windows up and put the air on recirculation. At home change filters and use higher level air filters."
Lorrie and Carl Lisek, owners of Legacy Environmental Services located in the Purdue Research Park in Crown Point, partners with such companies and organizations as NIPSCO on initiatives like the NIPSCO IN-Charge Electric Vehicle Incentive Program designed for those who own or are considering purchasing a plug-in electric vehicle (EV) by offering charging incentives and was designed to increase the use of EVs by reducing the costs and complexity associated with charging.
Legacy is also partnering with the planning comission to implement U.S. Department of Energy Sun Shot Initiative Rooftop Solar Challenge in Northwest Indiana—a collaborative national effort created to aggressively drive innovation in making solar energy fully cost-competitive with traditional energy sources before the end of the decade.
Carl Lisek also hosts The Green Commuter, a radio show which airs once every two weeks on Lakeshore Public Media, 89.1 FM. Future shows include representatives from Gas Technologies Inc. (GTI) who will be discussing the work being done through the Lake Michigan Consortium, which consists of Wisconsin Clean Cities, Chicago Area Clean Cities, South Shore Clean Cities, and Congressman Pete Visclosky.
"We've done some pretty cool things as a region," said Lisek, "and there's a lot we're working on to continue improving the environment here."