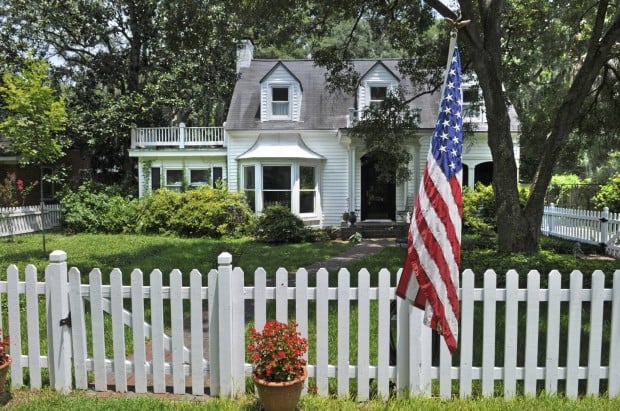 Responses to that question run the gamut from "room to play" to "garage space for my toys," "my dream," "adios rent," "our key to freedom," "my investment," "room to grow," "retirement bliss," "party at my place," "storage space and a workshop," "a yard," "sleepover space for my grandkids," "our very own" and "new beginnings."
With the summer of 2013 shaping up to be an excellent opportunity for both buyers and sellers, organizations such as the National Association of REALTORS® (NAR) and the National Association of Homebuilders (NAHB) have been especially focused on providing education, guidance and support through their state and local affiliates this month.
President George W. Bush signed a proclamation designating June as "National Homeowners Month" on May 29, 2008.
In part, it reads, "For many Americans, owning a home represents freedom, independence and the American dream. During National Homeownership Month, we highlight the benefits of owning a home and encourage our fellow citizens to be responsible homeowners . . . During National Homeownership Month and throughout the year, I encourage all Americans to take advantage of financial education opportunities to explore homeownership. My Advisory Council on Financial Literacy is finding ways to help educate people from all walks of life about matters pertaining to their finances and their futures. By practicing fiscal responsibility, Americans can contribute to the strength of our neighborhoods and our country."
Designed to underscore the importance of having strong, common sense fundamentals as a way to maintain a sustainable housing market, the US Department of Housing and Urban Development (HUD) declared this year's theme: "Back to Basics."
While it's important to understand the role that homeownership plays in our economy - and the programs that help make it attainable and sustainable for responsible homeowners - "National Homeownership Month" is also a great opportunity to reflect on the significant impact it has on health, net worth, educational achievement, civic participation and overall quality of life.
With a measurable resurgence of the housing market over the last 18 months or so, it's quite evident that owning a home continues to be an achievable goal for many Americans, while countless consumer surveys over the last several decades point to the many ways homeownership transforms individuals, families and entire communities.
Consider these three top reasons as to why homeownership endures as the American dream.
1. Over time, the psychological and physical health of homeowners has been shown to improve. A strong sense of overall satisfaction in achieving such a major life goal contributes to a feeling of self-worth that translates to greater happiness and a can-do attitude that positively affects the handling of mental and physical challenges. In addition, mortgage payments and upkeep costs typically remain stable as equity grows, while rent payments often rise on an annual basis and do not provide equity.
2. When parents are homeowners, children are positively affected. Generally speaking, homeownership creates a better environment for children, fostering greater emotional support in a stable, safe housing environment. Compared with the children of renters, math scores are nine percent higher, reading achievement is seven percent higher and behavioral problems at school are one-three percent lower for children of homeowners.
3. People who are financially invested in the area where they live are more likely to participate in efforts to improve their community. Subsidized, owner-occupied housing for low-income families has resulted in a decrease in the need for free lunches for students, higher achievement on standardized tests and greater volunteerism.
Along with these benefits, housing is "Made in America" and plays a vital role in our local, state and national economies - new home construction and remodeling account for about 15 percent of the total US economy.
NAHB data shows how building 100 average single-family homes generates 305 jobs, $23.1 million in wage and business income, and $8.9 million in taxes and revenue for state, local and federal governments.
Beyond that, the employment effects of new home construction and remodeling extend far beyond the actual structure. Approximately half the jobs are in construction - framers, electricians, plumbers, finish carpenters and all of the other workers who contribute to preparing the land and building the home.
The rest are in housing-related industries that produce building materials and provide services to both homebuilders and homebuyers – the furniture, lighting and appliance industries; metal products industries; plastics and carpeting production; architecture and engineering; real estate agents, brokers and appraisers; wood products industries; concrete, gypsum and paint production; manufacturing construction equipment and other products; selling, moving and storing products; plus management, administration, government, law, finance and insurance.
To learn more about opportunities in the local real estate market, contact the Greater Northwest Indiana Association of REALTORS® at 219.795.3600 or gniar.com and the Home Builders Association of Northwest Indiana at 219.227.4749 or hbanwi.com.