Classic cinema houses and drive-ins are within reach
Americans by the tens of millions stream movies into their living rooms. But where is the romance, the fresh air? Where is the nostalgia?
Northwest Indiana is still home to one of only a handful of the state's drive-ins as well as a couple of independent indoor cinemas. Other retro movie venues remain in Illinois, Michigan and downstate Indiana that are within a day's drive.
The Art Theater, 230 Main St., Hobart, has been drawing customers into its art deco fantasia since the Prusiecki family opened its doors Aug. 27, 1941, with "One Night in Lisbon."
Nowaday, fans of "The Rocky Horror Picture Show" crowd into there for regular Saturday evening performance of the the cult classic and "Help Me Mommy" shadow cast LIVE.
Population shifts, shopping mall multiplexes and changing entertainment habits have taken their toll on independent movie houses around Northwest Indiana.
Those that have gone dark include Gary's Palace Theater and Glen Theater, Hammond's Parthenon, Highland's The Town Theater of Highland and Crown Point's Crown Theater.
Anthony Vulpitta, the Art Theater's manager, said they have been renovating the Art Theater for about four months and are reopening and offering future live performances and Dinner and a Movie.
"We have a kitchen now so we can offer sushi, hamburgers, BLT and Italian beef sandwiches, salads and your average bar food," he said. "We have always had reasonable prices like $5 for matinees.
"Business was on the decline, even with our low price. The movie industry makes it difficult for single screen theaters like ours because we have to keep a movie for three weeks, so we need to give people a better option," Vulpitta said.
"Sure, you can go to a multiplex, but we have character. You can see the original murals. Mr. Prusiecki told me they were painted by a Austrian who was traveling through. I think there are only three of their kind left in the United States. I think all of this will really draw people into the community." 
The Art Theater opens its doors every night at 5:30 p.m. and 2 p.m. for Saturday and Sunday matinees.
The Hoosier Theatre, 1335 119th St. in downtown Whiting, is another of Northwest Indiana's last remaining golden era movie palace.
John Kantris, its owner, said in 2014 the theater was built in 1924. It hosted vaudeville acts on stage and screened silent films. Katris took over a quarter of a century ago and renovated it, installed a 500-pipe organ and reupholstered all 630 seats.
Those willing to expend some gasoline can visit a couple of other classic movie houses.
The Ritz Cinema, 116 S. Van Rensselaer St., in downtown Rensselaer, was built in 1928 and has preserved its original vaudeville stage and orchestra pit. It shows first run pictures daily.
The Vickers Theater, 6 N. Elm St. in Three Oaks, Michigan, is 106 years old and still shows art house films daily.
The 49'er Drive-in, on old Ind. 49, north of Valparaiso, opened in 1956 when hundreds of outdoor theater were in business throughout the Midwest.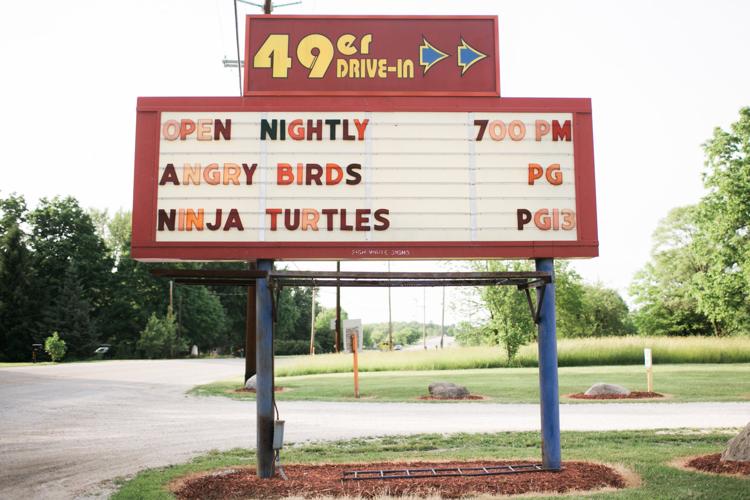 Owner Steve Cotton told The Times in 2014 he enjoyed being a sentimental piece of Americana that draws movie fans of all ages. It shows first-run movies nightly.
Although the 49er is the only drive-in left in Lake, Porter and LaPorte counties, others are within a two-hour drive, including two in southwest Michigan — the 5 Mile Drive-in in Dowagiac and the Sunset Drive-in in Hartford.
Milton Edwards, whose family owns and operates them, said he gave up a better-paying job selling medical equipment in Los Angeles to do this.
"When these two theaters fell upon rough times, my parents came in and swooped them up. My sisters were running them, but one got married and the other went away for some high-dollar job.
"My mother was getting a little shook about needing someone here. I got sick of living in LA, so I came back from California. These things pretty much run themselves. I'm there every night to start and switch the movies," Edwards said.
"We've already been open for a month. We average about 100 cars per night and depending on the weather we hope to get a lot more weekends this season.
"We bring in top high school kids to work here and one of the kids didn't want to go to college, so I promoted him to be manager and he handles the concession stands. 
"We don't allow outside food or drink. When we switched to that policy, it took a couple of years to get our business back up because people were used to coming to the drive-in with their own.
"We have to because we get the latest and greatest movies and have to pay a huge amount for them. About 90 percent of your gate receipts goes to buying the movies," Edwards said.