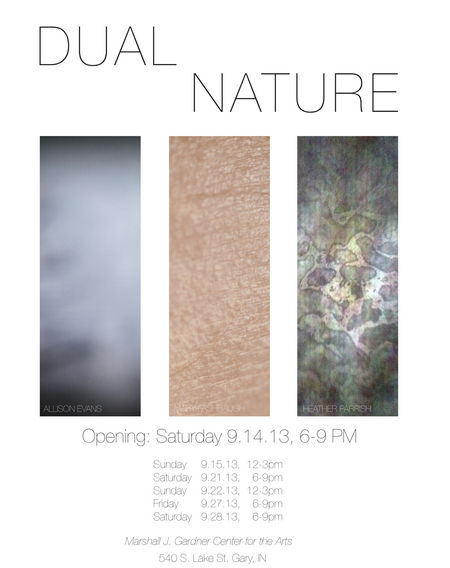 Dual Nature, the current exhibition at The Marshall J. Gardner Center for the Arts is part of the Miller Beach Arts and Creative District's mission to create a diverse, welcoming and vibrant cultural destination for the visual, performing and culinary arts as a catalyst for community regeneration, sustainability and enriched quality of life.
Comprising the collaborative work of three University of Notre Dame artists enrolled in the Master of Fine Arts program, Dual Nature features video, installation and photographic works including wall and fabric projections designed to take the art viewing process beyond two dimensional.
Each of the artists has been recognized for their works. Allison Evans received her B.A. degree from the College of Charleston in 2011. She received the Redux Contemporary Art Center's Award for Photography in 2011 and was awarded the President's Choice Award for Photography at the College of Charleston's Salon des Refuses in 2010 and 2012.
Born in Austin, Texas, Heather Parrish moved with her family to Indonesia where her father ran a Missionary Bible School, and she attended The Dalat International School in Malaysia. Such experiences, like one of her family working on carving one gift to be given to the god of the week using the rich materials found in Malaysia such as teak, silver and copper, broadened her outlook and perspectives on life and influenced her art.
Mary Harbaugh, a 2011 graduate of the University of Michigan-Flint with a Bachelor of Fine Arts in Photography, is an instructor of Record and Exhibition Curator and Preparatory Technician at the University of Notre Dame and won the 2010 Best of Show Exhibit at the University of Michigan-Flint. She describes herself as practicing with video, text and mixed-media installations with her art exploring personal narratives and many levels of relationships between herself and others.
The three came to collaborate on Dual Nature at the behest of the Miller Beach Arts and Creative District (MBACD) with goals of reaching out to artists as both a way to introduce them to Miller Beach and to showcase their works.
"We are working with emerging artists, such as MFA students in area schools such as Notre Dame, Columbia, the Art Institute of Chicago and Indiana University Northwest to exhibit their works," said Corey Hagelberg, a board member for MBACD who helped hang the exhibit at Gardner Center.
According to Parrish, the theme of the exhibit and its title reflects both the common themes running through each of their works -- navigating and bridging certain boundaries as well as duality. This perception of duality, while a common theme for both differs with each artist. While Harbaugh mines the complex boundaries between public and private, Evans delves into the immersive visual space for contemplation, investigating the relationship between interior/emotional versus exterior/natural landscapes. Parrish looks at the nature of perception through interior/exterior and material/ephemeral dichotomies.
Hagelberg, an artist who mostly specializes in black and white woodcuts but also does wall relief construction using recycled materials, said the Marshall J. Gardner Center for the Arts at 540 S. Lake Street with its 30 exhibit spaces and an aquaponic garden, is one of the key pieces for the growing success of the arts district. It is also the perfect venue for shows like Dual Nature.
"Miller has always had a vibrant art scene and attracted artists," he said. "We've had the Lake Street Gallery for years and now with the arts center we have a place to hang out, something we haven't had before."
Rosalyn L. Mitchell, AIA, owner of the architectural firm Forms + Funktion, Inc. with offices in Chicago and Miller Beach, said shows like Dual Nature as well as the Miller Beach Farmers Market and their quarterly Pop Up! Art events bring more and more people to the area all the time.
"It's great to see so many new people to the area," said Mitchell who also credits, at least in part, MBACD with the advent of several of the new restaurants and shops like the Miller Beach Café and Indie Indie Bang Bang, a boutique gift shop as well as the planned opening of the 18th Street Brewery which will Hand-craft small and big beers.
"It's unusual to see 200 or 300 people in downtown Miller," said Hagelberg. "Let alone the 500 or 600 we've had. Dual Nature which opened last weekend has attracted people from Chicago as well as Notre Dame."
Indeed, the website of the University of Notre Dame Department of Art, Art History & Design notes the proximity of the arts center to the Miller Beach South Shore Station noting that the train leaves South Bend at 5:45 p.m. and returning to South Bend from Miller at 7:31 p.m. It shows how easy the journey to Miller Beach actually is.