The paths that led them to the sport varied, but four of the surfboarders who participating in the Surfrider Foundation's lawsuit against U.S. Steel share a deep love and respect for Lake Michigan.
Along the way, each of them spent time along Indiana's lakeshore and at a Michigan surf shop.
Many still surf in Indiana, despite past illnesses or experiences with dirty or smelly water. One surfer now avoids Indiana waters, because she fears the pollution she saw is a risk to her health.
These are their stories, as reported by The Times' Sarah Reese:
'A surf junkie ever since'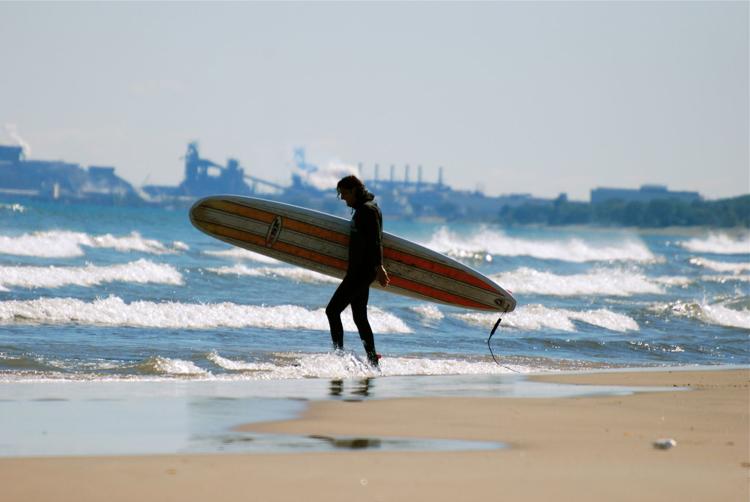 Steve Haluska first tried boogie boarding at age 16 during a visit to Myrtle Beach, South Carolina.
Several weeks after he returned home to Lowell, he saw the move "Point Break."
"I loved that movie so much," said Haluska, 43, now of Gary's Miller section. "That night I had one of the most vivid dreams I've ever experienced. … I was surfing."
Haluska began boogie boarding on Lake Michigan about 17 years ago and was among the first customers at Third Coast Surf Shop's location in New Buffalo, Michigan.
"I was there the first day, and I bought my first surf board," he said. "I've been a surf junkie ever since."
The best conditions for surfing Lake Michigan often occur during colder months, but surfing during the summer is possible, he said.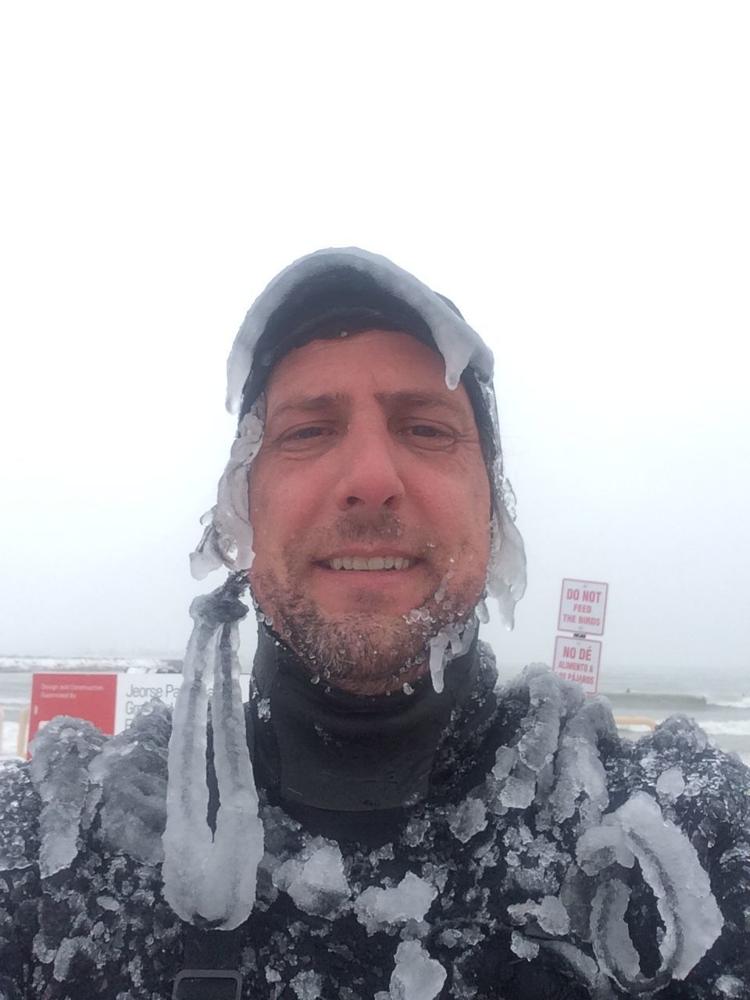 "It really depends on Mother Nature," he said. "If there's waves, I kinda put everything else off and go chase them if possible."
Growing up, Haluska enjoyed trips to the beach while visiting his grandmother in Lake Station and played in beach volleyball tournaments in Lowell.
"Once I got my driver's license, I was at the beach at least four days a week," he said.
He's also an avid fisherman and waterfowl hunter and sometimes goes fishing near the U.S. Steel Midwest Facility.
Lake Michigan is his playground, his mini oasis vacation getaway, he said. He surfs along Indiana's lakeshore whenever he can. 
"All of my biggest passions in life are surrounded by water," he said. "I've always been drawn to water."
'That was all I needed'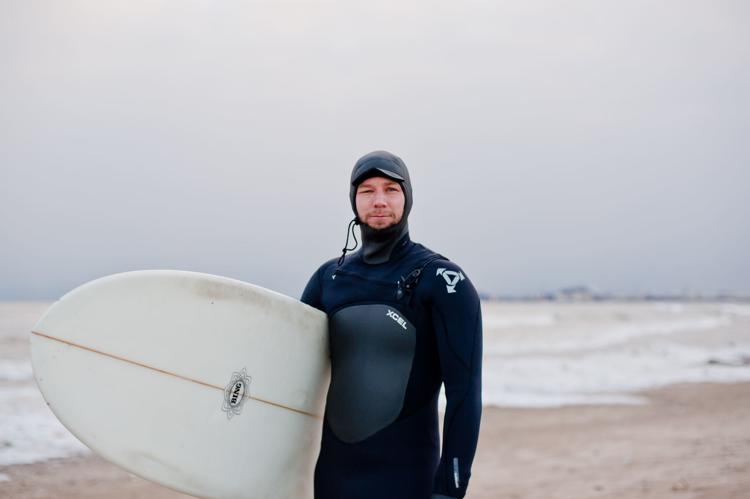 Peter Matushek loved the idea of surfing as a kid.
Growing up in South Chicago, he spent a lot of time on Lake Michigan.
His mother thought of Whiting as "an elite suburb" and often took the family to a Dairy Queen there, he said.
Still, Matushek, 38, of Homewood, never saw himself moving to an oceanfront community to pursue surfing, because of his family.
In 2008, he read a Chicago Tribune story about people who surf Lake Michigan.
The story mentioned Third Coast Surf Shop in New Buffalo, Michigan, so Matushek called and asked when the next surf would be.
The following weekend, Third Coast staff told him.
"They have instructions and learn-how-to-surf classes, so I signed up right away," he said. "Just talking to the guys, the how-to, that was it. That was all I needed."
He may visit Lake Michigan during the summer with his family, but his draw to the lake is when the weather starts turning and the surf season starts, he said. Despite suffering several illnesses and experiencing polluted waters, Matushek continues to surf primarily in Indiana.
He has a deep respect for the lake, he said.
"I told my wife that I want to have my ashes spread in Lake Michigan," he said. "So if you wanted to go out early one morning and visit with me, that's where I am."
Teaching others to swim safely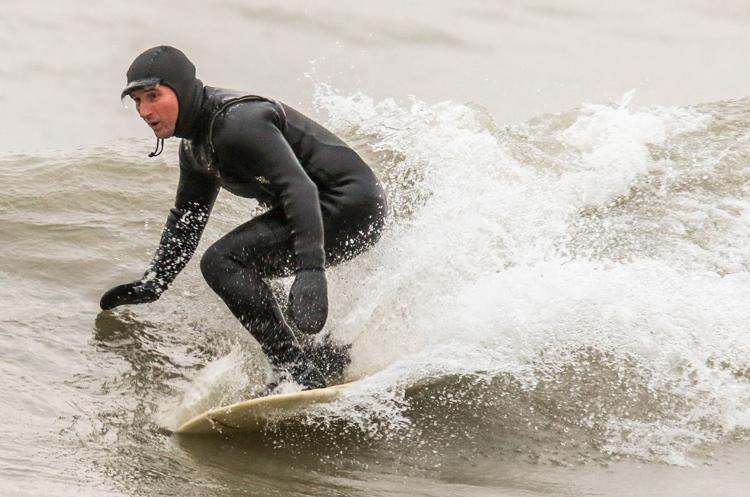 As Dave Benjamin drove down the Dan Ryan Expressway during a snowstorm one night in 2008, he saw an old station wagon with a surf board on top of it and a bumper sticker that said "Third Coast Surf Shop."
Benjamin — who learned to boogie board while living in Huntinton Beach, California — always had loved the beach and been interested in surfing. When he arrived home, he immediately looked up Third Coast online.
"The funny thing was, I had some work to do in New Buffalo, so I checked out the shop," he said. "That's when I got hooked. I was like, 'OK, I'm going to figure this out.'"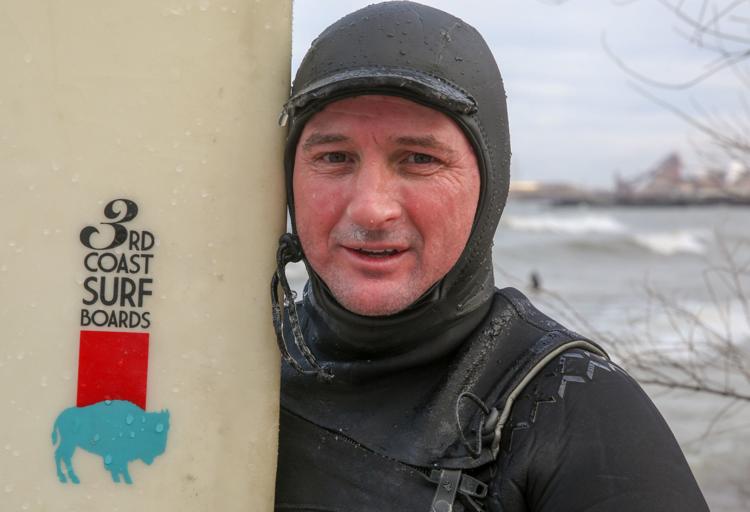 Benjamin, 48, of Homewood, said he didn't fully understand the wind on Lake Michigan, so he went to all the wrong beaches the first year.
With some help from his brother-in-law, he began to understand how wind affects the waves and found other surfers, he said.
"It kind of became an addiction early on, but I'm more selective now," he said. "Now I have a work-first policy."
Benjamin's life changed forever Dec. 26, 2010, when he had a nonfatal drowning accident.
He had a bad wipe out, fell on his back and had the wind knocked out of him. Waves pushed him to the bottom for about two minutes, before he could get back to the surface and cough up the water. It took him another 38 minutes to float and backstroke back to the shore.
Benjamin decided he wanted to teach others about water safety and drowning prevention, and offered his first surfboard rescue class in June 2011. A wide audience of police officers, firefighters, everyday people and surfers showed up, and the project grew.
He now serves as an executive director at the nonprofit Great Lakes Surf Rescue Project, which has given 487 presentations since 2011. About 300 more presentations are scheduled this year, with 100 of those in Northwest Indiana, he said.
"Unfortunately, water safety and drowning survival is not common sense," he said. "It's a silent epidemic that gets very little proactive funding or attention."
Benjamin said surfing has changed his appreciation of Lake Michigan, and he surfs mostly in Indiana despite the sometimes smelly waters.
"For 38 years of my life, I only enjoyed Lake Michigan in June, July and August," he said. "Now I enjoy it 12 months of the year."
'I see the abuses that happen'
Amanda Bye took a surfing lesson in 2014 while visiting Hawaii on a work trip.
"I was like, 'Whoa, I've got to do this more often,'" she said.
A Chicago resident, Bye knew the waves on Lake Michigan had to be big enough to surf, so she did some research.
"I first started by just kind of showing up to the lakeshore and looking for people with boards," she said.
Third Coast Surf Shop in Michigan came up in an online search.
"It all kind of fell into place," she said. "You gotta have gear to surf the lakes."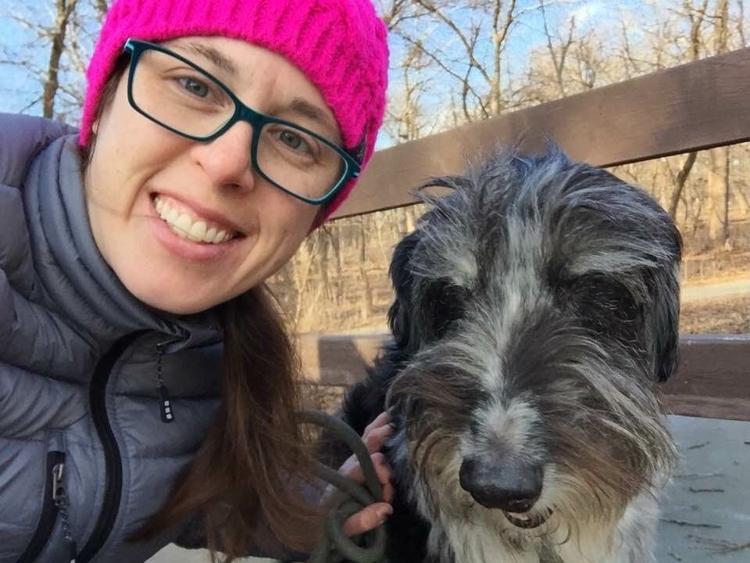 Bye, 37, can't sport an "ice beard" like the guys, but they all wear wet suits. Cold water isn't really an issue, she said.
"The tech for wetsuits has gotten so good. You stay pretty toasty on the inside," she said. "As long as you keep moving, the suits do their job. Honestly, it's more of the wind that makes it cold than the water."
Bye said she's always had respect for water, whether it be an ocean or the lakes. But surfing has opened her eyes to something else.
"Just being out there more, I see the abuses that happen," she said.
There's the pollution, but also the trash. In the summer, when she likes to stand-up paddleboard, there are E. coli warnings after runoff from heavy rains wash into the lake. She decided not to surf in Indiana anymore, because of the health risks, she said.
"I'm accountable and responsible for making sure that I don't leave anything behind as far as trash," she said. "It's small-scale compared to a steel mill, but that is my responsibility to make sure trash goes where it needs to go."