Joe Heredia just wants the empathy to shine through in his photographs.
He's not out to document the industrial ruins of Northwest Indiana — that's played out, in his opinion — or to take advantage of his subjects, showing them at their most unflattering. No, his goal is to present real life in the region — er, Region — where he was born and raised.
"I try to inject some humanity into the photographs," the Munster resident says. "I don't want to look like I'm exploiting people just to get a photograph — that's not my objective."
Over the past few years on social media — he's at damagedintransit on Instagram and @DIT_photo on Twitter — Heredia has become the Region's street photographer, capturing images of signature events like Whiting's Pierogi Fest or of those Northwest Indiana personalities everybody knows but nobody really knows.
Take Tyrone Flores. He was quasi-homeless, an institution on the streets of East Chicago. Heredia photographed him a few times; once in broken sunglasses, causing Heredia to give the man his own pair. Flores was so well-known that people reached out to Heredia last month to inform him the 54-year-old had died.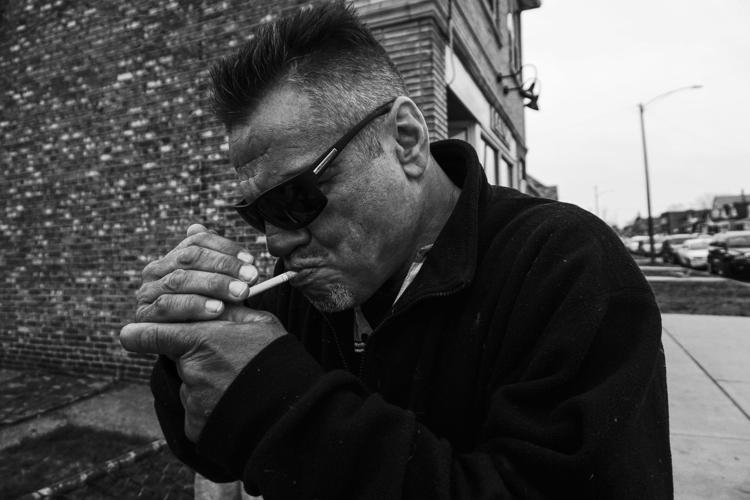 Heredia's pictures are rich, full of character; they evoke the streets: the traffic signs, the street lamps, the vintage cars. They also bring to mind the Region: the grit and diversity and urbanity of Lake County's industrial northern corridor.
For Heredia, the son of steelworkers, photography is also a way for him get out of his shell. He's naturally a shy guy, a self-proclaimed "lone wolf," not connected to any local arts scene. "I mostly live in my head," the 45-year-old says. Having that camera around his neck is a way for him to approach people he otherwise wouldn't.
He's often asked if it's dangerous to take pictures where he does. Not at all, he says. For one, carrying that camera makes him less-threatening, giving him a purpose in places where he might not really have one. Traversing the more crime-ridden communities of Northwest Indiana also dispels the myth that people there are in constant danger. "It's not that scary of a world," he says.
Places like Hammond and Whiting and even Chicago — where he also shoots — are also more aesthetically interesting than the suburbs, he says.
"When you go to a subdivision somewhere, there aren't really people walking the streets. They're either in their cars or mowing their lawns," he says, comparing it to the fictional town in the movie "Edward Scissorhands." "When you ride through these neighborhoods, people are outside doing stuff."
One of his favorite photographs he took was of a barber, in his front yard, cutting a friend's hair.
Keep reading for FREE!
Enjoy more articles by signing up or logging in. No credit card required.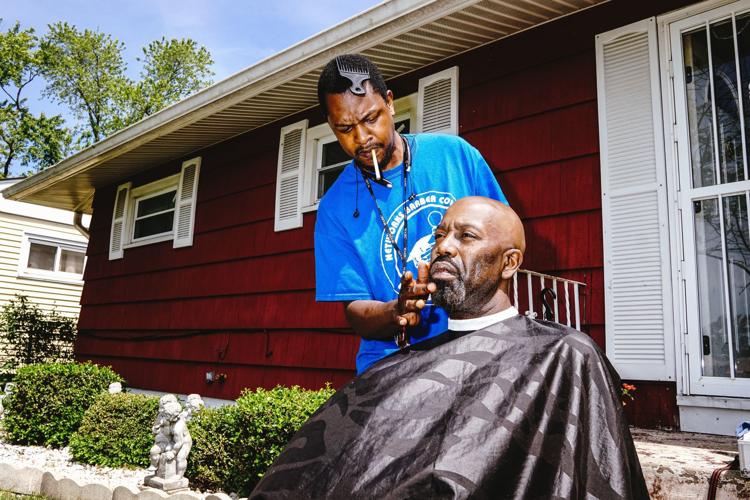 Heredia shoots while he's out cycling. He's not sure which is his bigger love. Riding his bike also makes it easier to see the world in slow motion, to circle back and stop and talk to people.
Humans, not landscapes, are, after all, his subjects. He says he's not some "misery tourist," photographing crumbling examples of America's decline — he avoids Gary in part for this reason — but rather a documentarian of sorts, showing what he sees: the residents left in these supposed dystopias, still living active, rather happy lives.
"Beautiful stuff's everywhere," he says. "You just have to know how to appreciate it."
His favorite aspect of what he does is when people comment on his work, like "I know that guy" or "I know where you shot that."
He's also not an outsider. He's a Hispanic, East Chicago native taking photos largely of people of color, like himself.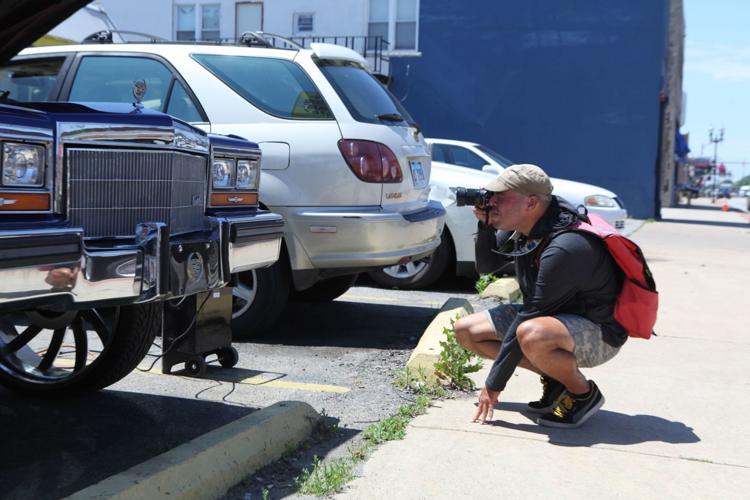 For Heredia, photography is a passion project. He doesn't make a living off it; he works in retail. He's never even formally studied it. For now, it's a hobby. He sometimes prints his work in zines that he might sell a few copies of (he carries them around to show potential subjects what he does).
He's also not a "gotcha" type. He usually asks permission to photograph, particularly when he's doing portraits. He's not out to mock or embarrass people, to sneak up on them. Instead, he says, "I think everyone deserves a picture of them looking cool."
He talks to more individuals than he shoots, he says. Some don't want their photos taken; others still request it. Some invite him inside their homes.
"I'm amazed that people let me into their lives," he says.