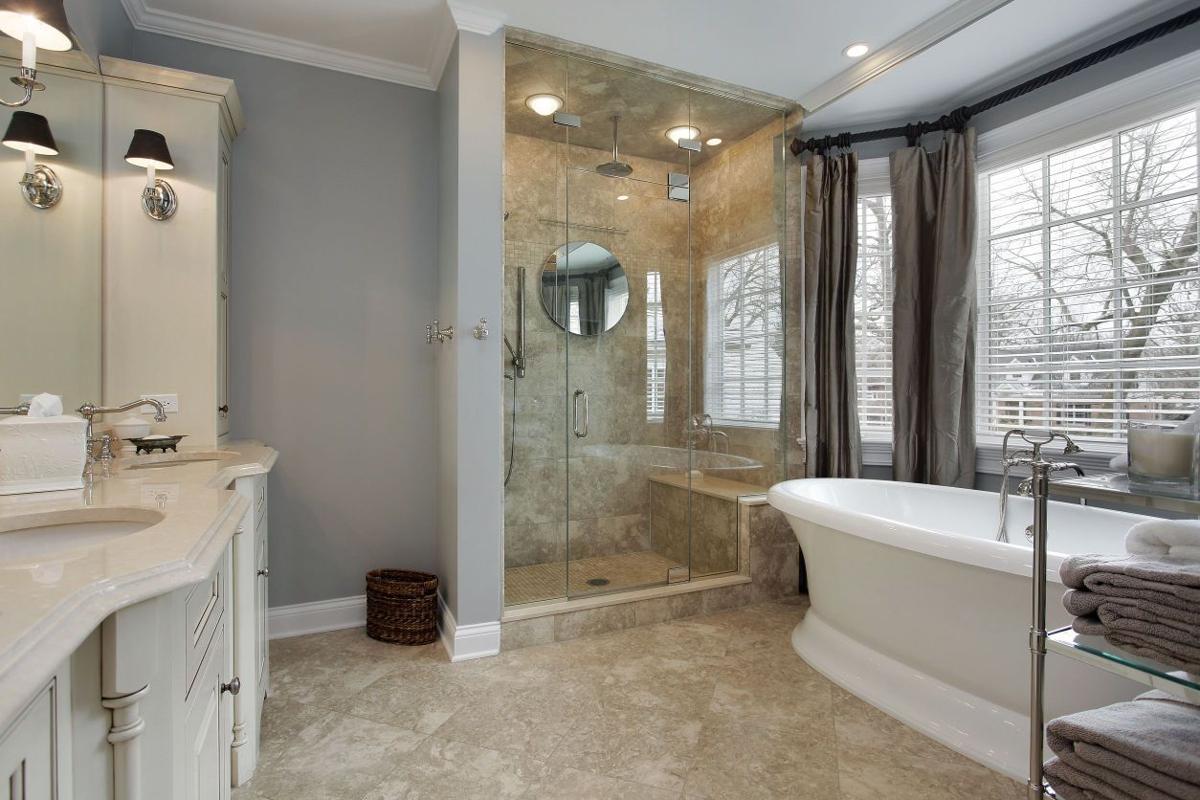 Do you often dream of that vacation at a relaxing spa where you unwind in an oversized soaking tub or steam shower? Today's home owners aren't saving decadent spa experiences for once-a-year vacations anymore; they're remodeling their own homes to have luxurious spa-like baths for everyday enjoyment.
In fact, making the bathroom a place to slow down and relax is one of today's most popular home remodeling projects. Bathroom remodels also add value to your home.
Here are some bathroom tips and trends to help you design a bathroom that beckons you to relax and unwind.
Wash the Day Away
Home owners are knocking down walls to make their current bathroom larger, more functional and comfortable. Expanding the size of the room allows home owners to design "his and hers" private space, such as separate showers, deep double sinks, dual mirrors and adjustable vanities.
Today's showers offer more sophisticated features than ever before. Imagine standing under a cascading rainfall shower head, while being massaged by six shower streams strategically encircling you. Or, decompress by taking a stress-reducing steam shower.
More than ever, home owners are opting for showers with automatic temperature controls and frameless edges that present a clean look in the bathroom. For home owners yearning for a relaxing bath, consider a near total immersion whirlpool bathtub that continuously re-circulates heated water.
All of this down time can be made even more enjoyable while listening to music from a surround sound entertainment system or speakers built into the shower head and wirelessly connected to your iPod. Or, watch a flat-screen television that is built into your mirror or shower or tub wall.
Buck Tradition
Home owners are including furniture like chaise lounges, chairs and recliners for reading and relaxing in their remodeled bathrooms. Even gas or simulated fireplaces are making their way into master baths to help complete the warm and inviting haven.
Include nontraditional furniture such as an armoire for linen storage or as an entertainment center in your new bath. More home owners are selecting vintage pieces to use as vanities or for decorative accents such as towel racks or sitting chairs.
Bring the outdoors in by installing a retractable wall next to your tub or shower leading to your private patio, or put in skylights to let in natural light.
Create One-of-a-Kind
Designs
Heated tile flooring will take the edge off stepping out of your warm shower or bathtub. Brilliantly colored tile floors now come in myriad designs and materials, allowing home owners to create personal designs.
Not only are home owners using tile on the floor, but they are creating unique designs for the shower and tub area. Consider using ocean colored glass tile to create a warm and relaxing shower atmosphere. To create the look on a budget, many home owners are opting to combine glass and porcelain tile to craft accents or borders that are more affordable.
To help you create your perfect in-home retreat, contact a professional remodeler. For information on hiring a professional remodeler, visit www.hbanwi.com.
This article is provided by the Home Builders Association of Northwest Indiana, a nonprofit trade association of builders and associated industry professionals dedicated to promoting the American dream of home ownership. Phone (888) 812-9099 or visit hbanwi.com.