Meet Henry Holcomb — Indiana's "First Dog."
The 6-year-old Miniature Schnauzer is owned by Gov. Eric Holcomb and Janet Holcomb. But thanks to his regular presence at state events and popularity on social media, Henry is beloved by seemingly every Hoosier who gets to know him.
In his first interview, Henry "spoke" exclusively to The Times, via e-email, about his life as canine-in-chief.
The governor's press staff insist the answers that follow each question came from Henry himself.
Q: Thanks for agreeing to do this interview. How are you adjusting to life as Indiana's top dog?
Henry: "What?! I've always been top dog, according to my Mom. Oh, you mean Dad's new job? Well, I'd say the transition has been seamless. I was born for this position! People, parades, events: I love the job, but it does cut into my nap time."
Q: You are hugely popular on social media with hundreds of followers on Twitter, Facebook and Instagram. Are you finding lots of new friends?
Henry: "I'm meeting new two- and four-legged friends in every part of the state. I'm so glad I learned how to use social media, and I really recommend it for other dogs, as well. I'm friends with people and dogs who I have never even sniffed. Can you believe that? It seems a little strange, I know, but I'm really a millennial at heart."
Q: What is the best thing about being 'First Dog?' Are there any downsides?
Henry: "Best things: More meaty treats! More scratchies! More things to sniff everywhere we go … and parades!
Downsides: Appearances really cut into my nap time. Also, there's not much privacy these days. Anytime I run, stalk squirrels or get a haircut, there's the paparazzi."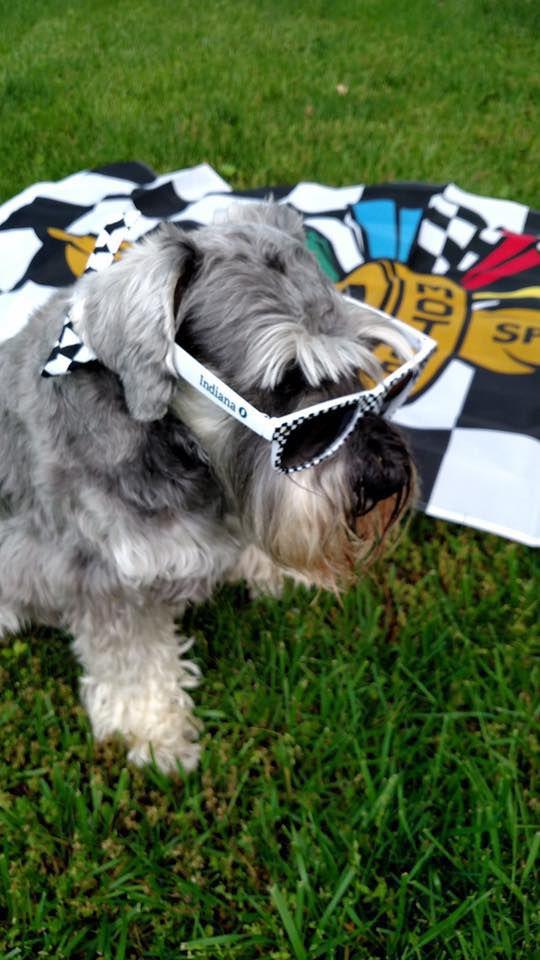 Q: How old are you? How did you come to live with the Holcombs?
Henry: "I'm 6. How old are you? Do you have any treats?
I met Mom and Dad when I was almost 2 months old. I was the only boy in my litter. The girls in my family were so noisy ... always barking and chasing each other. I just crawled into Dad's lap and wanted to take a nap. That's when I picked out my mom and dad."
Q: You're living in the Governor's Residence now. Do you like the place? What's a typical day like for you?
Henry: "My typical day: Wake up; check on my Mom; eat breakfast; check everything in my yard; check on my Mom; maybe chase some squirrels or read some fan mail; check on my mom; bark at something random; take a nap. Repeat.
You would not BELIEVE how many squirrels there are at the Governor's Residence! I have to chase them all day, since they run all over my property. Gotta keep 'em in line you know. Other than my guard dog duties and public appearances, I take lots of naps, eat lots of treats, and sometimes — when I'm extra good — Mom and Dad bring me chicken. Chicken is my favorite."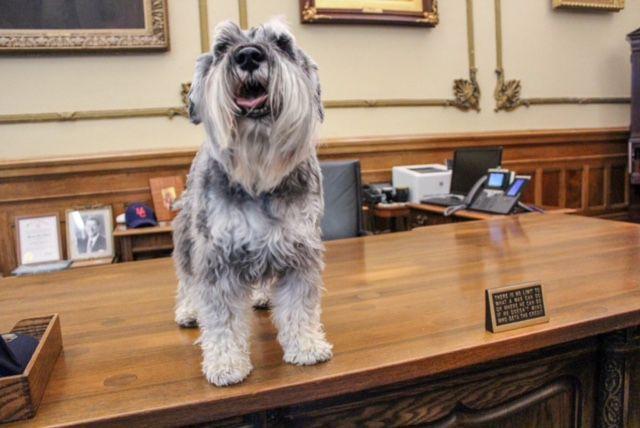 Q: Do you ever wish the Pences were still around with their pet rabbit so you could chase him?
Henry: "RABBIT?? WHERE??!?!?!??!??!"
Q: A year ago you were living a pretty anonymous life. Is it ever hard keeping up with your newfound popularity and public appearances? Are you finding yourself taking extra baths and more trips to the groomer to look your best?
Henry: "Getting my hair cut is OK, but I don't like baths. One of my favorite things is to roll on stuff that smells wonderful! Mom does NOT like that. Even when I try to hide from her, she makes me take a bath.
On the upside, I get called "handsome boy" a lot, and I get to wear my bowties more often, so that's fun."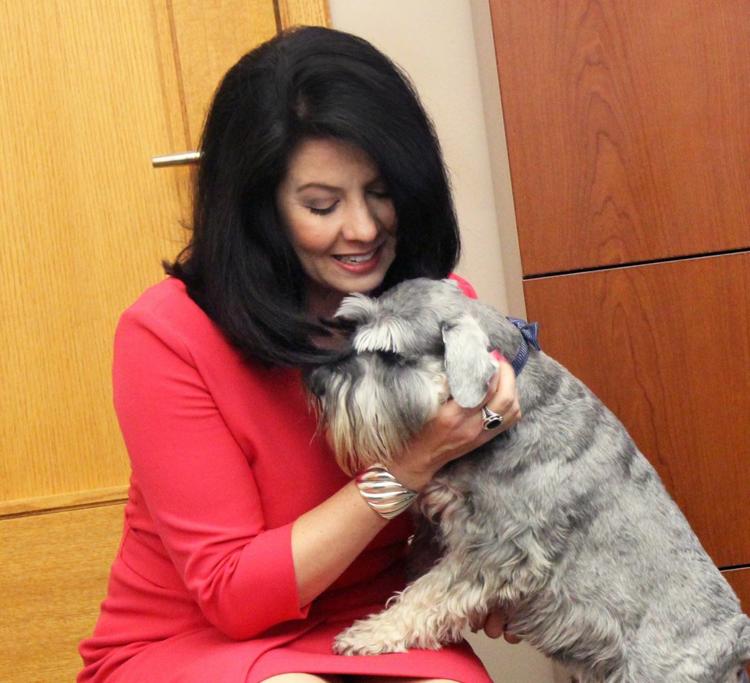 Q: What has been your favorite event to attend?
Henry: "I really liked when Dad gave a Sachem Award to Holocaust survivor Eva Kor. She was very nice and gave me lots of scratchies."
Q: You know, you kind of have an under-the-table seat to history in the making these days. Got any inside dirt that Hoosiers should know about?
Henry: "Between you and me, Dad feeds me treats when Mom isn't looking. Don't tell them I told you that.
Also, #HoundsforHolcomb was all my idea, and that's the real reason Dad won. So, you're welcome, Indiana."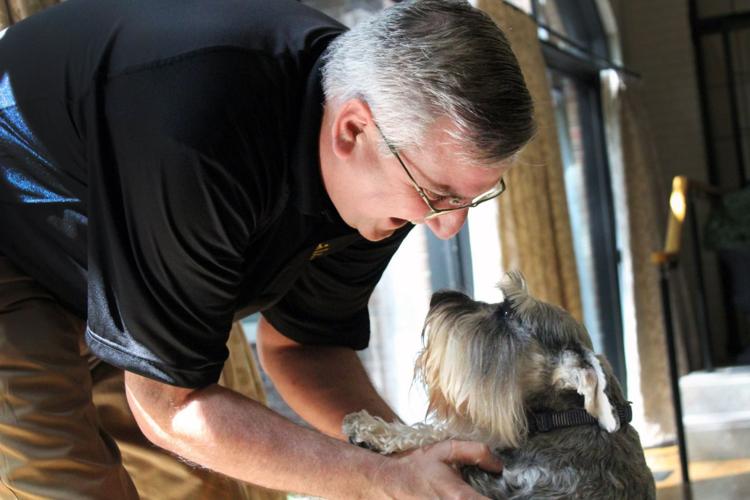 Q: What's your message to all the other dogs (and humans) in Indiana?
Henry: "Woof woof-woof. Woof woof. Woof woof-woof.
(Translation: Be honest. Be hungry. Be humble.) I'm great at all three. Oh, wait …"
Q: Thank you for taking the time to answer my questions. Henry, I have just one more: Who's a good boy?